©Boris Zuliani
The superb Hôtel Molitor, famous for its Art Deco decoration and its two pools (covered and uncovered), houses a Spa which, like a bubble of softness, welcomes the most tired city dwellers to put them back on their feet when approaching the 'winter. We run there!

©Sebastien Giraud
♦ Why do we need quiet time?
As a good Homo modernus, we are stressed, tired by pollution and information, worn out by the march of the world which is getting faster and faster... and therefore we need calm, care, time for ourselves. Well-being is sought and found partly through the body, so, zou, we make ourselves a gift, in a dream setting, at the Spa by Clarins Molitor.
♦ What atmosphere?
Luxurious, refined, but not expensive. The Spa by Clarins looks like a temple dedicated to relaxation. A real invitation to travel, the places are bathed in water and have 10 cabins including 1 private duo suite of 50m2. Hammams, saunas, reading room, herbal tea room and Shu Uemura hair salon complete the invitations to take care of yourself.
♦ What care?
The treatments follow a very precise protocol. Using a 100% manual method, they use high-performance formulas concentrated in plant extracts and adapt to the needs of each skin type. The gestures are precise, the hands expert. For those who want the total, body massages are offered, with hot stones, oils, energy … at your leisure.
♦ Verdict?
It is twofold: leaving the Spa by Clarins Molitor, you feel relaxed, refreshed, and you benefit from a visible beauty result. Tensions, once dissipated, allow the skin to absorb the benefits of the treatments. It is visibly smoothed, healthy and benefits from a boost of radiance which, in the first frosts of winter, is welcome.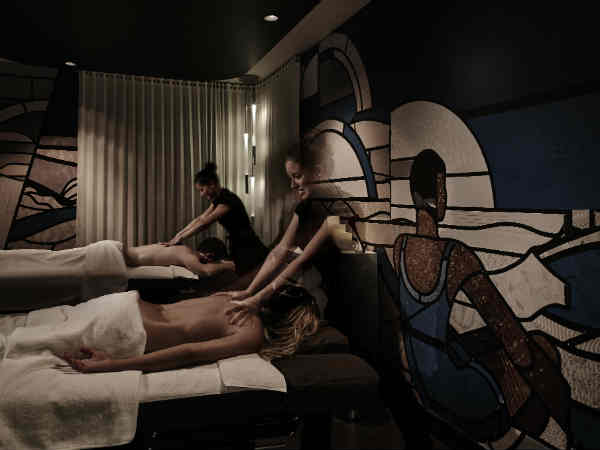 ©Boris Zuliani
Pratical information : 8 avenue de la Porte Molitor 75016 Paris – 01 56 07 08 50