To inaugurate a year that promises to be full of discoveries, trends and colors, Paris Select meets David Bellamy, blogger and influencer who is passionate (above all) about men's fashion and colorful doors. Endowed with a sharp and intriguing artistic universe, he tells himself through his answers.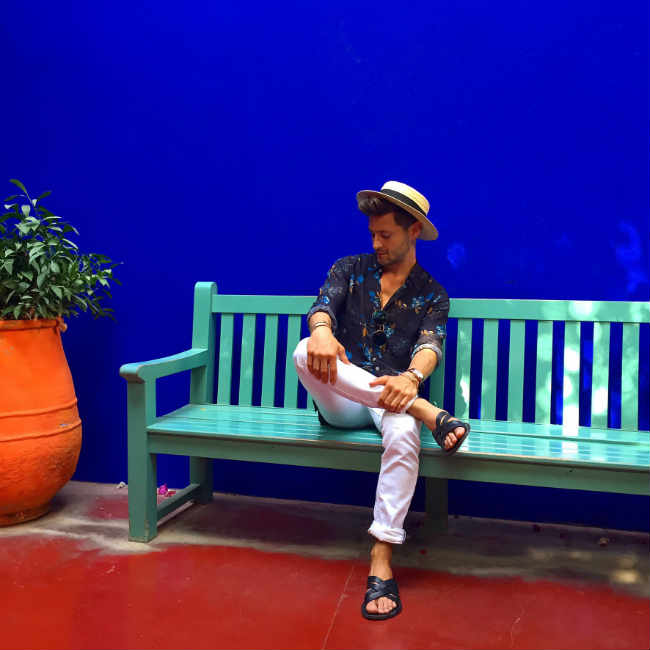 Paris Select: Blogger, influencer… is it more of a job, an activity, a hobby?
David Bellamy : At first, it wasn't a job, but it's become one, hybrid, by dint of being time-consuming. Organizing the shoots, highlighting the products… all of that takes a lot of time. We can't count on that alone, because the competition is fierce!
PS: How do we get here?
DB: I had done HEC then had started to work as a consultant for private fortunes. That's when I created an Instagram and Snapchat account. Before, I didn't even have a smartphone! Then I got into the game… first I was inspired by other accounts. Little by little I forged my own identity, very colorful. My first collaboration was with the Bobbies brand, which I adore, and I had the strong feeling that I had to make this choice, to start out in finance to devote myself to what I am passionate about.
PS: Is this an opportunity for you to travel, to live an extraordinary daily life?
DB: Yes, that's for sure, I'm crazy lucky. I travel to magnificent places, wear superb clothes, meet personalities… It's a lot of exceptional experiences.
PS: Are you wary of the distortion of reality that the networks necessarily entail? Isn't there a form of dangerous narcissism?
DB: Of course, don't be fooled: it's about selling dreams, not reality. By being an influencer, you become a marketing product; it's a business like any other. My goal is not to create a craze for vacuum but to highlight the brands that I love.
PS: Could you describe a typical day for us, so that we can get an idea?
DB: First there are a few hours dedicated to notifications, messages from subscribers, emails … then come appointments with agencies, photo shoots. In the evening, it is appropriate to go to certain events.
PS: What is your definition of feminine elegance?
DB: I find feminine elegance to be clean, simple, classic and timeless. I really like Claudie Pierlot, who very well embodies the childlike woman, the Parisian. Women are lucky enough to be able to dare everything, as long as they are not bling.
P. S: And masculine?
DB: It's to mix the very accessible parts and the top of the range. It directly creates an identity. Mixing Asos and de Fursac inevitably has its little effect… and for those who don't have a sense of fashion, I find that a perfecto with a white t-shirt is won in advance.
PS: Do you have projects, new perspectives for 2018?
DB: I have the feeling that the photo format tends to disappear on Instagram. New networks are going to land… digital is very attractive, the time for videos is about to begin, I'm going to have fun with it. The video has something more interactive which I like.