A true emblem of Saint-Germain-des-Prés, Les Deux Magots is now inaugurating its terrace-garden where life is good. Focus on this meeting place where Parisians like to sit down and admire the peaceful view of the Saint-Germain Church...
Renowned for its literary history, the Deux Magots represents a unmissable germanopratin spot. If in the last century, the famous café hosted the fine flower of the intellectual and artistic scene (Verlaine, Rimbaud, Mallarmé, Aragon, Sartre and Beauvoir, Hemingway, Picasso, to name a few...) today the tradition continues and Les Deux Magots remains more than ever the HQ of Parisian and international personalities from the political sphere, the arts, letters and fashion.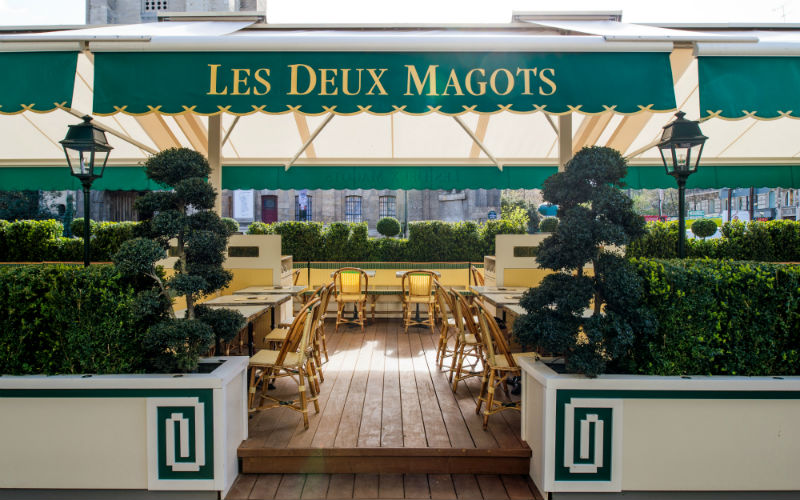 Each year, on sunny days, the establishment inaugurates its terrace-garden. At the corner of Boulevard Saint-Germain and the famous square of the same name, it preserves the authenticity and history of the house, while breathing new life into it...
Ce legendary meeting place brings together not only Parisians from the neighborhood but also artists and other international celebrities, around a drink or a dish, thus allowing them to taste the French way of life.
Whether for the famous Breakfast, to taste traditional French dishes for lunch, a gourmet break or dinner, the garden terrace offers a unique moment of eternity. Ultimate plus: it is covered, which allows you to enjoy this charming setting even on rainy days.
Take the time to sit down and discover the new spring/summer menu designed around fresh, seasonal products. I'atmosphere that reigns there and the peaceful view of the Saint-Germain Church are truly unique…

Les Deux Magots, 6 Place Saint-Germain des Prés, 75006 Paris. 01 45 48 55 25