If there is one tradition that Parisians don't miss for anything in the world, it's Sunday brunch! In palaces, bakeries and other chic restaurants, here are our essential addresses for brunch in Paris.
-
The most Germanopratin: Les Deux Magots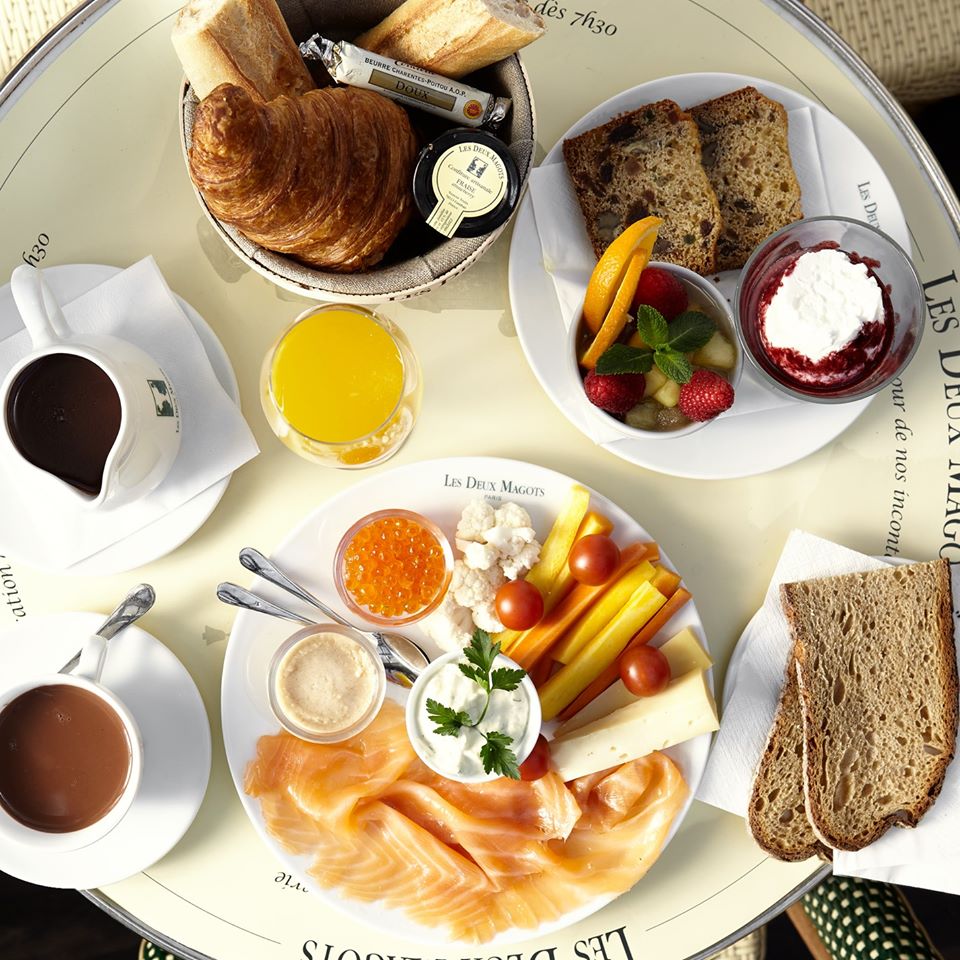 Synonymous with artistic and literary life, Les Deux Magots is a real Parisian institution, both a mythical café and an authentic restaurant. And like many cafes, the legendary establishment offers a brunch formula the weekend. At Deux Magots, you will therefore have the choice between two options, the Brunch Saint-Germain (49€) and the Marine Brunch (59 €).
Both include a hot drink – renewable once – a pressed juice (orange, lemon or grapefruit), the baker's basket (two pastries and toast, butter, homemade jam and honey), raw vegetables to eat with their white cream with herbs, Comté and Saint-Nectaire cheese as well than a sweet plate of seasonal delicacies.
In the first, you will also be treated to organic scrambled eggs, the quiche of the day, a slice of smoked salmon from Scotland "Petrossian" and charcuterie. A real treat !
As for the Marin brunch, it lives up to its name with its beautiful slices of "Petrossian" Scottish smoked salmon, "Petrossian" salmon eggs and "Petrossian" taramasalata and toast. For those who want to eat light, we recommend this second option… which is nonetheless tasty than the first! Otherwise, you can also order many salads, sandwiches and other fresh dishes from the mythical café à la carte.
Les Deux Magots, 6 Place Saint-Germain des Prés, 75006 Paris. 01 45 48 55 25
-
The most 'homemade': 46 & 3rd
Basically, Serra and Danielle shared the same passion for brunch. From this obsession was born 46 & 3rd, a coffee shop with a distinct New York spirit, nestled in the rue de Turbigo. The duo at the helm of the establishment has concocted a fine menu of homemade dishes (that changes every season) with well-sourced products. On the program: the best pancakes in Paris – both sweet and savoury! – but also crazy eggs Benedict, a superb belly bun sandwich and other avocado toasts… What's special about the establishment? You can have brunch there all week and opt for the very light formula at 26€ including 1 dish + 1 dessert + 1 juice + coffee of your choice… Moreover, we do not miss to taste their authentic coffee, poured by a Marzocco machine whose founders have carefully selected the beans, of Brazilian origin !
46 & 3rd, 46 rue de Turbigo, 75003 Paris. 07 71 35 28 77
-
The most invigorating: with Klay Saint Sauveur
Restaurant of the sports hall of the same name, the Klay Saint Sauveur offers brunch formula at 32€. As you might expect, the cuisine is in tune with the healthy and dynamic spirit of the room. Presented as a buffet, we discover with wonder a wide choice of dishes: sausage, beans, cheeses, fromage blanc, chia and goji seeds, raisins, dried apricots and other fruit soups... We assure you, everything is at once light and and very tasty. Special mention for the fresh lemon juice, really delicious!
Klay Saint Sauveur, 4bis Rue Saint-Sauveur, 75002 Paris. 01 40 26 00 00
-
Organic: at Le Pain Quotidien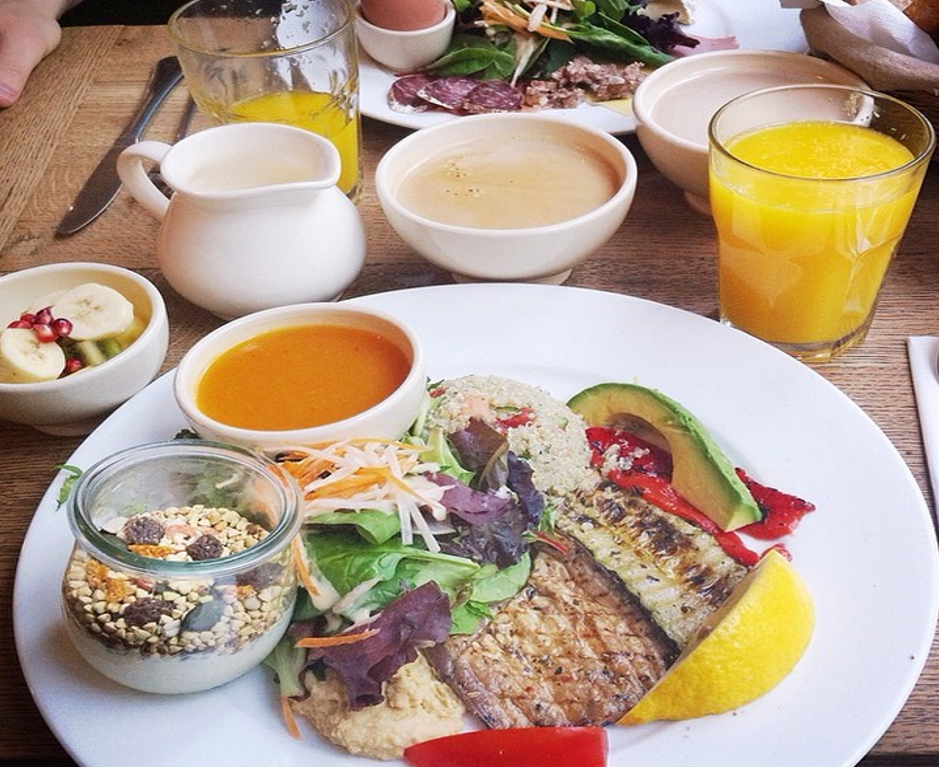 We no longer need to introduce the "Le Pain Quotidien" brand which is available in several Parisian addresses, which have become essential. What do we like here? Their 100% organic menu and responsible. The brunch formula (€26) is very complete and includes eggs, toast, a pastry and a dessert. Otherwise, you can also order à la carte their many light options : breakfast bowl, baked omelette, scrambled egg toast with avocado…
The Daily Bread, 2 rue des Petits Carreaux, 75002 Paris. 01 42 21 14 50
-
The healthiest: Benoît Castel's Coffee Shop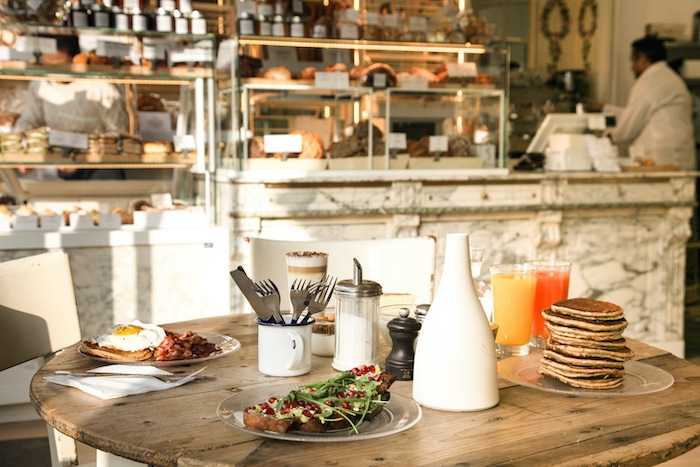 Inaugurated last October, the 3rd Parisian haunt of Benoît Castel honors the 'real breakfast'. But don't panic, as in its other shops, you can find a very wide range of homemade breads, pastries and pastries from rigorously sourced raw materials. From jam to granola, everything is made on site in Benoît Castel's labs, without coloring or preservatives.
Our recommendation: toasts with a melting crumb and crunchy crust, not to mention the egg and bacon pancakes of anthology!
Benoit Castel Coffee Shop, 11 rue Sorbier 75020 Paris.
-
The lightest: at Bob's Bake Shop
La Halle Pajol is an eco-zone of Paris (hosting on its roof the second largest urban photovoltaic solar power plant in France) and in addition to the municipal library, the various seminar and show rooms, the design boutique and the American grocery store, it also houses a coffee shop, Bob's Bake Shop, where the brunch that radiates freshness is to die for. On the menu: vegan dishes, fresh juices, smoothies, bagels, salads...
Bob's Bake Shop, 12 Esplanade Nathalie Sarraute 75018. 09 84 46 25 26
-
The most detox: that of Wild & The Moon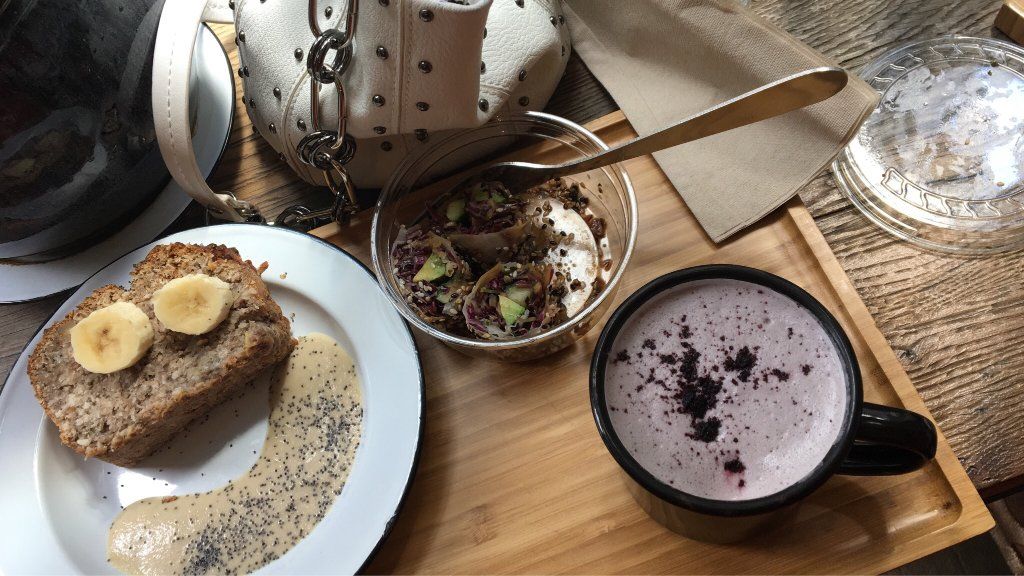 Welcome to neighborhood twig heaven. And for good reason, aim for the menu! Kale cabbage, acai bowls, smoothies of all kinds, detox juices, green teas and avocado toast galore… Wild & the Moon pays attention to the well-being of its customers, and of the planet, in an atmosphere neo-bobo in bad shape. The brand's products are vegan and homemade, made from fruits, vegetables, herbs, roots and wild plants, nuts, seeds, spices and superfoods, all from organic, local and ethical agriculture...
Ultimate plus, which will seduce many: this trendy address bans refined sugars, additives, preservatives, GMOs, gluten and dairy products.
Wild & The Moon, 55 rue Charlot, 75003 Paris. 01 86 95 40 46
-
The most chic: at the Plaza Athénée
Exactly 9 months ago, the Plaza Athénée threw a Wellness brunch created by school leaders. Thus, every Saturday, it gives pride of place to healthy foods. We then logically start with a detox water before continuing with a hot drink (organic coffee or infusions) and a fresh fruit juice. The table is then adorned with a selection of special breads - with or without gluten – created by the head baker Guillaume Cabrol, vegetable butter or homemade coconut as well as a seasonal fruit cut by the fruit chef Jorge Ferreira. Good news for cereal lovers, here, cereals are presented in all their forms: Overnight oat, Porridge or Granola. Prepared by the minute on the trolley " Healthy Bowl Workshop », you can customize them as you wish, by choosing your dairy product and toppings. Miam ô fruits or Açaï bowl complete this range of colorful and gourmet bowls. The gourmet getaway continues with a choice of 3 very balanced starters: royal crab (avocado, guacamole, passion fruit and fresh heart of palm), a delicious Poke bowl with salmon, quinoa and Granny Smith or the well-being starter of the day , followed by a high-flying dish (Soft-boiled eggs with artichokes, white omelette with seasonal vegetables, konjac tagliatelle garnished with vegetables or the dish of the day)
Finally, after a few goat cheeses, the Brunch ends with a trio of sweets : the Chia pudding with coconut milk and fruits, a quinoa with rice milk, vegetable cream and tonka bean or a refreshing seasonal granita come to close this gourmet break.
Plaza Athénée, 25 Avenue Montaigne, 75008 Paris. 01 53 67 65 36
-
The most complete: BB Blanche
Composed of exquisite and gourmet dishes, the Chef's brunch Jean Imbert, is very complete. On the program of the festivities: savory sandwiches (beef crab, mimosa or tataki), accompanying verrines – cocotte egg, mushrooms, arugula, carrot tartare, herb chips, leek salad and other delicious bites – and brioches with pink pralines, to be enjoyed while sipping its detox juice. On the dessert side, you will have the choice between the chocolate waffle accompanied by its homemade vanilla whipped cream and its small pot of hot chocolate (a delight but not the best option if you are on a diet!) the lost panettone or the small fruit salad . In addition to being complete, the brunch remains very healthy et affordable, displaying a price of 39€/person.
BB White, 21 Rue Blanche, 75009 Paris. 01 40 40 21 61
-
The most vintage: Mabillon
Au Mabillon, brunch takes place in 3 sequences. We start with the basket including hot drink, squeezed fruit juice (orange, grapefruit or lemon) but also pastries, ficelle accompanied by butter, organic jam from Sénéquier, Nutella, before choosing your dish: organic eggs as you like it (omelet or fried or scrambled) or Eggs Benedict or Norwegian. Le Mabillon has thought of everyone, if the greediest will opt for the delicious Mabillon Burger, with its fries and salad, the twigs, they will be able to enjoy gluten-free quinoa and vegetables with Orange. For dessert: fruit salad, rice pudding or pancakes of anthology, our favourite! All to be enjoyed in a vintage-chic frame and typically Parisian cozy atmosphere. With its simple menu, without fuss – but which really works! – The Mabillon undeniably represents the trendy address of Saint-Germain-des-Prés.
Cafe Mabillon, 164 boulevard Saint-Germain, 75006 Paris.
-
The greediest: Pancake Sisters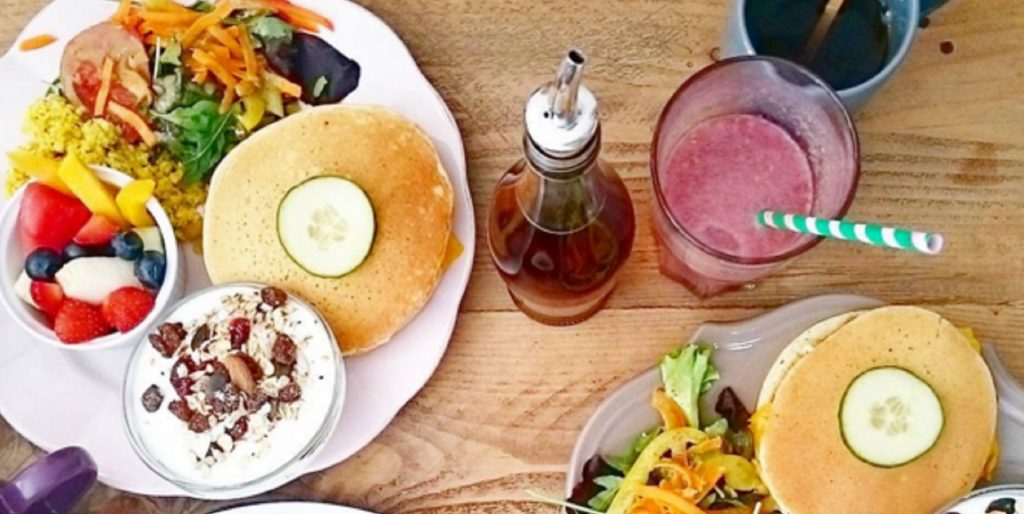 If you are an unconditional pancake lover, we have the perfect address. At the house of Pancake Sisters (10th arrondissement), we enjoy this type of crepe both in sweet and savory mode, throughout the week with its gourmet brunch "roundly good". This restaurant cozy offers a brunch menu Wednesday to Friday, with a hot drink, freshly squeezed fruit juice and an assortment of sweet and savory pancakes, all for €19,50. Otherwise, you can choose between several formulas during the weekend: the classic brunche (€23,50) including a squeezed orange or grapefruit, a hot drink of your choice (tea or coffee), two savory pancakes with scrambled eggs, bacon and salad, a homemade granola and three sweet pancakes. the vegetarian brunch will be the perfect option for vegans since here we simply replace the bacon with a salad or a soup. For the gourmands, opt for the BIG brunch (€28) which has one more sweet pancake than the classic brunch, but also a much larger portion of the savory pancake… Booking strongly recommended on weekends!
Pancake Sisters, 3 Rue Lucien Sampaix, 75010 Paris, 09 83 33 30 23
-
The most gastronomic: La Réserve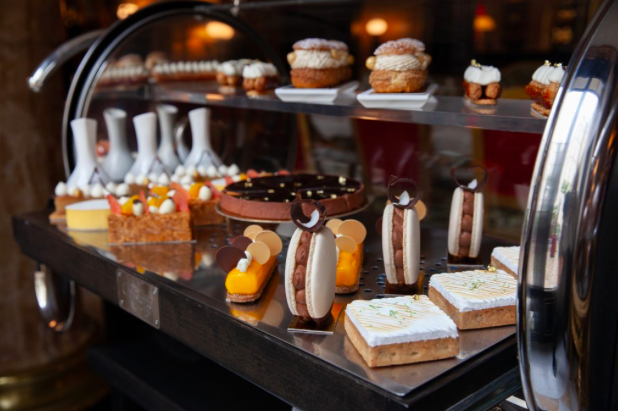 Should we still present Reserve and its restaurant the Gabriel ? The hotel was voted the best hotel in the world last year and the restaurant proudly displays two Michelin stars. The brunch offered by chef Jérôme Banctel has everything to please and offers a unforgettable moment. We start with assortments of savory pieces – like tuna tataki or beef cromesquis – and sweet (lemon tart, vanilla-fig choux pastry, tropezienne passion…). It wouldn't take much more to seduce us, but the food ball can then set up with a breaded egg, a hot dish followed by cheese and a dessert. The hardest part is choosing between all of his mouth-watering creations. The service is friendly and contributes to the warm atmosphere of this lunch. For true brunch aficionados, the one at La Réserve is the guarantee of a unique tasting which you will remember.

Reserve, 42 Avenue Gabriel, 75008 Paris. 140 euros for brunch.
-
The most historic: Le Trois Bis at the Gaîté Lyrique
It is in the extraordinary setting of the historic home of the Lyrical gaiety that we are going to taste one of our new favorite brunches. Bruno Viala, the chef of this address bistronomic decided to bet on organic ingredients and small producers. Discovery is on the agenda thanks to carefully selected cheeses and charcuterie, gluten-free cakes or delicacies such as spreads and homemade jams. There are also the brunch classics like scrambled eggs, salmon, pastries... There's something for everyone!

The Three Bis at the Gaîté Lyrique, 3bis rue Papin, 75003 Paris. 28 euros for brunch.
-
The most Frenchy: 86 Champs
L'Occitane et Pierre Hermé have joined forces to open this welcoming and gourmet address on the most beautiful avenue in the world. Between the two, the magic works wonderfully. In a sublime setting, you can savor a pastry chef's brunch that needs no introduction. Hot drinks, juice and eggs are on the menu, but we really love the homemade pastries like the growing at Isfahan, the signature of the chef or macaroons.

86 Champs, 86 avenue des Champs Elysées, 75008 Paris. Two formulas at 49 or 79 euros.
-
The healthiest: at Judy
Judy is the " quality canteen trendy in the Luxembourg district. Here, the dishes are created using a naturopath and are as good for us, for our body as for the planet. The products are organic, seasonal and local and the menu adapts to different diets. Whether you are vegan, vegetarian, gluten or lactose intolerant, you will always find delicious dishes for you. We crack in front of the explosions of colors and the creativity recipes. Do not forget to sip the tasty house fruit juices, perfect to perk up if you have overindulged the day before.

Judy, 18 rue de Fleurus, 75006 Paris.
-
The most bucolic: the Chalet du Lac
For a brunch extraordinary, it's at the Chalet du Lac, located in the heart of Bois de Vincennes, which must be surrendered. With his three terraces by the Lake of Saint Mandé, this charming restaurant welcomes epicureans looking for a "green" break.
On Sundays, from 11:30 a.m. to 15:00 p.m., brunch takes the form of a large Franco-Italian all-you-can-eat buffet. On the menu ? Cold and hot drinks, pastries, scrambled eggs and fruit, a salty part and another sweet, very generous. In addition to the classic brunches, there is the possibility of savoring savory and sweet pancakes, and for our children, of treating themselves to a little pleasure at the candy bar, with an assortment of sweets and ice creams.
Le Chalet du Lac, Edge of the Bois de Vincennes, 75012 Paris. 01 43 28 09 89. Brunch at €35 or €40 with a glass of champagne – for children under 10, €19.
-
The most 'outdoor': Café A
A few steps from East station, Café A offers a privileged setting in lush greenery. It consists of a garden, a cloister and several interior spaces including an old chapel.
In order to meet our desires and desires, here, brunch is served à la carte. Between salty and sweet, we are offered a wide choice of small gourmet plates. Among these innumerable delectable choices, there are particularly tempting dishes: Norwegian smoked salmon served with lamb's lettuce and lime, or the avocado toast with hummus, snow peas, dried tomatoes and arugula. On the sweet side, Café A offers a dark chocolate ganache and a red fruit and basil smoothie.
A coffee, 148 rue du Faubourg Saint-Martin, 75010 Paris. 09 81 29 83 38
-
The most exotic: Off Paris Seine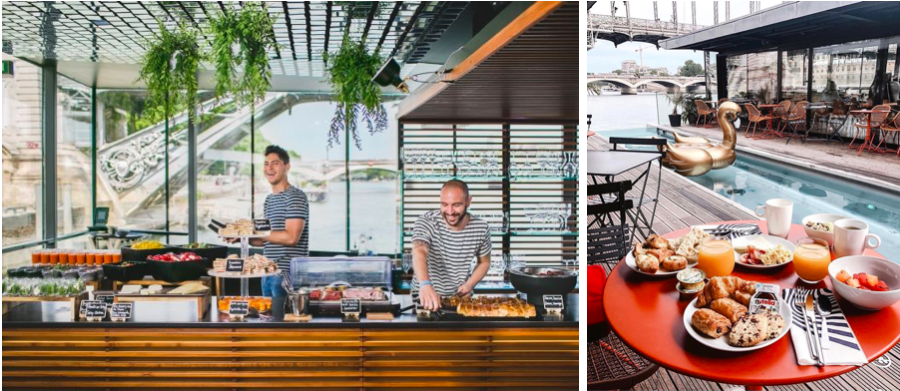 At the bottom of Austerlitz train station, OFF Paris Seine welcomes you to its wooden deck, glazed, with a sleek, modern and design style. Placed on the Seine, it is a pleasure to relax there.
The weekend (Saturday from 11:30 a.m. to 16 p.m. and Sunday from 00:11 a.m. to 30 p.m.) you can taste a real buffet of kings, homemade! On the savory side, we find the great classics and a few offerings that change, in particular puff pastries and the Swedish, vegetarian or Norwegian club. Note that drinks, both hot and cold, are unlimited. And then, alongside, we have access to an enticing selection of sweet wonders. In addition to the traditional pastries and fruit salad, we don't hesitate to go for the pies, entremets and cakes. All developed by the pastry chef !
OFF Paris Seine, 86 Quai d'Austerlitz, 75013 Paris. 01 44 06 62 65. Brunch is 45€ and 22€ for children.