A small luxury accessible to all, candles are the ideal gift to indulge yourself. Whether it be to embalm a room or just as a decorative object, it is not difficult to integrate it into your interior. Paris Select reveals the prettiest boutiques to shop the precious creations of our favorite brands…
Trudon House
La Trudon House is one of the oldest and most prestigious wax houses. For this Christmas, she has created a line paying homage to Egypt : Amon, Philae, Gizeh… The names already take us to the banks of the Nile, just like the smells of papyrus, mint tea or incense of this joyful collection.
Trudon House, 78 rue de Seine, 75006 Paris & 61 rue Caumartin, 75009 Paris
Diptyque
Diptych, it is the favorite brand of Parisiennes connected. With its simple design and elegant scents, this is THE gift that can appear on any Christmas list. This season, the house has developed three magical scents around the northern legends. Almond, amber or fir are revealed in their most beautiful light.
Diptyque, 330-332, Rue Saint Honoré, 75001 Paris & 34, Boulevard Saint Germain, 75005 Paris
Basket of the Senses
This is 2001 in the heart of Provence, that Basket of the Senses was born. The brand offers different ranges of care, toiletries and fresh waters that magnify the beauty of its region of origin. In addition to creams, scrubs, body milks and other pretty soaps with the scents of Grasse, we also discover a line of very refined scented candles that will embalm your interior for 45 hours... elegant products that we take pleasure in discovering over the course of a customer journey thought of as an escapade in Provence, within their superb setting.
Panier des Sens, 24 Avenue de l'Opéra, 75001 Paris & 31 rue Lepic, 75018 Paris
Byredo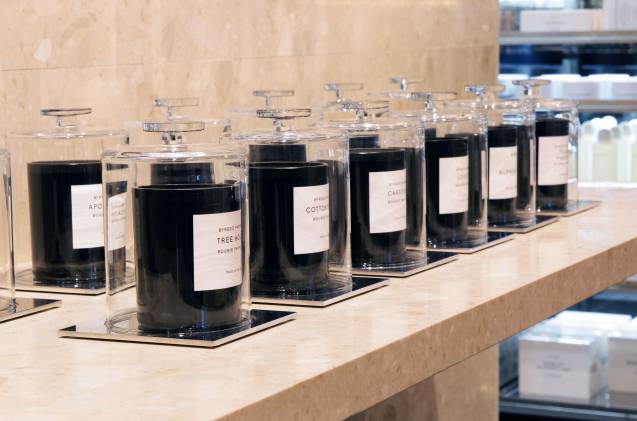 That she was expected this first store in Paris from the Swedish perfume brand Byredo! This fall, the house has therefore settled down in the very chic rue Saint Honoré. We therefore take advantage of the good excuse of the Christmas shopping to go there for a walk to shop our favorite candles, to offer or to keep secretly for our apartment…
Byredo, 199 rue Saint Honoré, 75001 Paris

quintessence
quintessence develops his creations like rooms in a beautiful Parisian mansion. Thus, the candles offer a olfactory journey in this bourgeois house. It is the French Art of Living that the house wishes to highlight and we therefore offer ourselves a elegant parenthesis out of time with his creations.
The 38 by Quintessence & 85°, 38 University Street 75007 Paris