Paris is magical and the capital never sleeps for those who like to party. Paris Select reveals the best places to hang out with your group of friends, just to celebrate this fashion week in style!
-
Le Piaf, 38 Rue Jean Mermoz, 75008 Paris
In pure spirit'a speakeasy', Le Piaf presents a felt frame without fail! Red hangings draped like curtains, velvet benches and subdued lighting under which a singer performs various hits on the piano. All codes an perfect Parisian nightlife HQ are gathered here! À la carte: burrata, foie gras, smoked salmon, risotto, curly bacon and perfect egg – the signature dish of the house – not to mention the sublime signature desserts Cyril Lignac, lemon tart, rum baba and gluten-free chocolate cake. Surprise, for those who want to slum, the bar in the basement welcomes Parisian night owls who like to dance there until the end of the night from Thursday to Saturday until 5 am, with a large choice of cocktails that depotent !
Le Piaf, 38 Rue Jean Mermoz, 75008 Paris
-
Noto, 252 bis rue du Faubourg Saint Honoré, 75008 Paris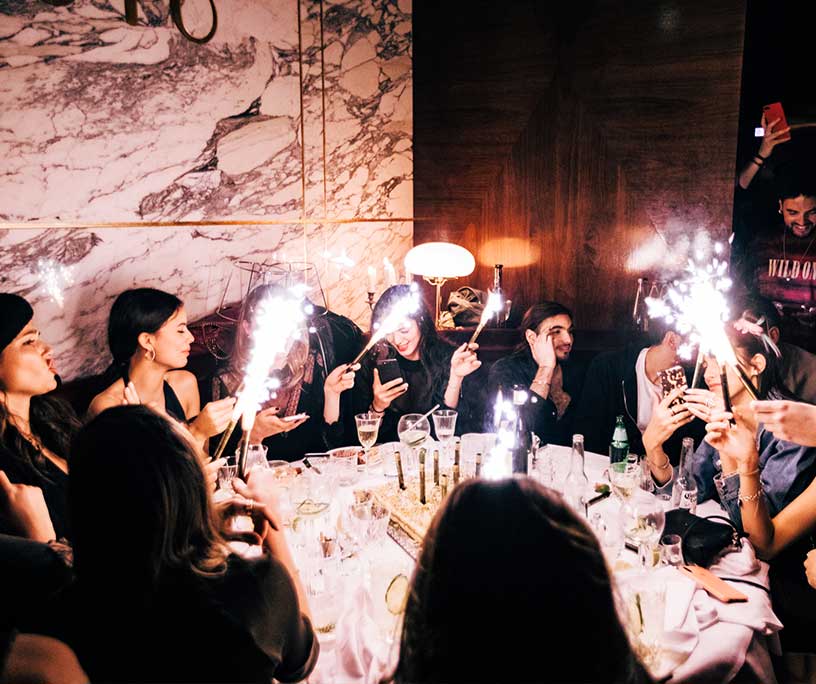 No matter the season, the restaurant in the Pleyel room is always full of pretty people. Especially during Fashion Week! The decoration of his Art-Deco room gives pride of place to marble, shiny walnut and other luster. A divine blend eclectic-chic. On the menu: sea bass ceviche, tuna tartare, crazy pastas, great grilled prawns… Good Italian cuisine, tasty and sunny, just the way we like it! When night falls, the atmosphere changes completely. It is not uncommon to see the socialites start dancing furiously to the sound of music… A real temple of cool.
Noto, 252 bis rue du Faubourg Saint Honoré, 75008 Paris. 01 86 95 96 60
-
Manko, 15 avenue Montaigne, 75008 Paris
Le Manko was opened by one of its greatest ambassadors: Gaston Acurio who took the gamble of democratizing Peruvian gastronomy outside the country's borders. In one breathtaking decor within the Théâtre des Champs-Élysées, culinary traditions are carried out with a master hand. We taste real ceviches, pisco (the local brandy) or even creations around octopus and potatoes. But the secret weapon of the place is its hybrid side, in addition to the restaurant, it hosts a sumptuous cocktail bar and a cabaret the weekend.An explosive mix!

Manko, 15 avenue Montaigne, 75008 Paris. +01 (82)28
-
Caviar Kaspia, 17 place de la Madeleine, 75008 Paris
The "Kaspia" is the unmissable meeting place for People passing through Paris. A luxurious restaurant serving Russian specialties, Caviar Kaspia attracts fine gourmets as well as French and international celebrities. Dating from the beginning of the XNUMXth century, this legendary restaurant on the Place de la Madeleine is synonymous with chic pleasure and refinement. Between a glass of champagne and a bite of exceptional caviar, you will be sure to spend a divine moment in ultra luxury mode!
Caviar Kaspia, 17 place de la Madeleine, 75008 Paris. 01 42 65 33 32
-
Medellin Paris, 6 Avenue Marceau, 75008 Paris
Among the trendy spots, the ex-Baron, the Medellin is the most club fashionable from the moment. And all of Paris throngs there every weekend. Enthroned on the famous Avenue Marceau, one discovers there upon arrival a warm atmosphere, and a decor largely inspired by Colombian cartels. Series credits Narcos which goes on a loop, decorations from the Carnival of Barranquilla, staff wearing bulletproof vests... If you are very quickly won over by this original setting, this very select club offers classic cocktails ! Sangria revisited, mojito and other drinks signature of the House. 'Joder', 'A Tomar Por Culo', or even 'De Puta Madre'… Potions too intoxicating each other.
The establishment has also thought of gourmets. In the middle of the night, you can enjoy nachos accompanied by guacamole, chicken, beef, salmon, vegan or even caviar tacos for the most precious! All to enjoy while swaying to the sounds incredibly well chosen by the DJ's.
Medellin Paris, 6 Avenue Marceau, 75008 Paris
-
Le Sinner, 116 rue du Temple, 75003 Paris
After the Nolinski and more recently the Brach, the group Evok Hotels Collection inaugurated the Sinner in the Upper Marais. Brilliantly decorated by the interior designer Tristan Auer (Le Crillon, Les Bains) we discover with wonder its 43 bedrooms mixing stained glass with wood, velvet and other works of art scattered here and there...
The Sinner also features a private spa, a restaurant and a bar, besides on the kitchen side, he is the chef Adam Benthalha (Brach) accustomed to the group, at the controls. Here he drew a map ethnic and friendly, which draws its influences from Mediterranean, Asian, African and South American cuisines. Both the rooms and the common areas are scented with a sweet smell ofincense and myrrh, the nice olfactory signature for this quirky luxury hotel, where VIPs like to go there to party.
The Sinner, 116 rue du Temple, 75003 Paris. 01 42 72 20 00
Read also: The best restaurants to celebrate a birthday in Paris