Red, rosé, white… A true local product, wine represents one of the country's greatest riches. Fortunately for lovers of good vintages, there is no shortage of wine cellars in Paris. Zoom on our favorite addresses.
-
The Red and the Glass
Enthroned in rue Brunel, not far from the Palais des Congrès, The Red and the Glass opened its doors in 2002. But it was only 2 years ago, at the dawn of the health crisis, that Anita took over this authentic establishment. Indeed, behind its pretty red frontage, we discover that Le Rouge et le Verre is neither a bar nor a restaurant... but a beautiful wine cellar typically Parisian, which also makes guest table !
The 600 wine references proposed – including many biodynamic and natural wines – are carefully chosen by Anita, who works in directly with producers. There is also a nice selection of champagnes, rums and other spirits… A paradise for lovers of beautiful bottles and the most knowledgeable connoisseurs. Especially since here, the corkage fee is not. All these beautiful bottles can be consumed on the spot or to take away, at the same price. A real added value!
During your afterworks, you can enjoy delicious boards of southwestern charcuterie and cheeses… but not only. At lunch and dinner time, the chef offers bistronomic cuisine, using fresh produce. And the menu changes often, depending on seasonal arrivals!
The Red and the Glass, 33 rue de Brunel, 75017 Paris. 01 45 72 69 98. Please note that for dinner, Le Rouge et le Verre is only open on weekends: Wednesday, Thursday and Friday.
-
The Table of the Organic Cellar
In a chic and sober decor in ocher/grey tones, The Table of the Organic Cellar offers a menu bringing together whites, rosés, reds and champagnes from different appellations. There is also a selection of spirits produced by independent producers (Rum, Whisky, cognac and Armagnac). Each bottle is carefully chosen by the owner of the premises, Dominique Bry. This lover of cuvées with interesting organoleptic qualities took the time to visit many wine estates in order to draw up this map of 250 references of wines and champagnes - exclusively organic, biodynamic and natural – sourced from the best producers. The house offers reasonable prices by the glass and by the bottle, to be discovered on the spot, as well as a cellar rate for bottles to take away… The plus? Le Caviste Bio offers a Bistronomic restoration midday and evening quality.
The Table of the Organic Cellar, 55 Rue de Prony, 75017 Paris. 01 82 10 37 02
-
the 116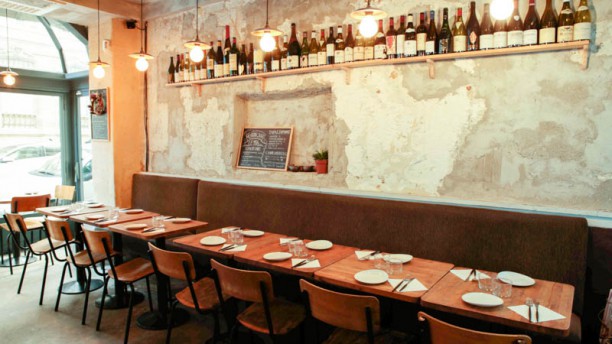 Located close to the parent company, the 116 is none other than the wine bar of the restaurant Pages. This hybrid bistro with a nicely raw decor, it also relies on lively seasonal cuisine. Here, duck, monkfish, blue lobster, poultry and other octopus are grilled on the Japanese bincho to obtain a delicate smoky flavor... If at lunchtime you can enjoy small twisted Japanese dishes, in the evening, signature tapas and revisited desserts are highlighted. Wines, cocktails, whiskeys, bourbons and craft beers, in total, the 116 has a hundreds of references, selected by Shunsuke, the in-house Japanese sommelier. Among the house's best sales, surprising and lively wines such as Ondine Blanc 2014 Clos Massotte, Gamay Roue Libre from Daniel Sage, Fou du Roi 2013 from Le Temps des Cerises or Violette 2012 from Domaine de la Bohème. An address that will inevitably delight neophytes and connoisseurs alike!
Le 116, 2 rue Auguste Vacquerie, 75016 Paris. 01 47 20 10 45
-
Frenchie – Wine bar
Decorated by Emilie Bonaventure, the aperitif spot of Gregory Marchand shines with its Parisian style. Bottle green facade, designer stools, benches, ceramic tableware… You feel at home here. Here, we enjoy burrata, crispy sweetbread nuggets, grilled cuttlefish or even challans duck, not to mention the delicious Paris-Brest with wild strawberries. Everything is shared at will, accompanied by great bottles, selected by the house: whites, reds, yellows, rosés, sakes, digestives, whether French, European or American… A hundred references are available here. To be tested: the domain of IGP amphoras of the Collines Rhodaniennes cuvée Iris, Côte du Jura domain Overnoy.
Frenchie – Wine bar, 6 Rue du Nil, 75002 Paris. 01 40 39 96 19