Despite this somewhat unstable Parisian weather – rain then heat wave – nothing is more pleasant and refreshing than enjoying a good ice cream under a beating sun… A small slew of our favorite addresses for a well-deserved gourmet break.
-
The most original
Fruttini by MO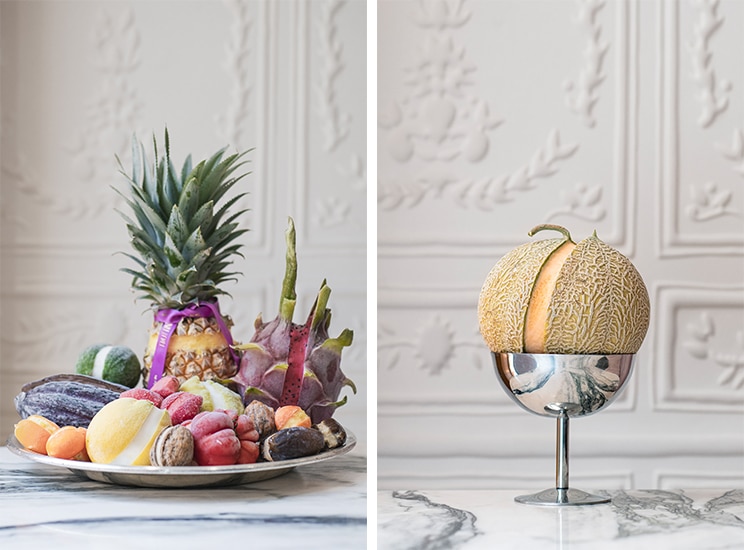 FRUTTINI by MO, it is the adventure of Marie-Laure Pollet et Ollivia Berdah. In this pretty shop in the 6th arrondissement, the two friends offer frosted fruit, according to seasonal arrivals...
But then the Fruttini, kézako? Simply fruit that is completely hollowed out and then filled with a delicious sorbet made from pulp, water and a little sugar.
On site, you will be spoiled for choice! Apricot, peach, pineapple orange, lemon, lime, kiwi, banana and even more options exotic such as lychee, mangosteen or even yuzu… But our favorite is undoubtedly the passion fruit, really tasty!
Fruttini by MO, 24 rue Saint-Placide, 75006 Paris. Open Monday to Sunday from 10:30 a.m. to 19 p.m. 01 43 20 47 31
-
iceRoll
Based at Montorgueil, iceRoll is the forerunner of rolled ice cream in Paris! iceRoll presents a innovative way to make ice cream in the form of rolls on a plate at -30°C. The fruits and the cream are then transformed before your eyes in an instant and ready to taste... With their playful shape, their creamy texture and their tasty taste, we can only crack!
iceRoll, 16 rue des Petits-Carreaux, 75002 Paris.
-
Craftsmen
The Ice Cream Paris
Opened only two years ago, in June 2018, The Ice Cream Paris became a true reference for foodies. It offers 'classic' ice creams served in homemade cones, but also desserts and iced chocolate candies… The signature of the house? From frozen "tubes" either molded slicing ice cream right out of the freezer, which revolutionize the pleasure of tasting frozen desserts at home. An ingenious creation and signed design David wesmael, voted best ice cream worker in France in 2004 and world pastry champion in 2006, at the helm of the establishment.
The Ice Cream Paris, 13 Rue du Temple, 75004 Paris. 01 55 43 91 96
-
Pierre Geronimi Glacier
After Corsica, Monaco and Grenoble, Pierre Geronimi finally settled in Paris in 2016. The Corsican ice cream master prepares his ice cream with particular care, rigorously selecting products from his native island (but also in the rest of the world) for their taste, freshness and fragrance. In its box of 6th district, you can also enjoy salads accompanied by salty ice cream ! An original creation to test absolutely.
Pierre Geronimi Glacier, 5 Rue Ferou, 75006 Paris. 01 42 38 00 67
-
Berthillon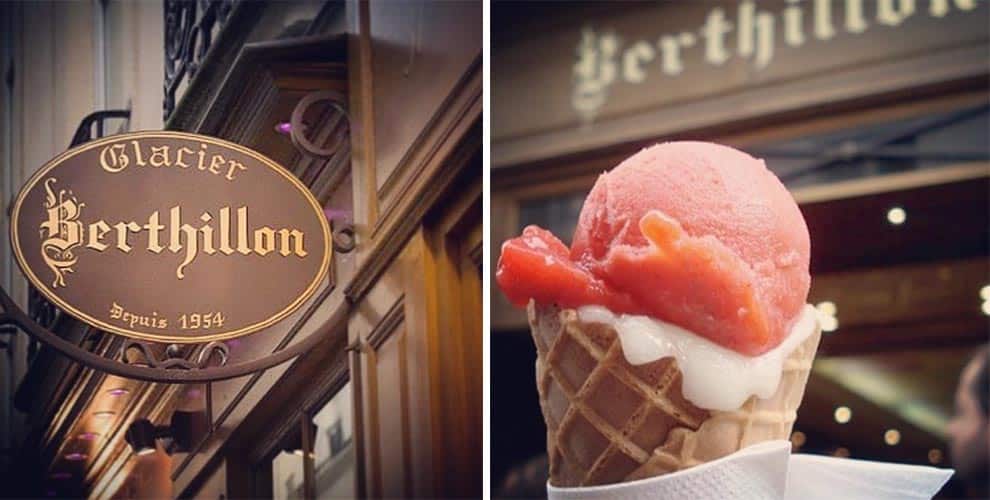 Since 1954, the house Bertillon has changed neither its recipe nor its method of manufacture and for good reason! the world's most famous glacier still enjoys great success. Under the leadership of Muriel Delpuech (the granddaughter of Raymond, the founder), the firm's ice cream parlors still produce handcrafted products upstairs 70 flavors available : raspberry sorbet, vanilla, mango, litchees… Impossible to get tired of these delicious sweets!
Berthillon, 29-31 Rue Saint-Louis en l'Île, 75004 Paris. 01 43 54 31 61
-
Raimo
Raimo can boast of being oldest artisanal ice cream parlor of the capital since since 1947, the brand delights gourmet Parisians. Its production has been passed down from generation to generation, which means that the quality of the ice cream has never weakened! Among the forty perfumes offered – vanilla, candied chestnut, coffee, almond milk… – between the classics and the more recent tastes, our heart swings… And we understand that pastry chef Christophe Michalak cannot do without it!
Raimo, 59-61 Boulevard de Reuilly, 75012 Paris. 01 43 43 70 17
-
Hugo & Victor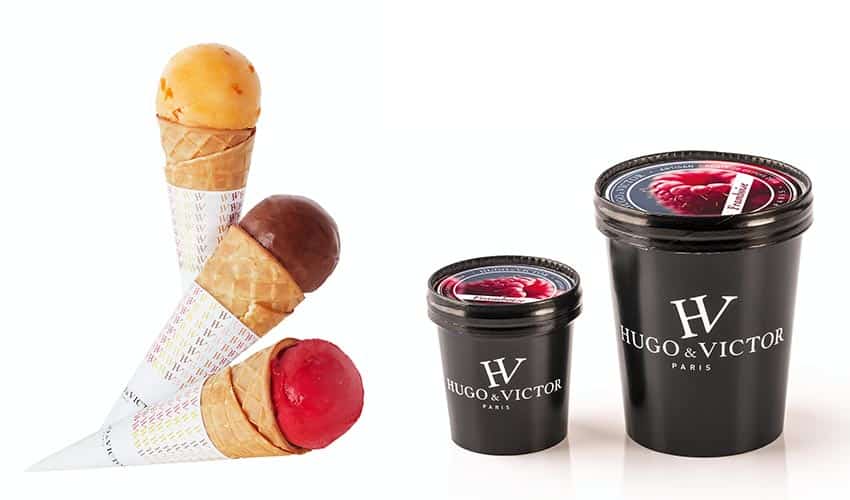 This season, Hugo & Victor renew their card with artisanal ice cream with tasty recipes. The greediest will obviously always be delighted by the 'Lemon cheesecake', the salted butter caramel or the pistachio ice cream from Sicily. If on the sorbet side, you can also enjoy the great classics of Chef Hugues Pouget (Grapefruit sorbet, Strawberry with lemon zest or Brazilian lime) we love them two new fragrances : Honey-orange blossom and Rose that will awaken the taste buds!
Hugo & Victor, 40 Boulevard Raspail, 75007 Paris. 01 44 39 97 73
-
The new address to discover:
ice cream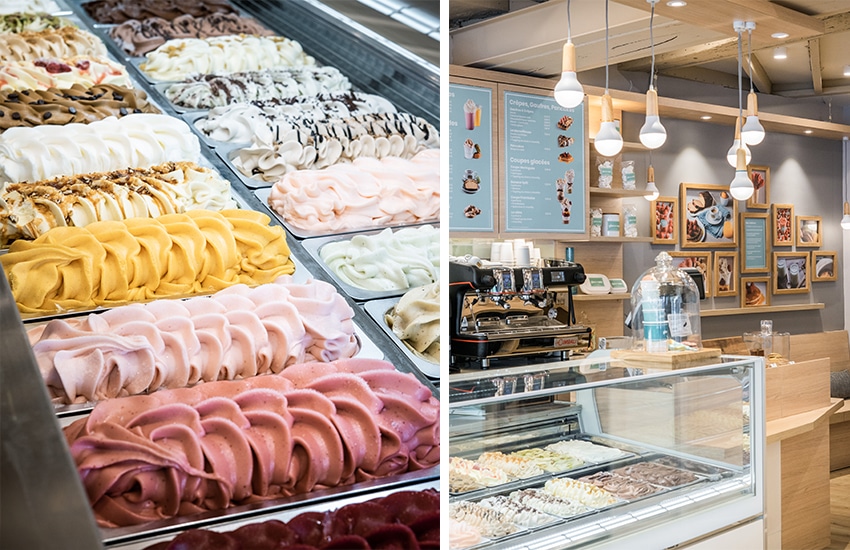 enthroned on the Place de la Bastille (instead of the old Amorino) ice cream is the new favorite 'ice cream' spot for Parisians on the right bank. Sky blue color, woodwork and natural atmosphere, decorative level, everything has been nicely redesigned.
Here, you will have to choose between around thirty flavors! Organic vanilla from Madagascar and fleur de sel, apricot and blackcurrant (both organic also), raspberry, pistachio, peach or other slightly more exotic flavors such as pineapple sweety tonka or mango… The plus? The carte changes with the seasons – for even more deliciousness – and compo level, the ice creams are made with farm milk and Normandy cream. As for the ingredients, they are carefully chosen in a short circuit (in France) by the founder. Craig Sanders. Glace Room does not use dyes or preservatives, a real added value. The sorbets are incredibly tasty and natural… Faultless for this new frozen address!
Ice Room, 4 rue de la Roquette, 75011 Paris.
By Melanie Hroorakvit