When you've been friends for a long time, finding a cool activity you haven't already done is mission impossible. Going away for the weekend, indulging in a shopping spree, going to the cinema or the theatre… And if this time you bet on a creative workshop? An authentic experience that you can live together and which promises unique products! Paris Select has unearthed 20 super stylish workshops for you to change from the usual cinema outing… Follow the guide!
-
A workshop for make your own kokedama
During this workshop, you will discover the profession of plant designer and learn how to make your own kokedama ! It is alongside Brice, passionate about nature and more particularly about plants, that you will learn about this fun and creative activity.
In his beautiful studio decorated with plants, he will welcome you and tell you about his journey. Then, he will introduce you to the plants with which he works on a daily basis as well as the technical who is using it. Without forgetting thehistory of kokedama ! This exchange will allow you to better understand and visualize the manufacturing steps.
Next, you'll choose your favorite plant before you start making a ball of moist soil to hold the roots. You will then place the natural moss on the sphere and surround the kokedama with a nylon thread.
Before leaving with your pretty, designer and unique plant, Brice will give you many tips on how to maintain it!
-
A workshop to learn about chocolate making
Learn about chocolate making and make your own chocolate delicacies with Jean-Pierre and Stan, chocolate artisans!
Before moving on to practice, you can taste (multiple times!) different chocolates. Dark, milk, in different percentages… This is a real workshop making real chocolate, from cocoa beans. However, the program may vary depending on the season.
What is certain is that you will indeed get your hands dirty by making tablets, beggars, molds and other filled sweets. Delicious creations to taste and share with your loved ones!
During this workshop, you will learn the whole process of making chocolate. A workshop for young and old, which will especially delight the greediest!
-
A workshop for create your own terrariumm
Upon arrival, Céline will offer you a little coffee and something to snack on to welcome you as it should be in her studio. Once the presentations made the different stages of the discovery workshop, you can put your hands on the ground!
You will then compose your custom terrarium using the different materials available by Celine. Colored sand, pebbles, pebbles, moss and also the different plants available in his shop: fern, ficus, ivy and other succulents. Layer after layer, your terrarium will take shape, under the wise advice of Céline!
If you wish, you can add an element to your terrarium, such as a character for example. Play the game and draw randomly!!
You will leave this workshop with your single terrarium as well as all the maintenance advice given by Céline.
-
A workshop to learn how to make fresh pasta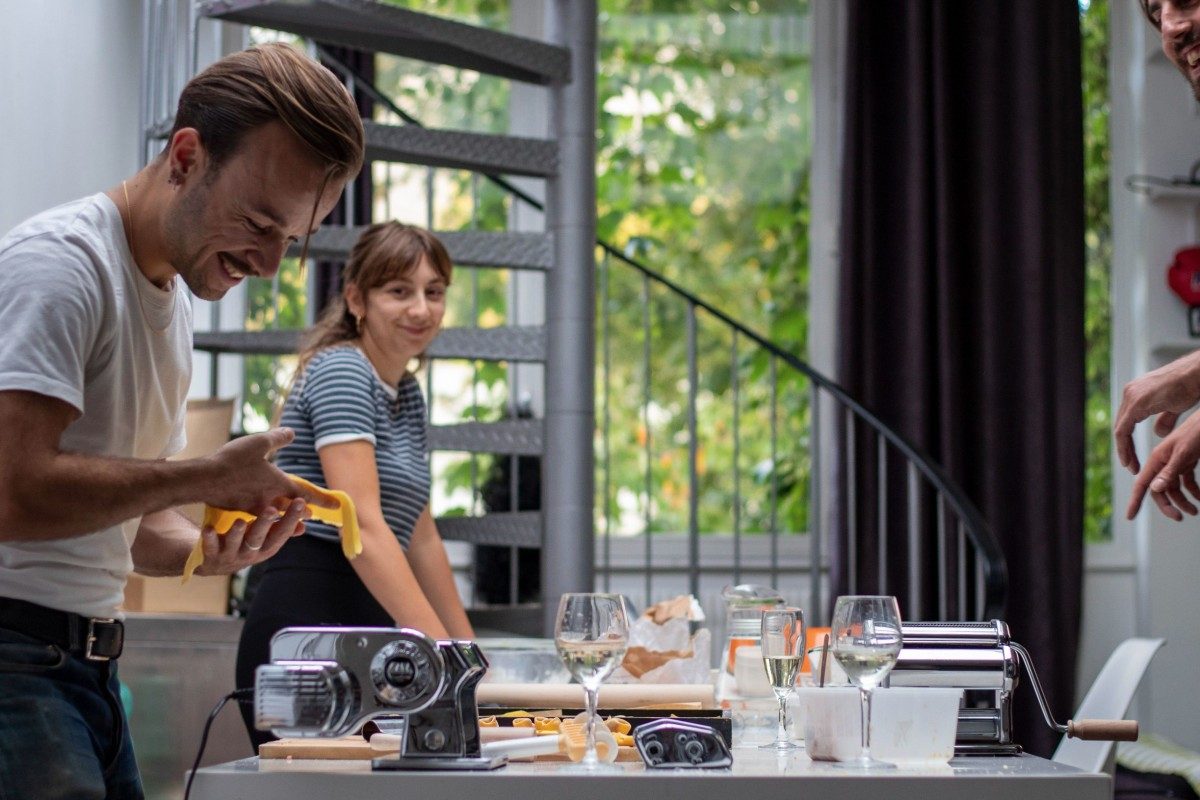 Attention gourmets and lovers of Italian gastronomy! During this comprehensive half-day workshop, you will be guided by Claudio, an Italian chef with a passion for cooking. After a delicious homemade aperitif made by him, you will go to the stove to learn how to make your tagliatelle! Claudio will give you his star recipe. You will also cook a delicious Italian sauce to accompany your pasta. Then you will even learn how to make a tiramisu, according to your desires: coffee, lemon or vanilla!
This trip to Italy will end with a moment of convivial exchange around Italian cuisine.
-
A workshop to learn how to make pizza
Discover Italian cuisine by creating pizza and its dough! Immediate boarding for Sicily…
First of all, you will discover the story of Maxime, alias Mimmo! Then you will learn the basics, namely the creation of different pizza doughs. Then you will put your hand to the dough by making your dough according to the rules of the art. You will make 3 pieces of dough accompanied by Mimmo who will guide you, because depending on your oven the proportions are different. During this workshop, you can garnish your pizza, which you will cook in a wood-fired oven. You will leave with your pizza dough and the secrets of authentic cooking over a wood fire, a traditional Italian method.
-
For the most flirtatious: a vegan lipstick creation workshop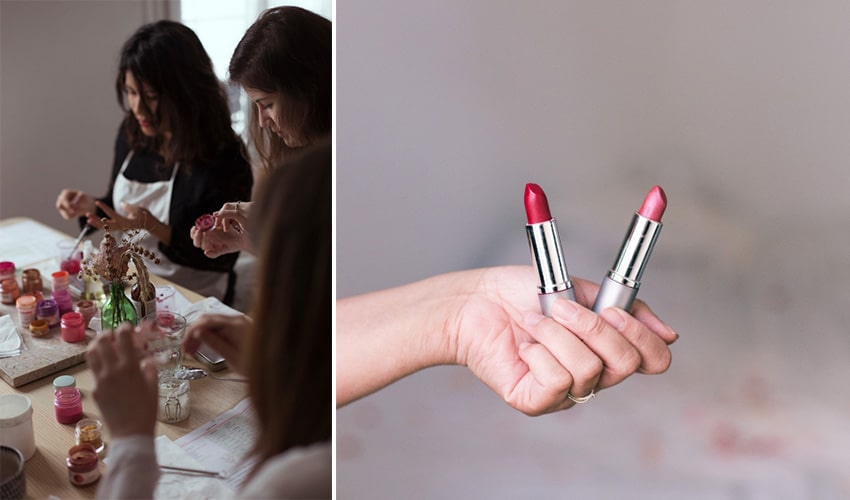 For the big coquettes and other fans of natural cosmetics, head for the vegan lipstick workshop! Guided by Nathalie, you will start by choosing the shade you want according to your taste but also your complexion. After mixing the ingredients (vegetable oils and butters, essential oils, active ingredients, etc.), comes the step of pouring into a mould, to be placed in the freezer for 10 minutes so that the mixture takes on the ideal consistency. You will then put it in the form of a stick to insert it into your case.
I WANT A PERSONALIZED LIPSTICK!
-
For perfumery fans: a perfume creation workshop with a nose
For perfume lovers, we hold theideal workshop. During this olfactory workshop au Perfume Studio, you will be guided through all the stages of the creative process: from choosing your favorite scents for the base, heart and top notes to the final stage, the birth of a precious fragrance... At the end of this 2-hour workshop, you will leave with a unique creation, contained in a 30 ml bottle and full of memories.
-
For fashion lovers:
Realization and customization of a made-to-measure denim jacket...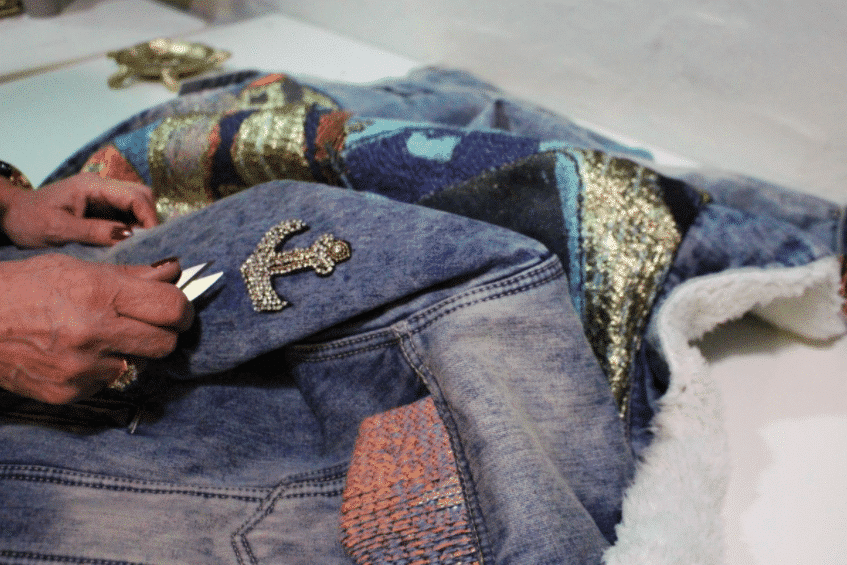 Like fashionista in your soul, you have always dreamed of an immersion in a Parisian Couture workshop ? This is the opportunity! Here, she will be accompanied by Alice, who will help you realize the denim jacket of your dreams, from design to manufacturing. Choice of shape, fabrics then precious details to embellish his outfit like patches, embroidery and other stripes… You can give free rein to your imagination to make a denim jacket entirely to your image!
-
… or summer sandals
Foteini welcomes you to its studio-workshop for a short journey into the world of shoes. The techniques used to make the shoes stem from traditional know-how: the shoemaking craftsmanship, learned from two Parisian masters and brought up to date thanks to a mixture of semi-industrial techniques, but always manual and with respect. rules of the art!
After a theoretical introduction to the anatomy, the different components of a sandal, the tools and materials used for manufacturing, you will choose your ergonomic sole, your skins or textiles, and begin manufacturing your straps.
We like: the colors and choice of materials, which can be fully personalized.
HAVE ME THE MOST BEAUTIFUL SANDALS OF THE SUMMER!
-
… or a sneaker customization workshop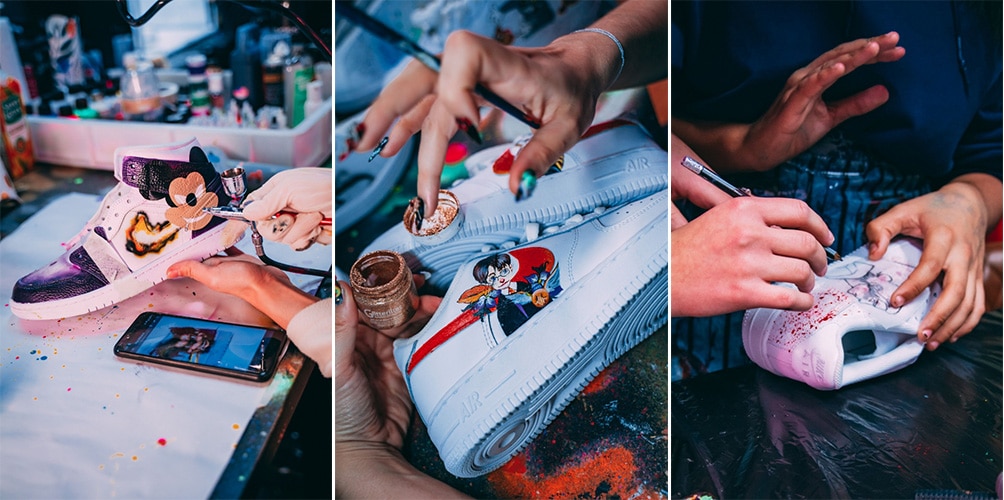 If you dream of making your pair of sneakers unique, this workshop is for you! Combining initiation to machine sewing and graphic illustration, Marie and her team offer you real support (3 hours) to pimp up your favorite pair of sneakers!
You will start by discussing with the team in order to define your creative project: pattern illustration, color filling, change of fabric tabs, replacement of leather stems, jewelry and laces... Upstream of the workshop, you can even already think about a project for your pair, what design, what colors, what you can have in mind or printed! And don't panic if you don't know exactly what you want, a catalog of flashes will be available to guide you on the spot and you can also opt for a pattern invented on the spot.
TO ME THE HYPER DESIRABLE SNEAKERS
-
For leather goods aficionados: a leather handbag creation workshop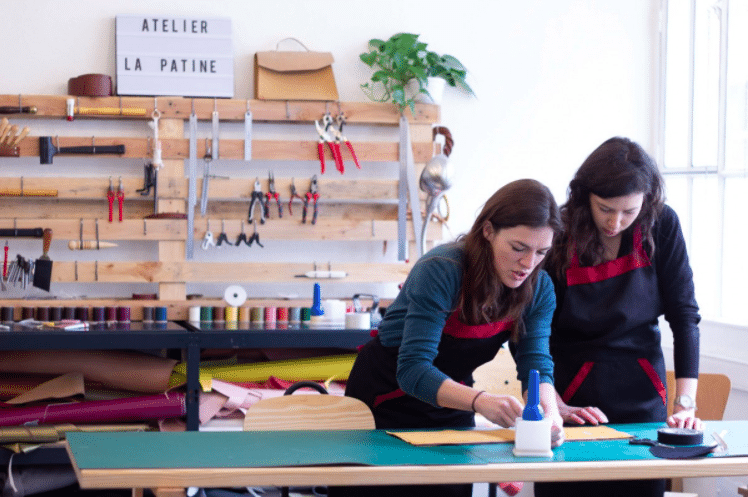 For a big fan of bags, this workshop will necessarily please her. With Diane, you will learn step by step the secrets of leather goods. Here, three models are proposed for the realization: the bucket bag, the envelope pouch as well as a model that changes every season. You can then choose your own leather (color and texture) before assembling and customizing the it-bag of your dreams… We prefer to warn you, it's really worth it!
I BRING LIFE TO THE BAG OF MY DREAMS!
-
For young and old gourmets...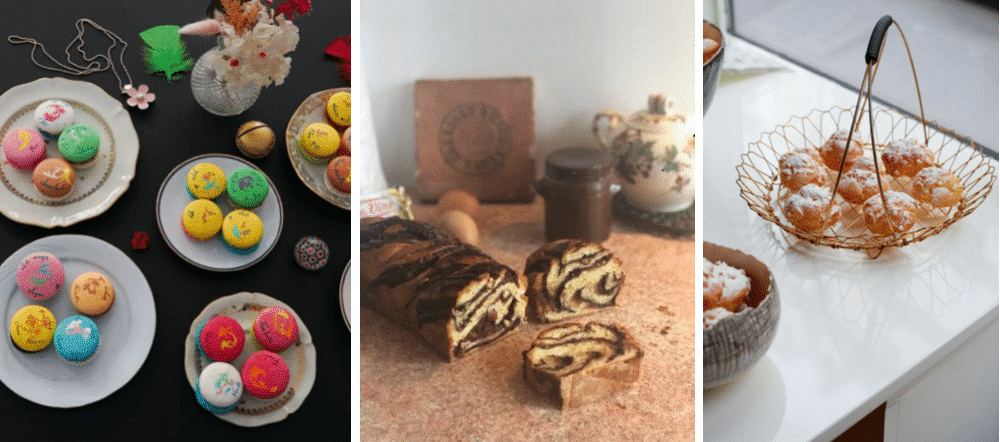 Who said that culinary workshops were no longer popular? Quite the contrary! To the delight of greedy Besides. Whether you are more salty or sweet, you can find all kinds: to make your own pain, its mozzarella, its chocolate bar or even its honey… On our side, we preferred to bet on the real fond.es of cakes and other pâtisseries. As a result, we have selected some great workshops for you to make macarons, babkas and other chouquettes… Enough to spend delicious moments as a duo!
Organic macaroons: I BOOK THIS WORKSHOP
Babkas workshop: I WILL ENJOY!
Chouquettes workshop: I WANT TO LEARN HOW TO MAKE IT!
-
For the precious who love fine jewellery…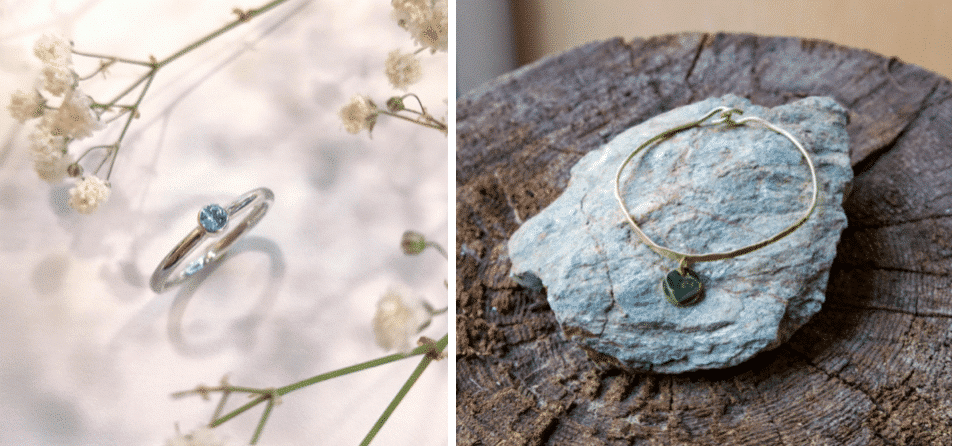 Of course, we also thought of those who swear by Jewelry with crazy workshops, guided by artisan jewelers ! With Amandine and Claire, they will be able to indulge in the creation of a set ring of a precious stone while with Lucie, they will create a bracelet en gold plated brass, in her workshop in Montmartre… In any case, they will learn a whole bunch of jewelry procedures – wire cutting, shaping, hammering, welding... – and leave with their unique creation !
Set ring workshop: I BRING LIFE TO THE CREATION OF MY DREAMS
Brass bracelet workshop: I CREATE A UNIQUE BRACELET
-
A workshop to make a brass medal
Alice welcomes you with a presentation of her job as a jewelry designer and her specific training, chasing. An ancestral technique that she has been able to adapt to today's tastes through the pop universe of her brand. Then, practice! For 1 hour, you can test the tools, chisels, hammers and punches. Alice will help you to develop your creativity and give shape to your idea, you will have paper and pencil as well as a small metal plate to research and test. Learn how to handle the tools and transform a metal plate into a unique creation!
After having decorated your medal with the chasing technique, you will polish your medal, to finish you will mount your medal as a necklace.
-
For decoration enthusiasts...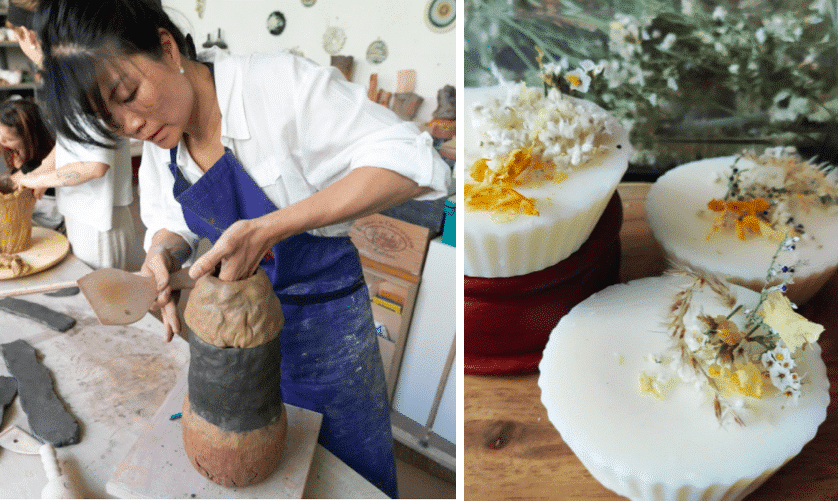 Does your friend love decorating? Give her a workshop to learn how to make a scented vegetable candle. The alternative ? A beautiful ceramic vase ! In addition to enriching her manual skills, you will save her money on her shopping budget since she will now be able to decorate her house with unique, handmade objects… By herself. the nec plus ultra !
Scented vegetable candle: I BOOK THIS WORKSHOP
Ceramic vase: I BOOK THIS WORKSHOP