From September 6 to 11, the Cannes Yacht Festival will be in full swing, bringing together no less than 575 exhibitors !
The Yachting Festival welcomes every year an eclectic offer of nearly 650 boats, 5 to 45 meters afloat and less than 10 meters on land. Sailboats or motor boats, monohulls or even multihulls...
The perfect opportunity for great enthusiasts and other less experienced sailors to meet the biggest names in the nautical industry and their latest innovations in unparalleled visiting conditions! Zoom on our 3 favorite establishments to stay near the Old Port and attend the festival.
-
Hotel Barrière
Le

Majestic

Cannes
Overlooking the mythical Boulevard de la Croisette, opposite the Palais des Festivals et des Congrès, the Hotel Barrière Le Majestic Cannes welcomes you to a warm universe where luxury and elegance are tinged with modernity and history... In this little cocoon of paradise, gourmets will be thrilled! Between the brasserie-inspired dishes signed by the three-star chef Pierre Gagnaire at Fouquet's Cannes, Italian-inspired dishes from Nicole Rubi and Pierre Gagnaire at the Paradiso Nicole & Pierre or the wood-fired specialties of the BFire the restaurant at La Plage Barrière le Majestic (to savor with your feet in the sand), the decision will be anything but easy to make... In terms of well-being, the Spa Diane Barrière offers high-end care and protocols, in partnership with Biologique Recherche and Ligne St-Barth. We come out relaxed and soothed as ever! Sports enthusiasts will not be left out with the fitness center, fully renovated. In addition to a large cardio training area and a coaching room, guests can now take advantage of a large 100m2 terrace to do their sports session, on the latest Technogym branded equipment, facing the sea... A real happiness.
For an unforgettable family stay, the Hôtel Barrière Le Majestic Cannes also offers your children unique support and care, where everything is designed to enable them to "dream big". Your young gourmets will also benefit from an adapted catering offer, savoring healthy and luxurious products.
And then, because it's never too early to open up to the world, at the "Studio by Petit VIP" you will experience innovative, stimulating activities, workshops in foreign languages, awareness raising on the protection of nature and a unique opening on art. From sculpture to photography via tableware, etiquette, music, comics or the 7th art, parents and children will have the opportunity to stage their desires, compose their soundtrack, their clip, dance, mime, make up, sing, cook, phosphorize, learn or simply rest!
In an exceptional environment, awakening to the 10 major arts is a perfect opportunity to experience moments of intergenerational "reconnection", both fun and educational.
In search of permanent renewal to satisfy a clientele constantly in search of new pleasures and tailor-made experiences, the Hôtel Barrière Le Majestic Cannes proves once again that it represents the perfect place to live unique experiences and privileged moments to share with the family.
Hotel Barriere Le Majestic Cannes, 10 Boulevard de la Croisette, 06400 Cannes
-
The Grand Hotel in Cannes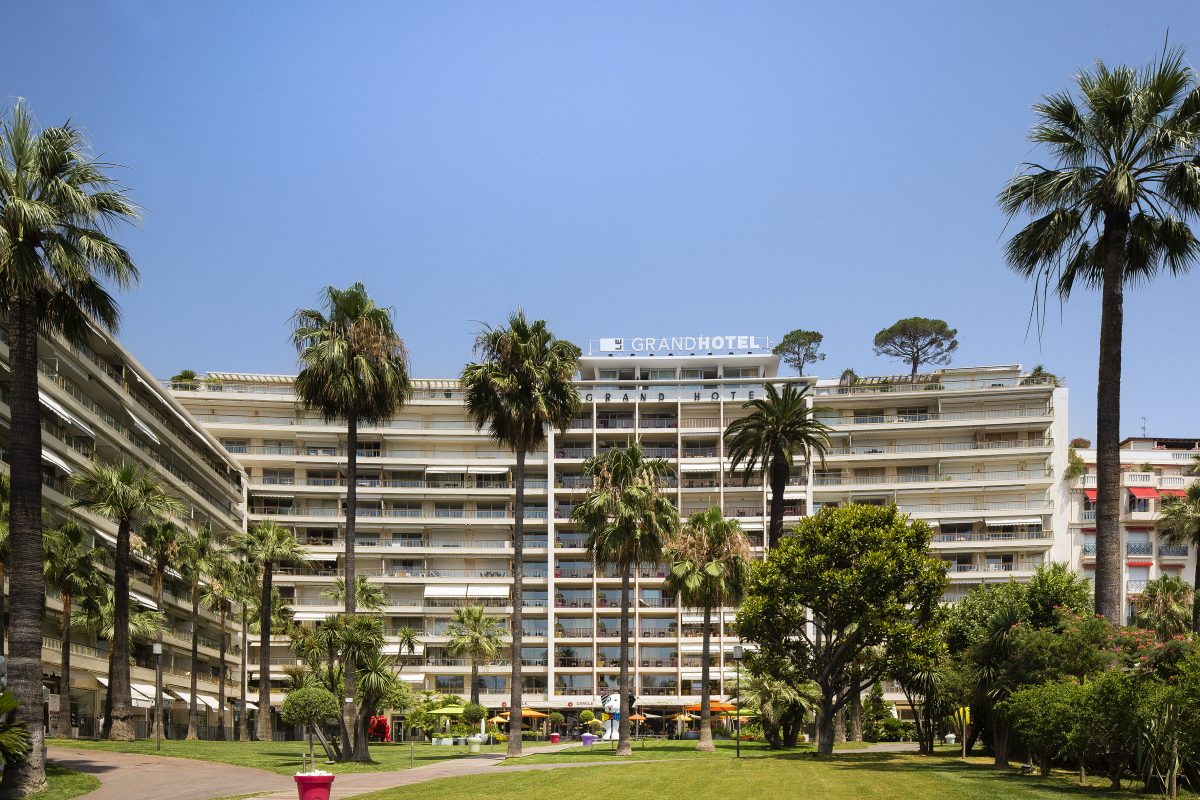 With its verdant gardens, its private beach, its luxurious rooms and its gourmet restaurant, The Grand Hotel in Cannes is the ideal place for a dream holiday on the Riviera. Its spacious and bright rooms are a real cocoon of refinement with their elegant and deliciously retro decoration, not to mention the breathtaking suites. Two of them even offer a jacuzzi on the terrace with view on the sea !
But the rooms are not the only asset of this 5-star hotel, far from it. Indeed, besides its Bar lounge, the Circle, where all-Cannes crowds, the gastronomic restaurant from the hotel, Park 45, is one of the most gourmet addresses in the city. Chef Hervé Busson's cuisine leaves no one indifferent. Contemporary and authentic, the dishes respect the flavors of each product and are rich in discovery... Life is good here and the hotel is ideal for recharging your batteries for a few days.
The Grand Hotel in Cannes, 45 boulevard de la Croisette, 06400 Cannes
-
Hotel Barrière Le Gray d'Albion Cannes
Facing the sea, a stone's throw from the Palais des Festivals, the Hôtel Barrière Le Gray d'Albion is a peaceful oasis in the heart of Cannes life. Epicureans will find what they are looking for here, in all its forms: indulgence, discovery, sport or escape... With its 200 rooms and suites decorated in shades of beige, noble materials and designer furniture, its great bar and Mademoiselle Gray private beach, The Hôtel Barrière Le Gray d'Albion envelops its guests in a refined softness... This 4 prestigious stars proves to be the perfect compromise for those who dream of a cozy, intimate and warm nest, with the program, escape and rest.
If guests have access to the high-end Spa at the Majestic Cannes, it is on the Plage du Gray Mademoiselle Gray that relaxation is absolute. You can have a drink there, comfortably seated on a deck chair, admiring the sunset over the Lérins Islands in a natural and warm atmosphere, adorned with wood, flowers and raffia to combine a harmonious atmosphere under the sun to give , to all, the possibility of abandoning oneself, having fun or eating in the elegant, impertinent, light, bohemian and resolutely Mediterranean environment of the Mademoiselle Gray restaurant. With world cuisine prepared by chef Pierrick Cizeron and his team, who, thanks to his barbecue grill, takes on the air of a gourmet paradise, offering, on his menu, dishes inspired by the sun of the Mediterranean basin with fresh and tasty cuisine. with the flavors of Lebanon. At nightfall, it transforms into an Electro Lounge temple for "after beach" new and original, with DJ on the decks. Those wishing to have a drink in a more intimate atmosphere should head to the Bar du Gray which offers to sublime 100% natural cocktails : Caïpiroska with saffron from Taliouine, Cosmofestival, Americano with chamomile, Bloody B and its Bee Fashioned…
At the heart of this secret refuge of the stars of the 7th Art, we let ourselves be transported to a delicious elsewhere, an experience of absolute well-being…
Hôtel Barrière Le Gray d'Albion, 38 Rue des Serbes, 06400 Cannes