Celebrating its 30th anniversary this year, the Isabelle Langlois house is moving from rue de la Paix to inaugurate a new setting just a stone's throw from Place Vendôme, rue Danielle Casanova... Zoom on this beautiful jewelry house.
-
Isabelle Langlois: a childhood marked by stones
At Isabelle Langlois, the passion for stones is transmitted from generation to generation. granddaughter and daughter of Jura lapidaries, the designer grew up surrounded by precious stones, and it was only natural that she turned to jewelry. Demonstrating early creativity, she affirmed her vocation at a very young age. After graduating from EDHEC, she trained for seven years at Vassort, a fine jewelry workshop that supplied the biggest houses in Place Vendôme.
This experience confirms his wishes and feeds his dream of giving back to colored stones their letters of nobility. In the desire to continue the family adventure in her own way, Isabelle Langlois launches and founded his eponymous house en 1992. From then on, she never ceased to embellish women's daily lives by imagining precious objects, as colorful as they could wish, from the tradition of French fine jewelry.
-
A resolutely feminine precious style
Respectful of a excellent know-how, the jewelery pieces signed Isabelle Langlois shine with joie de vivre and femininity. They are addressed to women of character, sensitive to beautiful stones as well as to the mixture of colors, signature of the House. Indeed, the one who is nicknamed the "jeweler of color" for her shimmering jewels with vitaminized reflections, takes great pleasure in juxtaposing them. This with the aim of recreating the subtle nuances sometimes of a bouquet of flowers, sometimes of a branch of coral or even of a butterfly wing.
end gemologist, Isabelle Langlois chooses only the most beautiful gemstones, among selections from around the world. His creations play with colors, lights and shapes from a range of more than 70 saved. His goal ? Make each piece of jewelry that she designs a real object of poetry...
-
A cheerful and colorful collection
The Isabelle Langlois 2022 2023 fall-winter collection is characterized by joyful creations, inspired by childhood memories. It is divided into 4 lines, we then discover "Sac de Billes", "A tramway named desire", "Ardèche" and "Batik".
-
"Bag of Marbles"
As a child, Isabelle Langlois played marbles, delighted to slip them through her fingers. His greatest happiness? Admire these treasures of various sizes and colors, won after school. Whether red, green, blue or cat's eye, these marbles already made her think of stones... Recalling these happy memories shared by schoolchildren around the world, the designer imagined the "Sac de Marbles" collection. . This accommodates new pendants, all happier than each other. Preciously embellished with diamonds, they compete in brilliance with their multicolored tones with shimmering reflections. Playful jewels for charming necklines, they reveal a uncompromising elegance.
Bag of Marbles pendants in 750/1000 golde , from €1.
-
"A streetcar named desire"
"A tramway named desire" unveils a trio of rings interpreting all in modernity the classic jewelry codes. Of a beautiful volume aerial profile, these creations set the tone of urban sophistication. They can be worn solo on the ring finger for a classic look, or combined on the middle finger for a less wise look. This ring is a winner in a charm offensive. Chic…
A tramway named desire rings in 750/1000 golde à 4 900 €.
-
"Ardeche"
Isabelle Langlois imagined the collection "Ardeche" in 2020, in memory of the beauty of sunsets on the mountains of the region. Building on her success, the designer is now introducing new rings that stand out for their monochrome tones. Interpreting the rays of the setting sun in shades of blue, pink or green, these creations catch fire at the slightest flash of light and reveal an exquisitely elegant style. The most beautiful effect, they sparkle with femininity in a vertigo of preciousness and invite you to escape...
Ardèche rings in 750/1000e gold, from €6.
-
"Batik"
For the line "Batik" Isabelle Langlois was inspired by her travel souvenirs. She bounces back on her emotions to give free rein to her imagination and create her jewelry: a sunset for its colors, a flower for the beauty of its shape, a childhood memory for the happiness it brings. Here, it is a fabric with bold colors and typical prints, discovered in Bali. He will give birth to this collection, the first models of which are fromelegant earrings gracefully revealing the curve of the neck. Illuminated with gems, two gold vines, subtly articulated, brush the nape of the neck without seeming to. Punctuated here and there, briolette-cut stones, more or less imposing, play on the contrast of colors in harmony.
Fruit of a traditional know-how de french jewelry and of the most ingenious design, the whole diffuses, with each movement, dazzling jets of light. Sophisticated on a clear face, or more discreet with loose hair, these earrings sparkle with joy from morning to night.
Batik earrings in 750/1000 golde, from €4.
-
A new boutique on rue Danielle Casanova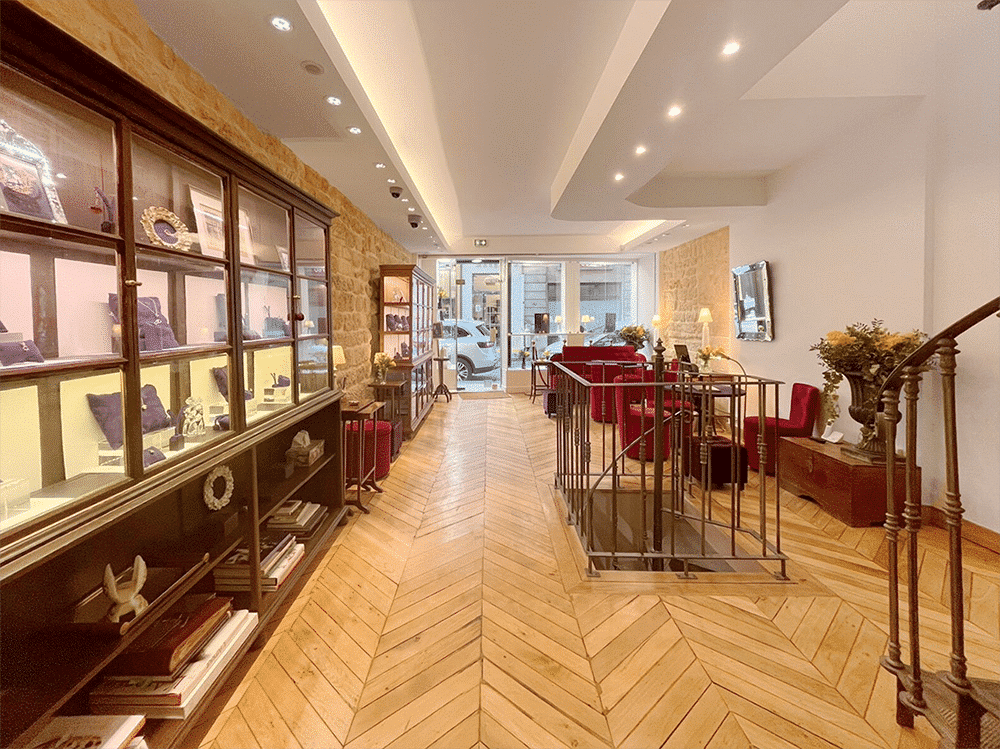 Installed in a pretty shop in the Peace Street since 2010, Isabelle Langlois moves 12 years later. Thus, the designer has just inaugurated a new setting of 120 m². Throne at 29 rue Danielle Casanova, it overlooks the mythical Place Vendôme...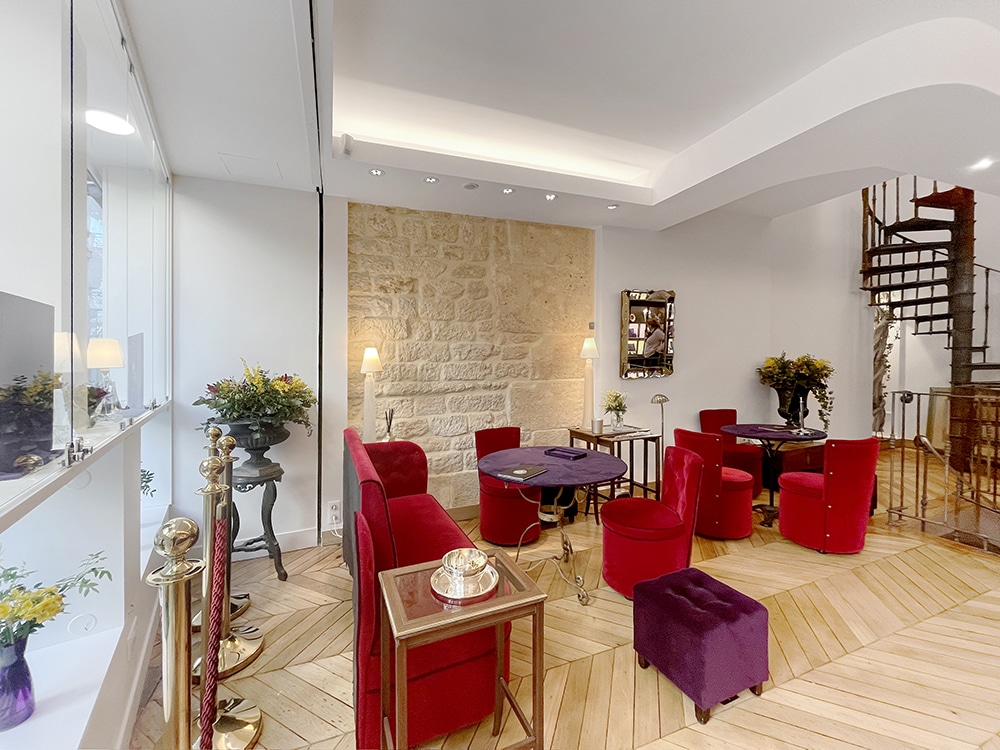 Arranged on three levels in a typical Parisian building from the XNUMXth centuryThis jewelry box in exposed stone opens a new chapter in the history of the house which is celebrating its 30th anniversary this year.
Flagship of French jewelery, Isabelle Langlois is distributed to jewelers in France. But it is also present internationally, in more than 25 countries. Enough to promote French know-how beyond borders...
Isabelle Langlois, 29 rue Danielle Casanova, 75001 Paris. 01 42 46 75 00