Do you need to decompress, relax or simply want to start the year in style? Opt for a treatment in an institute. To make your job easier, we have selected the signature treatments of the most prestigious beauty houses. Follow the guide !
-
THESisley Institute
We have selected for you two emblematic treatments from the Sisley Institute which will be perfect to help you take care of your skin and protect from the cold.
Absolut Black Rose Treatment
The Absolut Rose Noire Treatment is a real sensory journey to the heart of the rose. This treatment will be perfect for refreshing your complexion, plumping your skin and reducing the signs of aging.
Duration: 1h30 – Price: 270€
The anti-stress treatment is perfect for decompressing. Get rid of stress, the impact of pollution and fatigue with this detoxifying treatment that will restore your skin's vitality and radiance.
Duration: 1 hour – Price: €190
Sisley Institute, 5 Av. de Friedland, 75008 Paris. Book your treatment here
-
La Wellness Gallery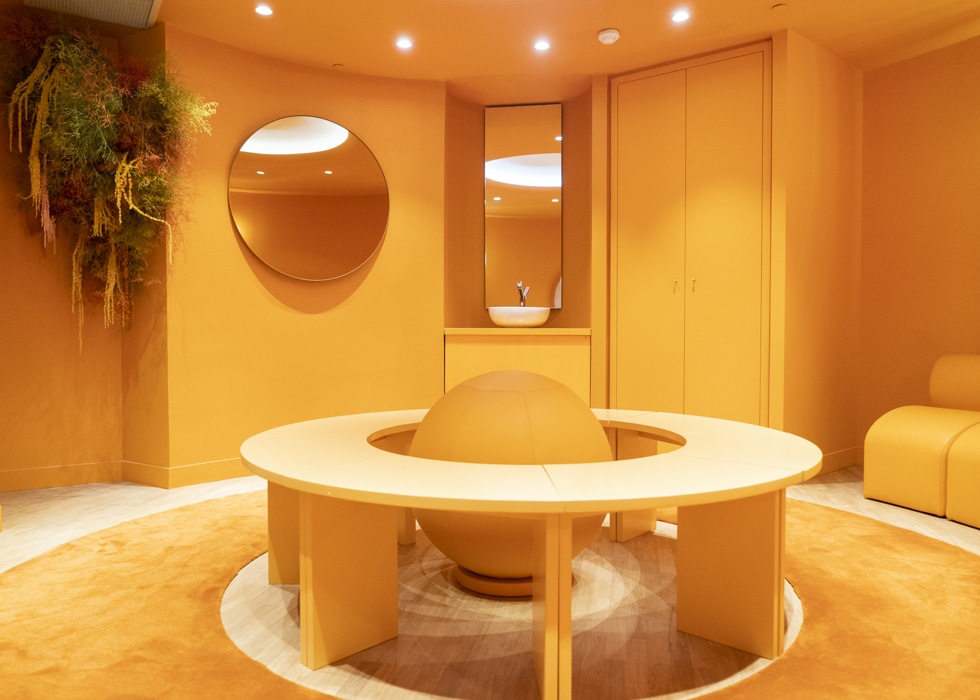 The Wellness Galerie is the living space of Galeries Lafayette Haussmann, dedicated to the well-being of body and mind. There are specialists in beauty, care, energy and well-being, present to listen to you and advise you. We have selected two crazy treatments for you, to discover at La Wellness Galerie.
Remodeling is a body treatment based on the Renata França method which offers a combination of kneading, pinching and rolling techniques that decongest the body and dissolve fatty deposits as well as cellulite in depth. It's the perfect treatment to get your body back in shape after the holiday season.
Duration: 60 min – Price: 230€
The Korean Lift Treatment
The Korean lift face massage is one of Seasonly's flagship treatments. This treatment, which is suitable for all skin types, reveals the radiance of the face, boosts the natural production of collagen and activates lymphatic drainage. It is thanks to the Airbrush Ruby-Cell technology that this lifting massage is so effective. Your face is transformed from the first session.
Duration: 30 min – Price: 115€
Duration: 75 min – Price: 180€
Wellness Gallery, 40 Boulevard Haussmann, 75009 Paris. Book now
-
black door
The Black Door Spa is a soothing bubble, an exclusive space dedicated to well-being and serenity. Swimming pool, sauna, hammam, massages, you will find everything you need in this privileged place to get back in shape and forget your worries.
EYGLO treatment by BIOEFFECT 1h
In Icelandic, EYGLÓ means "eternal radiance" and this is the name that BIOEFFECT has chosen to give to its facial treatment: effective, pure, respectful of the skin and the environment. The treatment includes a unique process in which cell regeneration is done by imprinting the EGF with, as a bonus, a dose of Icelandic magic...
Results ? The skin is perfectly hydrated, purified, and deeply nourished. Radiant with health, it regains its firmness and suppleness. Not to mention the refined skin texture...
BIOEFFECT X HYDRAFACIAL treatment 1h30
This treatment combines BIOEFFECT expertise and the HYDRAFACIAL technique to detoxify the skin, reduce inflammation and promote cell regeneration. It ends with an LED light therapy session to reduce the visible signs of aging and soothe the skin.
THE ULTIMATE AROMATHERAPY EXPERIENCE 1h
The Ultimate Aromatherapy Experience begins with a consultation to determine your emotional and physical needs. This is followed by an aromatest to let you choose the oil that suits you best and allowing the therapist to work on your body and mind. A massage that releases the tensions maintained in each part of the body, leaving a feeling of deep relaxation...
With its comprehensive treatment menu and its superb setting like a bubble of serenity, the Black Door Spa is a prestigious address for moments of relaxation that are just as prestigious...
black door, 9-11 rue Marbeuf, 75008 Paris. Book now
-
House Marignan
La Maison Marignan is a house of aesthetic medicine located in the heart of the 17th arrondissement. Its know-how and its latest technology devices allow high quality care. Discover our article dedicated to Maison Marignan, here, to find out more.
The Hydralift treatment is a non-invasive treatment that cleanses the skin in depth. This treatment exfoliates, smoothes and eliminates impurities. This treatment solves many skin problems such as the appearance of hyper pigmentation, fine lines, uneven skin tone or irregular skin texture.
It is thanks to the application of specific infused serums that the skin is deeply hydrated and recovers all its radiance.
This treatment is suitable for all skin types.
Price: € 150
Microneedling is a minimally invasive treatment performed using micro needles. These micropunctures make it possible to make tiny bites in the different layers of the dermis. These micro needles will stimulate the cells responsible for the quality of the skin. These stimulations help in particular the production of collagen. This treatment guarantees brighter, plumped and firmer skin.
Price: €150 – Cure of 5 sessions: €500
House Marignan, 10 rue Villebois-Mareuil, 75017 Paris. Book now
-
STUDIO 118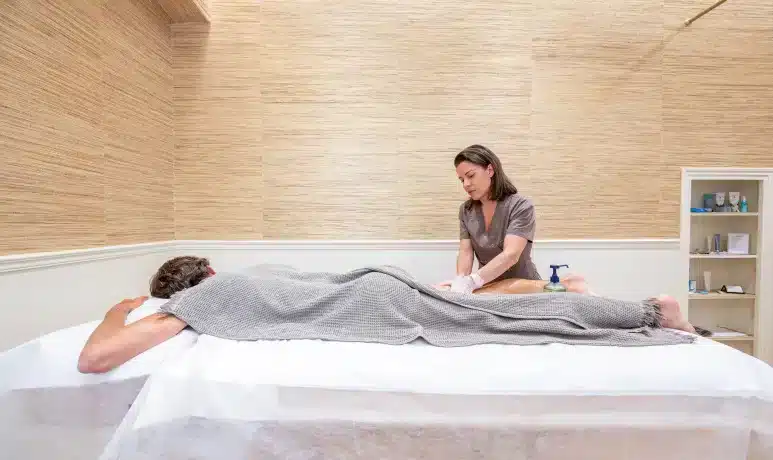 At Studio 118, take advantage of the know-how of Laure Carpentier who welcomes you to her Parisian setting.
Expert in lymphatic drainage and body remodeling, this is the perfect place to get a massage. After a diagnosis established according to your objectives and your form, it is a tailor-made formula and perfectly adapted to your needs which will be proposed to you.
Detox, lightness and well-being are the watchwords of this place.
Drainage and Remodeling of the Body with 4 hands (+ facial drainage)
Lymphatic drainage according to the method developed by Renata França, allows thanks to firm pressure and a rapid rhythm to stimulate blood circulation, reduce edema and water retention. This massage produces a real feeling of well-being and lightness.
Duration: 55 min / 1 hour – Price: €220
Ancestral technique coming straight from traditional Chinese and Middle Eastern medicine which is used to treat different kinds of pathologies, to release tensions, to calm pain or to revive the proper functioning of the body. Cupping Therapy consists of applying suction cups directly to the skin to create suction. It is a painless method that is similar to a massage aimed at stimulating very specific points on the body.
Duration: 30min – Price: 40€
Studio 118 by Laura Carpentier, 118 rue Jean de la Fontaine, 75016 Paris. Book now
-
Pedicure Spa Meadows by Coding at the Faubourg Pavilion Saint-Germain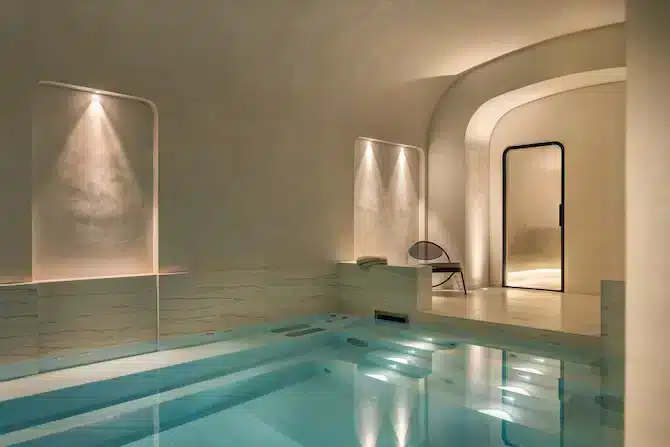 It is in the vaulted cellars of the Pavillon Faubourg Saint-Germain that Codage has settled down. It is a place full of history since the steps of these cellars which were a mythical cabaret in the XNUMXth century are today classified as Historic Monuments.
Codage is a French cosmetology house that has established its know-how in decoding individual skin problems. It is with the help of numerous serums and concentrated milks with high-performance active ingredients that expert gestures sublimate the skin.
Codage invites you to take the time to relax and enjoy tailor-made treatments that address the unique needs of each skin.
The Haute Couture treatment is an iconic treatment from the Codage house, it is an entirely tailor-made holistic experience. Enjoy a personalized full-body massage combined with a full facial treatment to create the ultimate feeling of well-being. This treatment will perfectly meet your well-being and beauty needs and will restore your energy.
Duration: 120min – Price: 280€
Duration: 180min – Price: 400€
Magistral Facial Treatment
Enter the world of the traditional pharmacy and treat yourself to a tailor-made wellness and beauty break. This facial treatment is a fully personalized holistic experience that precisely targets your skin needs. A deep massage of the face and décolleté which intensely regenerates your skin, restores tone to the muscles of the face for an unequaled beauty result.
Duration: 90min – Price: 210€
Faubourg Saint Germain & Spa Pavilion, 5 Rue du Pré aux Clercs, 75007 Paris. Book now
-
Gabriel Lawrence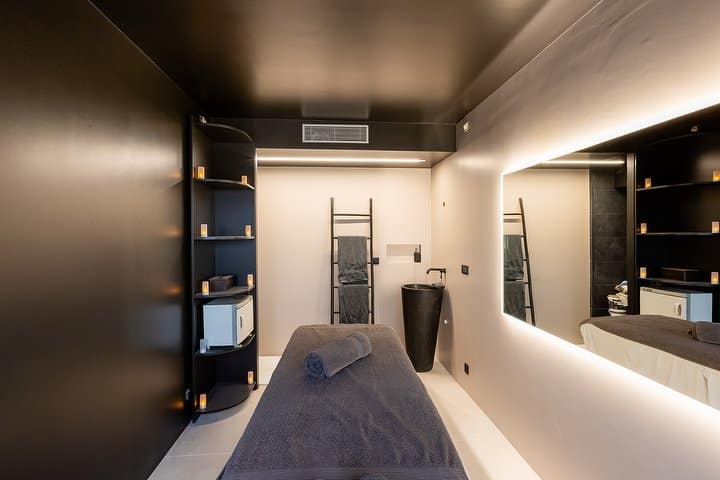 Gabriel Laurent is the masseur of the stars. After passing through the most prestigious Parisian palaces, it is in the 15th arrondissement of Paris that Gabriel welcomes his clients. After 10 years of experience, he is a very meticulous professional, attentive to your needs bringing rest and relaxation. During your treatment you are free to choose your massage oil as well as the olfactory atmosphere you want according to your mood and your needs. Take advantage of Gabriel's professionalism in a private space with a breathtaking view of the capital.
This massage is the specialty of Gabriel Laurent. It is on a playlist composed especially for you that the massage takes place. Enjoy a unique experience, a real fitness of body and mind in music.
Each experience is unique and is organized around several stages:
First, an interview to determine your physiological and psychological needs, then you will choose your oil and the olfactory atmosphere you want. Thereafter, you will have a 20-minute infrared sauna session followed by a shower before starting your massage. Finally, Gabriel offers you an infusion to help you reconnect gently.
Duration: Discovery formula 2h (60 min massage) – Price: 140€
Duration: Discovery formula 2h30 (90 min massage) – Price: 180€
Gabriel Laurent, massage in a luxury apartment at 25 Quai André Citroën, 75015 Paris. All the information (availability + prices) is posted on the stories on the front page of his Instagram account @gabriellaurentparis or on 06 64 39 53 43.
-
Clemens Spa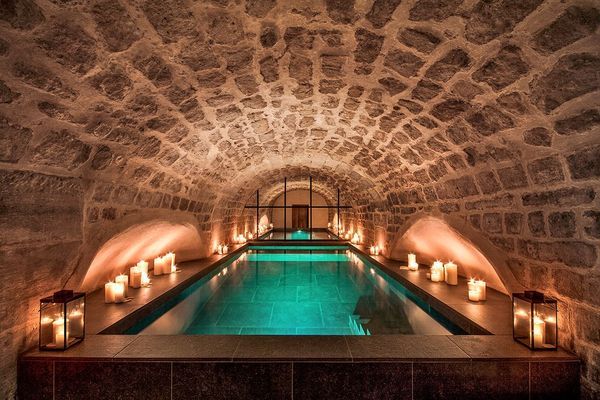 The Spa Clemens is a unique place that promotes calm and letting go, thanks in particular to the fluidity and natural softness of the water.
These unforgettable experiences will help you disconnect from your daily routine and relax.
The floating massage is a unique aquatic massage in France to help you let go. Indulge in a unique experience thanks to this treatment performed in a pool of hot water in XNUMXth century cellars, lit by candlelight. Floating thanks to the expert hands of your practitioner and cushions, you will fully enjoy this moment of relaxation. This treatment can be performed simultaneously for two or three people in separate pools. A version specially designed for pregnant women is also available.
Duration: 60min – Price: 140€
Discover a unique relaxation experience through breathing exercises and positive visualization in a candle-lit hot water bath. Hot water facilitates rest and relaxation. This treatment is entirely personalized according to your needs. Sophrology is very beneficial in stress management, smoking cessation, preparation for exams or even preparation for childbirth.
Duration: 60 min – Price: 140€
Clemens Aquatic Spa, 14 rue des Saints Pères, 75007 Paris. Book now
-
Read also : Spa Black Door: the secret address for VIPs to recharge their batteries et La Maison Sisley: a well-being break in the heart of Paris