For this Christmas 2022, you haven't gotten ahead or just don't want to cook? Head to Galeries Lafayette where the Gourmet chefs have concocted some exclusive creations for the end-of-year celebrations… Discover (and order) now!
-
It is a fact, the Galeries Lafayette Le Gourmet Christmas in Paris is placed under the sign of gluttony ! If the chalets of Haussmann Christmas market are waiting for you in front of the store in a warm environment, Christmas gastronomy is also making an appearance in the Party Shop from the ground floor… And on the first floor, these are the talented young chefs and Michelin-starred chefs from the Nouvelles Tables du Gourmet who make you discover their exquisite Christmas creations. A tour of the dishes to order for your holiday table and enjoy with your family!
-
A sun-kissed vegetarian delight at Bagnard
La Mediterranean sea inspire, again and again, Yoni Sa'ada in convict. For Christmas, the chef invites you to discover his version of Roman artichokes, revisited with tomato, pomegranate, radish, candied lemon, spring onions, mint, seeds and zaatar… Yum.
-
In (comfort) street food mode at Starving Club
At Starving Club, chef Thibaut Spiwack (1 Michelin green star with his restaurant Anona) revisits the classics of the winter season in a street food version. Three onion recipes await you at Starving Club at Galeries Lafayette Le Gourmet: black winter truffle hot dog, raclette croque, jacket potatoes and melted raclette cheese.
-
Christmas sushi at Rice Street
At Rice Street, sushi put on their party clothes. Quan Bai imagined for Christmas a sushi boxes to share (40 pieces). Among the exclusive recipes: foie gras-fig sushi, foie gras-mango sushi, salmon, fresh cheese and dill, tuna-mayonnaise, lumpfish eggs and shiso leaf, chicken supreme with mushrooms, breaded shrimp, avocado and fried onion, salmon, avocado and ginger… There is REALLY something for everyone!
-
A festive Tiradito at Yora
In his colorful South American restaurant Yora, leader José Arias decline the Tiradito, emblematic dish of Peru, with a festive sauce: prawn carpaccio, cream ofaji amarillo (mild red pepper), Tiger milk and sweet potato mousseline. A deliciously flavored dish…
-
A luxury Bibimbap at Pierre Sang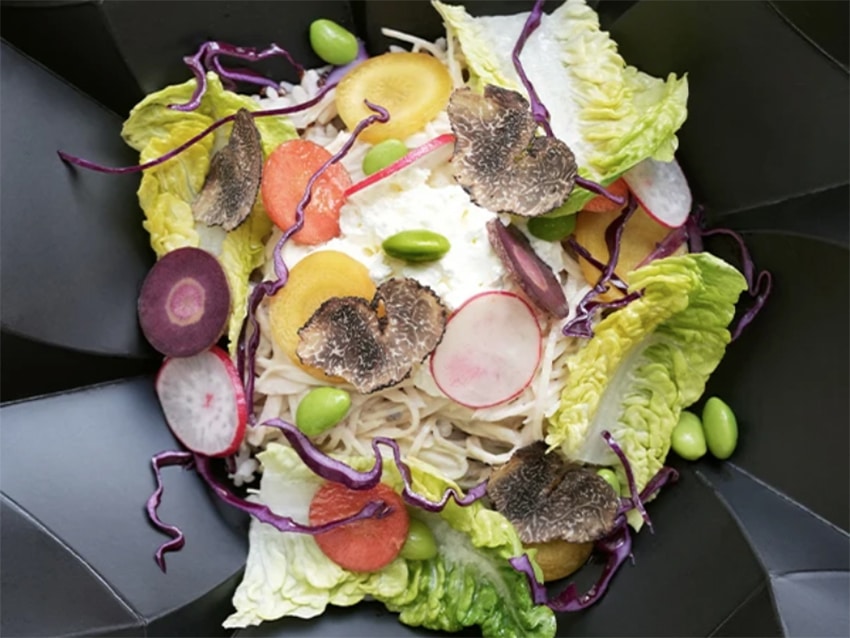 Present on the ground floor of the store since October, the Franco-Korean restaurant Pierre Sang [Express] invites you to taste a bibimbap… with truffle ! On the plate: rice, quinoa and green lentils from Puy, remoulade of celeriac and roasted shitake with truffle vinaigrette, Comté cream, perfect egg, and seasonal salad as an accompaniment.
The Nouvelles Tables du Gourmet welcome you on the first floor 7 days a week, Monday to Saturday from 7:9 a.m. to 30:21 p.m. and Sunday from 30 a.m. to 11 p.m.