Beautiful days are coming faster than you think. And when the sun comes up again, all we want is to eat fresh ! In Paris, more and morecool addresses open their doors and offer balanced menus with seasonal vegetables and fruits. Today, healthy comes in several styles. It is now possible to eat gluten-free or even sugar-free pancakes. At the same time light, healthy and beautiful, the healthy cooking is slipping more and more into the top of the most popular food of Parisians. Here is 7 ideal addresses to eat while having fun.
-
The vegetable slaughterhouse
Located in the 6th arrondissement of Paris, theVegetable Slaughterhouse describes itself as "a food-loving place". This vegan establishment is 100% bio. There, it is impossible to find strawberries in November or pears in May. Fruits and vegetables are seasonal. Perfect mix between a coffee shop and bistro, the restaurant offers brunches, fake cheese boards, sweet potato fries and cauliflower and quinoa steaks. All the plates are very elaborate and colorful with edible flowers placed on almost all the dishes.
Vegetable Slaughterhouse – 9 Rue Guisarde, 75006 Paris
-
Season
At Season, you can drink its seasonal juice and its green smoothie. After a good workout, head there to eat snacks based on butternut squash, avocado and muesli. Situated in Marsh in Cheap or in the Martyrs Quarter, Season is the chain of healthy restaurant the most select of the moment. We inevitably leave with a photo of the huge pink neon hanging on the wall. Stylish, confident Instagram story.
Season – 1 Rue Charles-François Dupuis, 75003 Paris
-
The Big Beautiful
Imagined by five friends, David, Julien, Lionel, Ludovic and Marjorie, The Big Beautiful is as its name suggests a large bright space in the heart of the 15th arrondissement of Paris. The restaurant is the perfect place to celebrate birthdays with XXL tables. The menu offers a wide choice of balanced dishes. You can find vegetarian lasagna with forgotten vegetables, salmon marinated in caramel. For more conviviality, we opt for starters to share such as salmon rillettes or celery remoulade.
Le Grand Beau – 7 Rue Linois, 75015 Paris
-
Umami Matcha Cafe
Le Umami Matcha Cafe is the ideal place for bruncher. On the spot or to take away, it includes atypical dishes and makes us discover new light and asian flavors. You can eat scrambled eggs with gomashio and fresh mushrooms, Japanese pearls in milk or even kabocha squash soup with ginger and puffed brown rice.
Umami Matcha Café – 22 Rue Béranger, 75003 Paris
-
DS Cafe
Le DS Cafe, it's the healthy restaurant popular with Parisians. There, we sit on the terrace with a soft blanket available and we order a detox juice based on ginger, lemon or carrot to look good. Serve it with a quinoa salad. As for hot dishes, there are konjac spaghetti or a vegetable gratin. For dessert, we have to taste the Mazel Tov, a delicious cheesecake and 0%!
DS Cafe - 25 Av. Niel, 75017 Paris
-
Como Kitchen
Como Kitchen are the kings of the bowls. They offer some already prepared but it is also possible to make it yourself. Basically, you have the choice between black rice, white rice, quinoa, and lamb's lettuce or lentils. Then you can add all kinds of ingredients. Roasted cauliflower, broccoli, gluten-free mac and cheese, chakchouka or sweet potato, all the ingredients are great. On the protein side, there are the classics: chicken, salmon, beef tenderloin and for vegans: chickpea and zucchini falafel balls.
Como Kitchen – 6 Rue du Commandant Rivière, 75008 Paris
-
Wild and the Moon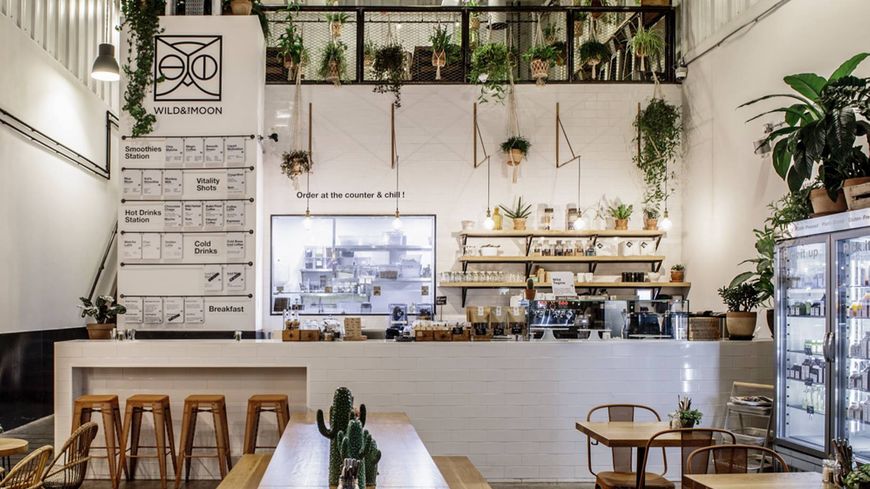 When opening Wild and the Moon in Paris, designer Emma Sawko wanted to import the LA style and vibe. The bet is successful since influencers and Parisians love this etrendy place. It's in a tea room atmosphere at the tropical decor that you can eat gourmet musli, acai bowl and of course avocado toast. The products are fresh and delicious !
Wild & the Moon – 19 Pl. du Marché Saint-Honoré, 75001 Paris
-
You will like also: