Calling all seafood and fish lovers! Paris is famous for its delicious culinary specialties, and seafood and fish are no exception. With a wide variety of restaurants offering fresh fish dishes, it can be difficult to choose the best place. Paris Select presents a selection of the best fish restaurants, so that you can enjoy the tastiest flavors of the City of Light.
-
Counter of the Seas
Le Counter of the Seas is the reference of seafood restaurants in Paris. The products are fresh, seasonal and perfectly cooked. It is thanks to this that the Comptoir des Mers has become emblematic. We eat a good sole meunière, oysters, crabs and lots of other seafood. The dishes are delicious and prepared with care. We taste some iodized dishes to the smells of the sea and to accompany it all, the restaurant offers delicious french wines.
Comptoir des Mers – 1 Rue de Turenne, 75004 Paris
-
Long live House Sea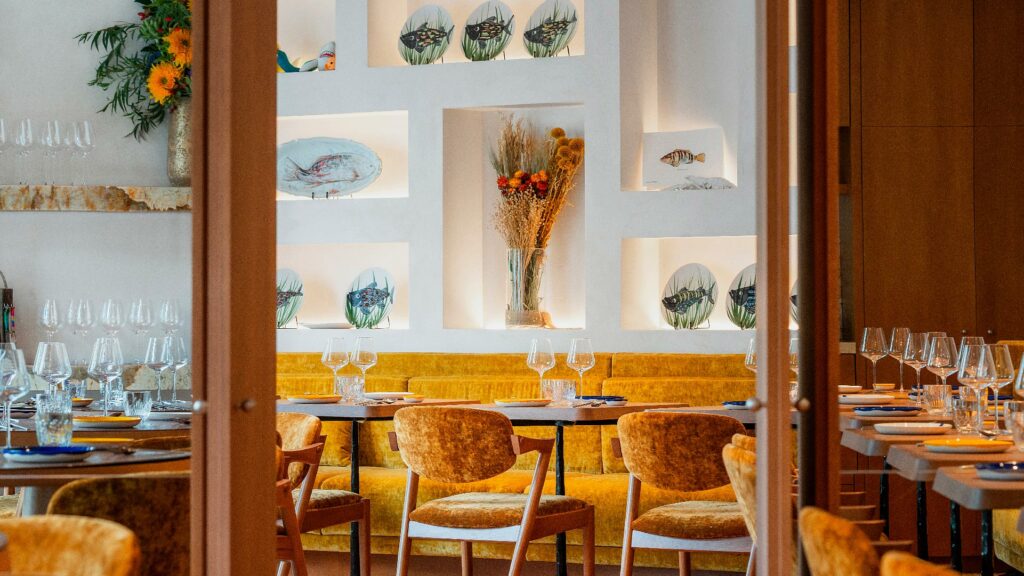 If you are fond of sea ​​food, it is essential to discover Long live House Sea. The couple of leaders, David and Stephanie Le Quellec, have taken over the reins of this emblematic restaurant on Avenue des Ternes. At the heart of 17th arrondissement of Paris, you will be able to taste flavors that will make you travel very close to the sea. Everything has been redone, from floor to ceiling to the plate. We sit down at the spectacular Patagonian granite bar on shimmering banquettes mixing the colors of corals to eat raw matured fish or cooked as well as iodized seafood to superior quality.
Vive, Maison Mer – 62 Av. des Ternes, 75017 Paris
-
Divellec
Located in the 7th arrondissement of Paris, near the Invalides and the Eiffel Tower, the restaurant Divellec is a famous gourmet restaurant for its seafood and fish cuisine, prepared by chef Mathieu Pacaud. Awarded by two stars in the Michelin Guide, the chef offers seafood platters audacious compounds, for example, ofoysters with watercress sabayon and caviar. You can taste delicious sardine rillettes, for an Tartar From Bar or langoustines from the trap. The place is ideal to spend a delicious moment.
Divellec – 18 Rue Fabert, 75007 Paris
-
Lorraine
Renovated a few months ago by the interior designer Laura Gonzalez, Lorraine offered a whole new marine atmosphere. In the kitchens, it's the chef Cedric Moizan who selects a peach delivered by small seafood producers. The products are fresh and of high quality. The scaler of the team, Rabah Guechoud, was three times crowned Best Ecailler of France. On the menu side, there are great classics with oysters from different regions and roasted lobsters, but there are also bolder dishes such as cuttlefish fricassee.
Lorraine – 2 Pl. des Ternes, 75008 Paris
-
Cache
Restaurant Cache is as its name suggests, nestled at the bottom of a small courtyard in the Villa Riberolle. A vestige of the industrial Paris of the last century, thus offering an intimate setting between the Père Lachaise cemetery and rue de Bagnolet. Chef Francois Le Doyen and his team strive every day to develop a refined cuisine, which draws its inspiration from the arrivals of French auctions and seasonality. Our favorite ? THE smoked sea bass carpaccio and gilthead sea bream sashimi, perfect to enjoy when the weather warms up.
Hidden – 13 Villa Riberolle, 75020 Paris
-
Marius and Janette
Restaurant Marius and Janette is a destination of choice for food lovers French in Paris. As soon as you step inside, you are transported to a marine atmosphere aboard a luxury yacht moored on theAvenue George V since many years. Chef Laurent Audiot offers creative, savory and sweet dishes for a unique culinary experience. Let yourself be tempted by this exceptional taste adventure.
Marius and Janette – 4 Av. George V, 75008 Paris
-
Petrossian
For a unique dining experience, go to the Restaurant Petrossian. The restaurant is located opposite the historic shop, 13 Boulevard de la Tour-Maubourg, near the Invalides. The Restaurant Petrossian offers an exceptional dinner in an atmosphere and decoration reminiscent of themarine world by Petrossian. The menu offers a variety of caviar dishes that change with the seasons. Savor a matured caviar pie, Chef Renaud Ramamourty also offers other dishes such as salmon Gravlax, shoulder of lamb confit, truffle tagliatelle and sturgeon koulibiak.
Petrossian – 13 Bd de la Tour-Maubourg, 75007 Paris
-
-
You will like also:
Journalist: Noémie Sadoun / Selection, correction and layout: Axelle Coubard