What's new for foodies? In recent weeks, Paris has seen the arrival of several new gourmet addresses that have quickly caught the attention of local and international gourmets. These new establishments offer a variety of cuisines, innovative concepts and unique culinary experiences. Paris Select has selected the best gourmet novelties in the capital.
Madame Cocoa by Christelle Brua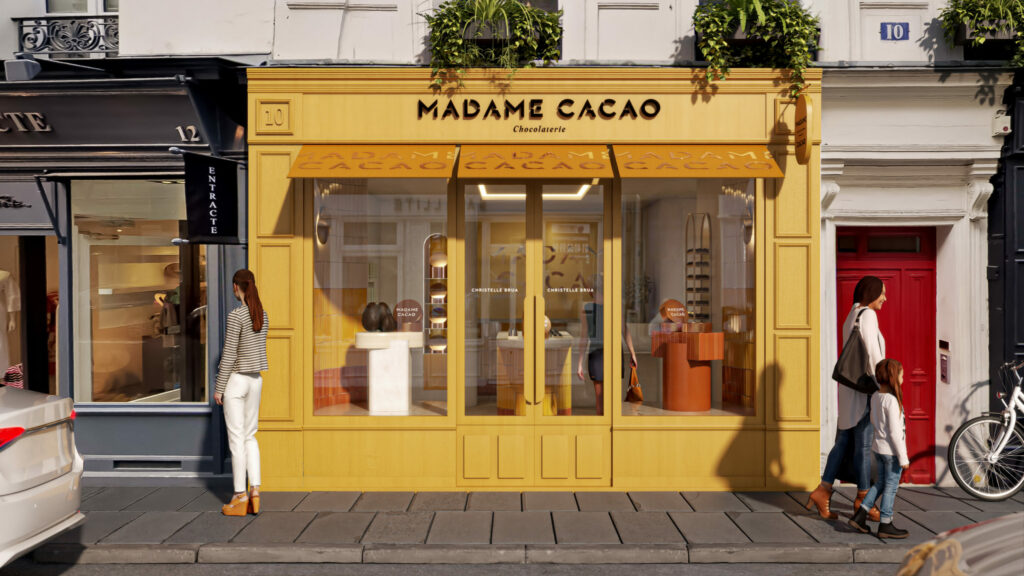 Pastry chef from the Élysée Palace until August 2022, Best Pastry Chef Restaurant of the World, Pastry Chef of the Year three times… Christine Brua starts a new chapter in his life by opening his very first chocolate factory. Madam Cocoa. It is in homage to the cult series of the 60s, Angélique Marquise des Anges, where the heroine embodied by Michèle Mercier opens a salon dedicated to chocolate. His chocolate factory stage the delights legendary chocolates of our childhood in reinvented versions. Impossible not to succumb to these unique creations where the fondant, crispy, crunchy and aromatic power of exceptional chocolates combine to make us melt.
Madame Cocoa – 10, rue du Cherche-Midi, 75006 Paris
Petibon
It's in the bustling Montorgueil street that you can enjoy a delicious snack at Petibon. It's the idea of three sisters : make a sandwich a real chic and elegant snack. In mini format, you can compose your boxes with several sweets. The sandwiches are made from white bread deliciously soft. Regarding its filling, it is compact for more practicality. You have the choice between a sweet version with raspberry Petibons or chocolate praline fleur de sel. Salty side, we love the one with salmon, chicken-comté and we have a real crush for the one with feta! Whether for a lunch with friends or for a professional event, you will love the Petibons.
Petibon- 15 rue Montorgueil, 75001 Paris
Butterfly by Matthieu Carlin
Since April 4, it is now possible to taste Chef Matthieu Carlin's pastries inside his shop Butterfly in the heart of the Hôtel de Crillon. Lovers of super gourmet desserts and tea time, this new address is made for you. The chef reveals his Butterfly Pastries our flavors light and tangy. Among them, you can enjoy a delicious revisited lemon pie. But also a strawberry charlotte which perfectly combines the bitterness of grapefruit and the sweetness of orange blossom, or even a gorgeous chocolate flower. You can also savor essential desserts tea-time such as filled brioches, flans, cakes and other delicacies.
Butterfly by Matthieu Carlin – Hotel de Crillon - 10 Place de la Concorde, 75008 Paris
Pierre Marcolini's chocolate factory
Famous Belgian chocolatier, pierre marcolini is considered as one of the best in the world. Just that ! Thanks to his unique know-how and creativity, the chef was able to open numerous boutiques in London, Tokyo, New York and Paris. But it would seem that Pierre Marcolini does not intend to stop there since on April 1, its sixth store opened its doors in the 2th district of the capital. This new address of 100m2 made of her its largest store in Paris. You can find flagship products such as Les Petits Bonheurs. But also discover the new Easter collection, as well as that of the coming summer very greedy.
Pierre Marcolini – 5 rue Sainte Croix de la Bretonnerie, 75004 Paris
Mam the gourmet shop of Stéphanie Le Quellec
On April 1, the duo Stéphanie Le Quellec and Pierre Chirac opened their second store the MAM. After the success of the first MAM of the 17th arrondissement, and the Cheffe's two restaurants, La Scène ** and Vive Maison Mer. very chic 7th that gourmets will be able to find the good little dishes that have made the success of this new generation caterer. At MAM, you can find everything you need for a successful improvised snack bar at the last minute, treat yourself to a gourmet one-on-one or welcome visiting friends with an unforgettable dinner. With its favorite recipes, the Chef offers a accessible version of his kitchen for every day. And for those with a sweet tooth, delicious desserts are also served there!
Mam by Stéphanie Le Quellec – 93 rue du Bac, 75007 Paris
Philippe Conticini does it again with his bar in Millefeuille
In addition to pastry, Philippe Conticini has another passion in life: open bars. After his cabbage bar or for profiteroles, the chef sets the table by opening his bar in Millefeuilles. It's in his shop third district de Paris that you can find these iconic millefeuilles with succulent pastry cream. You will have the possibility to personalize your pastry by choosing its filling and its toppings. For Millefeuille lovers, we advise you to get there quickly, stocks are limited!
Millefeuille Bar – 31 Rue Notre Dame de Nazareth, 75003 Paris
cakepart
Cakepart, this new gourmet temple opened its doors at 77 street Charonne in the 11th arrondissement of Paris. They offer a variety of cakes under different forms. This new address at the retro decoration, is inspired by the sixties. We love its rounded shapes, its plastic elements and its pastel colors… Cakepart invites its customers to taste sweet or savory slices of cake revisited by the two young founders. The novelty of Cakepart lies in her popcakes. Of fluffy cakes presented in the form of lollipops and covered with a delicious icing. In this cozy and comforting environment, customers will be able to feast and ddiscover new flavors of cakes revisited with creativity.
Cakepart – 77 rue de Charonne 75011 Paris
Written by Noémie Sadoun
You will like also: