At snack time, our English neighbors treat themselves to a gourmet break over tea and some sweet treats… We have selected our best Parisian addresses for you to enjoy a very chic Tea Time! And for those who could not move here is our top of the most delicious teas to cocoon quietly at home.
-
Proust at the Ritz
The Ritz Pastry Chef, François Perret reinvents Tea time by classic French snack Proust lounge at the Ritz. Here, there are no club sandwiches but high-end biscuits to nibble on over a hot drink. The chef invites us into the flavors of childhood around various pastries, fluffy cakes, tasty cakes and pies to all tastes and of course madeleine, so dear to the novelist, that the pastry chef revisits with mischief… Thanks to a tea sommelier, the house selection is rich and varied. In this magnificent library, we happily rediscover forgotten flavors.
French tea, 68 euros.
The Proust lounge at the Ritz, 15 place Vendome 75001 Paris. 01 43 16 30 30
-
La Bauhinia at Shangri-La Paris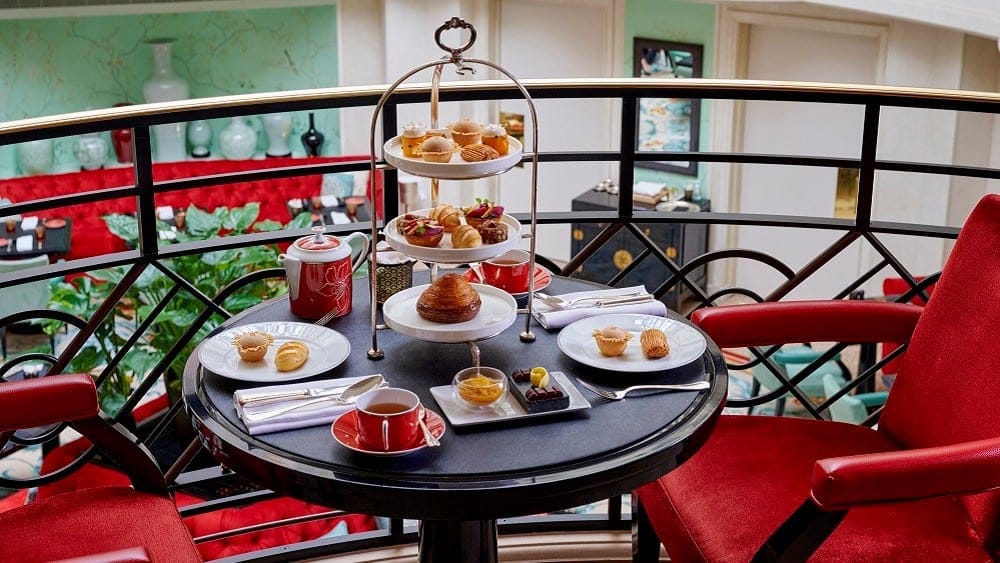 Nestled in the heart of the palace Le Shangri-La Hotel Paris, La Bauhinia offers a true green getaway. With its unique view of the Eiffel Tower and its intimate atmosphere, the restaurant is the ideal setting for a memorable gourmet break. On weekends, from 15 p.m. to 18 p.m., it's Pastry Chef Maxence Barbot's tea time that the restaurant serves to its customers. On the menu: sweet treats, each more exquisite than the next, which will delight gourmets. Éclat café, Mont Blanc, exotic roll, 65% cuba chocolate, Bordeaux canelé and other cookies are some of the signature pastries of the moment. Must-try: the 'Tatin of sharing' ! With its perfect puff pastry and its melting and tangy apples, accompanied by a delicious cream... You will melt with pleasure.
Ce divine snack definitely represents the new foodie rendezvous, comfortably installed under the beautiful glass roof of the Bauhinia.
La Bauhinia at Shangri-La Paris, 10 Avenue d'Iéna 75116 Paris. Tea Time with hot drink €55/person (€100 for two) or €65/person (€140 for two) with a glass of champagne.
-
Le Royal Monceau
Find the Tea Time of Quentin Lechat at the Royal Monceau – Raffles Paris. The Pastry Chef imagined this offer as a journey, to be discovered every weekend within the most Parisian of Palaces.
A gourmet and exclusive escape to experience in the elegance and refinement of the Bar Long with a view of the interior garden.
On the menu for this Tea Time in 4 sequences: tasty mini pastries – the famous "Princes" and new fruity creations – followed by a little boutique cake (The "vanilla pearl"). The "hot/cold grand cru chocolate" is served on the plate. The gourmet break ends in style with the tasting of travel cakes like the marbled cake, the lemon heart brioche and the emblematic "royal flan".
On the pairing side, pastry chef Quentin Lechat works closely with the mixology teams to offer unique pairings, including a signature Mocktail. This gourmet break is also accompanied by hot drinks and bubbles for Champagne lovers. Meet on Fridays, Saturdays and Sundays, from 15 p.m. to 17 p.m., for a privileged moment.
4-course sweet tea time with hot drink and mocktail, at Bar Long on Friday, Saturday and Sunday between 15 p.m. and 17 p.m. Prices: €65/person and €85/person with a glass of Champagne. Information & Reservations: paris@raffles.com or by phone: 01 42 99 88 00. Le Royal Monceau – Raffles Paris, 37 Avenue Hoche, 75008 Paris.
-
The Plaza Athenee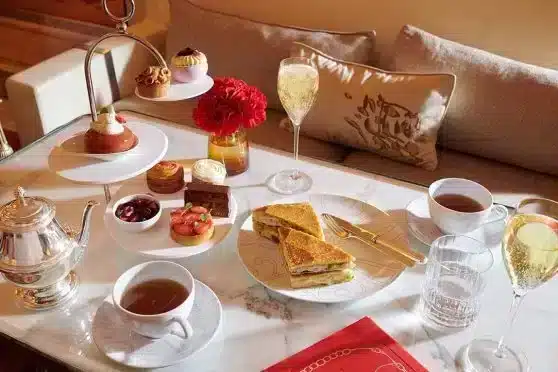 Le tea time at the Plaza Athénée will delight the most demanding gourmets. Comfortably installed in the gallery of the palace, you are invited to take a real walk in the sweet universe of Executive Pastry Chef, Angelo Musa. On the program: hot drinks accompanied by a farandole of high-end pastries… From tiramisu to Paris-Brest, via the Lemon Wonder, the classic almond tuiles, marshmallow roll and raspberry fruit paste, papilio, almond cake, fruit tartlet. Finally, a trilogy of "100%" pistachio, coffee and caramel, the signature dessert that led him to the Plaza Athénée! One Perfect Tea Time to celebrate a birthday, to savor from beginning to end.
70€ per person with a Royal Rose. €80 per person with a choice of a croque-monsieur or a finger sandwich and a hot drink.
Plaza Athénée, 25 Avenue Montaigne, 75008 Paris. 01 53 67 66 65
-
Le Meurice
What could be more chic than going to discover the Tea time of one of the most world's talented pastry chef, Cédric Grolet ? In this sublime setting designated Starck, delicacy and gluttony are at the rendezvous. We enjoy a hot drink – don't overlook the delicious hot chocolate Alain Ducasse – accompanied by the very British scones and their jam and cream. In keeping with tradition, there is also a assortment of savory finger sandwiches. And finally, the icing on the Tea time, a selection of delicacies from the chef! If this pleasure is not enough for you, you can always order additional pastries à la carte.
If you also want to leave with these wonderful sweet creations, find the Pâtisserie Cédric Grolet rue de Castiglione.
Tea time is served daily from 15:30 p.m. to 18 p.m. €65 per person for the classic tea-time, €83 for the tea-time accompanied by champagne.
Le Meurice, 228 rue de Rivoli 75001, 01 44 58 10 10
-
The Lutetia
This historic Parisian hotel in the Left Bank invite you for a exceptional tea time in his restaurant Le Germain. The signed menu Nicolas Guerico will delight fans of both sweet and savory. On the menu, vanilla scones and raspberry jam, rhubarb tartlet, creamy crab and citrus tartlet, as well as morel rolls and Tomme with flowers. A tea time that will titillate your taste buds.
You can accompany this with a hot drink, a fresh fruit juice or a glass of champagne.
Classic tea time at 58 euros, Tea time Champagne at 75 euros.
Le Lutetia, 45 boulevard Raspail 75006, 01 49 54 46 00.
-
The Office of the Louvre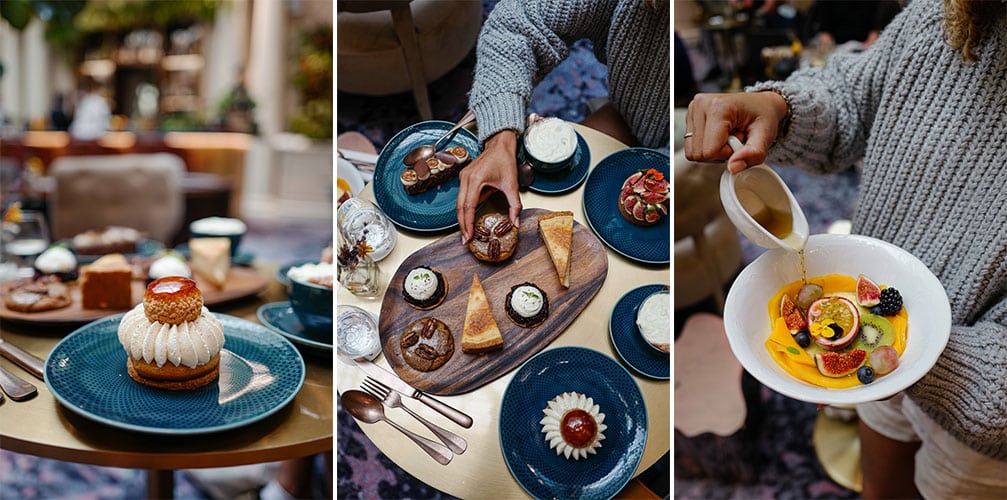 Enthroned on Place André Malraux, The Louvre Hotel welcomes you in its intimate green bar, the Dispensary. Thus, for tea-times designed for moments of sharing with family, friends or two, this is the ideal place. On weekends – from 15:30 p.m. to 17:30 p.m. – you can discover the gourmet creations of the hotel's Pastry Chef: Julien Delhome.
The unique tea time formula (30€/person) includes a assortment of travel cakes, each as tasty as the other. Vanilla flan, araguani cookies 72% (a killer) or even the very special creation of the moment. You can also choose a dessert from the Saint-Honoré incredibly crunchy, the chocolate entremet and a seasonal fruit salad…
Finally, to accompany these sweets, you will also have the choice between an exceptional Malongo coffee or a tea from the prestigious Maison Dammann Brothers.
What to spend a deliciously delicious moment, in a sublime green setting…
Tea Time at the Hôtel du Louvre, Place André Malraux, 75001 Paris. 01 73 11 12 34