A few kilometers from Paris, just a few hours flight, it is possible to visit Italy. We love its considerable architecture, its umbrella pines, but above all its pizzas and delicious homemade pasta. Fortunately, it is not always necessary to take the plane to experience Italian culture. In the capital, more and more addresses typical of the country are opening their doors. Something to travel without getting too tired. Here are our best Made In Italy addresses in Paris.
Where to eat ?
Eataly Paris Marais – The temple of Italian food in Paris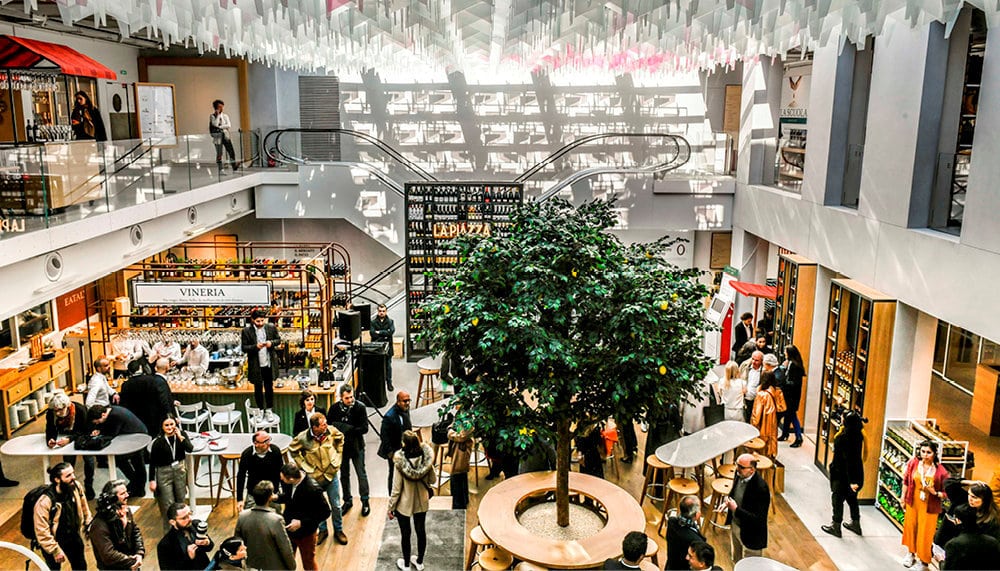 In 2007, the Italian Oscar Farinetti created Eataly. He completely revolutionizes the standards (slow) food cuisine thanks to a avant-garde concept. Since then, this brilliant idea has become a global phenomenon. It all started in Turin before spread to the four corners of the planet, from Milan to London, via Dubai, New York and Los Angeles.
Cooking enthusiasts and Italian food lovers swear by Eataly. It is close to the BHV that the typical Italian address is enthroned. It presents a place atypical, and warm with an Italian atmosphere. The idea of ​​this concept is simple: bring together all the Italian culinary specialties in a unique place, where you can eat, buy and learn. Whether you are fond of italian food or curious to discover the flavors of the country, this is the place to shop! As soon as you enter, you are greeted by a stall of greengrocers offering a selection of fresh fruits and vegetables, carefully sourced from the best market gardeners.
Products are delivered three times a week to ensure optimal freshness. Next door is a cheese and charcuterie counter, which offers specialties from all
the regions of Italy. Once your shopping is done,
Once your shopping is done among the 6000 product references offered at the grocery store, you can then sit down at one of the many restaurants. On the small square enthroned in the middle of the market ('La Piazza') all your culinary desires will be satisfied! In the heart of the Enoteca, Eataly's Italian wine cellar, don't miss the Osteria del vino and its regional cuisine to be paired with transalpine nectar. For breakfast, go to La panetteria around a delicious cornetto and
an espresso prepared by expert baristas as if you were live in Rome.
At aperitivo time, sit down and enjoy an incredible Spritz or an Bellini on the terrace of Bar Torino. As for pasta and pizza aficionados, rest assured, they have not been
forgotten. Upstairs, the Pasta and Pizza restaurant outputs the best margherita and tomato spaghetti in Paris! And you can even learn how to make them during a course at the Scuola di Eataly.
Notice to lovers of exceptional wines, Eataly invites you to dive into the largest Italian wine cellar in France. You will find more 1400 references from 20 wine regions and about fifty magnums and jeroboams. You can taste the diversity and richness of the terroirs of La Botte at the Enoteca of Eataly Paris Marais and during a tasting at the Scuola del vino.
Short circuits and exceptional products… More than a place, Eataly is a real philosophy applied at the fairest prices. No wonder this temple of italian food has become so cult in such a short time. Definitely our Marsh HQ !
Eataly – 37 Rue Sainte-Croix de la Bretonnerie, 75004 Paris
-
For a delicious snack – Cova
Cova is undoubtedly one of best italian pastries of the capital. Located at 1 rue de la Paix, the place encompasses all the elements to transport you to a place typically Italian. As soon as you walk through the doors of Cova, you will dive into a timeless atmosphere, the flavors, the aromas and colors intoxicate you while elegant waiters in tailored tuxedos invite you to enjoy a delicious pastry accompanied by a great coffee. Some of the most popular pastries at Cova include Tiramisu, Baba au Rhum and strawberry tart. The pastries are prepared on site with high quality ingredients and according to traditional techniques.
Cova – 1 Rue du Pont Neuf, 75001 Paris
-
The best ice cream?
COCKPIT
Taste of generous ice cream in a authentic ice cream parlor installed in the Marais district. Pozzetto only offers 12 flavors but it is the absolute guarantee of a daily and traditional preparation. These refreshing creations are concocted from best products from Italy. Don't miss this unmissable address!
POZZETO – 39 King of Sicily Street, 75004 Paris
-
Il Gelato del Marchese
Il Gelato del Marchese is a gelateria like no other. Here everything is authentic and vintage, starting with refined crockery, silver cutlery, fine porcelain cups… Launched in 2014, this gourmet ice cream parlor offers raw, natural and processed ingredients on site. No dye or other chemicals are used. So don't miss this remarkable glacier with perfumes prestigious and original.
Il Gelato del Marchese – 2 Rue de Condé, Carr de l'Odéon, 75006 Paris
-
Reÿs
Do you like ice cream? unique and artisanal perfumes ? Paris Select recommends you Reÿs ! This extraordinary glacier offers you Italian gelato in the heart of the 4th district of Paris. Taste some unique ice cream creations and sorbets that arouse emotion, make you travel and remain etched in your memory.
Reÿs – 4 Rue du Bourg Tibourg, 75004 Paris
-
An exhibition ?
Painting exhibition "Giovanni Bellini – Cross-influences"
Admire them works of the great master of the Italian Renaissance, the painter John Bellini. This exhibition, located at the Jacquemart-André Museum, showcases some fifty unusual works. They allow us to understand how Giovanni Bellini's pictorial language is made up of correspondences and influence games. A splendid exhibition to discover until July 23, 2023 !
Musée Jacquemart-André – 158 Boulevard Haussmann, 75008 Paris
-
On the jewelry side?
Vernier
If you like them sophisticated jewelry, you will love Vhernier! Vernier is not only based on creativity, the house uses engineering techniques to manufacture handmade jewelry which reveal great precision. Located in the prestigious rue Faubourg Saint-Honore, this store offers wonderful collections novelties such as the "Coucher de soleils", "Tourbillon" or even "Doppio Senso".
Vernier – 63 Rue du Faubourg Saint-Honoré, 75008 Paris
-
Pomellato
Discover new collections "iconica" by Pomellato. Synonym of creativity and character in the international panorama of jewelery. Pomellato is recognized today as a precursor of the "New Luxury". Her iconic jewels are colourful, rebellious and original. They form a perfect balance between past and future, tradition and innovation, sensuality and audacity... This royal shop remains unequaled and occupies a special place in the world of jewelry.
Pomellato – 350 Rue Saint-Honoré, 75001 Paris
-
Buccellati
Take the time to observe the Buccellati masterpieces at Godechot, in the 16th arrondissement of Paris. Created 1919, the hands of the Buccellati and their craftsmen combine passion for craftsmanship et Italian creativity. Turnkey adjourned structures honeycomb or sets of gemstone bracelets are available in store. Enter a luxurious universe where style and fascination reign!
Godechot - 28 / 30 Avenue Victor Hugo, 75116 Paris
-
Where to sleep ?
Bvlgari Hotel
Spend a spectacular night in the heart of " Golden Triangle " on Avenue Georges V. The prestigious Bulgari hotel brings the greatest know-how Italian in the City of Light. Enjoy a room at unique design. But also a spa 1 300 m2 on two levels, a semi-Olympic swimming pool, the restaurant menu signed by 3 Michelin star chef Niko… You will be seduced by the sobriety of the building and the best of Italian craftsmanship.
Bulgari Hotel – 30 Av. George V, 75008 Paris
You will like also: