La Fête des Mères is an opportunity to celebrate theunconditional love and devotion to your mom with a gift that will delight her and make her feel special. Paris Select concocted you a inspiring selection de gifts that will fill his heart with joy and emotion. Whatever you choose, the main thing is to express your love and gratitude to your mum. spoil la extraordinary woman she is and show her how important she is in your life.
For a mom who loves beautiful earrings
Moms who wear earrings refined are women in delicate style et elegant. These jewels are much more than a simple accessory for them, they reflect their personality and their love for them. delicate and precious things in life.
1.Long fuchsia crystal pearl earrings – Nadine Delépine – €55
Workshop Shop Nadine Delépine – 14 Rue Princess, 75006 Paris
2.Trendy pierced earrings with prestige crystals I multicolored – Satellite – €155
Satellite – 52 rue de Rivoli, 75004 Paris
3.Blue chalcedony circus earrings – Psyché Paris – €2
Psyche Paris – 18 Rue du Pont Louis-Philippe, 75004 Paris
For a sporty mum who loves sneakers
For moms ready to take on any challenge and who find in the sports a source of energy, well-being and transcendence. Whether it's for a workout, a walk around town or just for a casual look daily. THE sports moms are super heroines who maintain a mode of active and balanced life.
1.Off-white Kenzoschool sneakers – Kenzo Paris – €295
Kenzo Paris – 49-51 Av. George V, 75008 Paris
2.9060 Multi-Color sneakers – New Balance – 383 €
NEW BALANCE – Westfield Forum des Halles, 101 Rue Berger, 75001 Paris
3.Flame low trainers – Sandro – 225 €
Sandro – 34 Av. des Ternes, 75017 Paris
For a mom in the know (budget +)
For those who juggle brilliantly with family responsibilities and their passion for fashion. For those who show follow fashion is not just a matter of appearance, but is a true self-expression and a way of feeling Good Feel, even in the demanding role of mom. Here are three gifts to offer for a trendy mom, true style icon !
1.TWO-TONE "MARANT" HOUSTON SWEATSHIRT – Isabel Marant – 320 €
Isabel Marant – 354 Rue Saint-Honoré, 75001 Paris
2.Straight blue jeans with cut glass appliqués on the cuffs – ALEXANDER WANG – pnc.
ALEXANDER WANG – 40 Boulevard Haussmann, 75009 Paris
3.FLAVIE SHIRT – SÉZANE X SEA NY – Sézane – 105 €
Sézane – 122 Rue du Bac, 75007 Paris
For a super stylish mom (and a budget ++)
Here is a selection of articles for trendy moms et inspirational. They know how to combine the world of Fashion their parenting daily life. They find a perfect balance between the elegance of the big brands and the necessary comfort to take care of their family with ease.
1.Cropped jacket in artificial leather with printed logo – Courrèges – 850 €
Courrèges – 119 Rue Vieille-du-Temple, 75003 Paris
2.EMPIRE DRESS – Amin Kader – €2
Amin Kader – 189 boulevard Saint-Germain, 75007 Paris
3.Crystal embellished mini bag – Coperni – €1
For a very precious mom (budget +++)
Experience the timeless brilliance and splendor of diamond and precious jewelry, specially designed for moms who deserve the best. These exceptional pieces are the perfect gift to express your love and appreciation for these amazing women who light up our lives. Whether it's a delicate pendant symbolizing eternal maternal love, a sparkling ring celebrating precious moments in life or sparkly earrings that add a touch of elegance to every outfit, those diamond jewelry and precious are treasures that will be cherish forever.
1.The "Angel" collection – Isabelle Langlois
Isabelle Langlois – 29 Rue Danielle Casanova, 75001 Paris
2.ADJUSTABLE MOTHER-OF-PEARL HEART BRACELET – APM Monaco – €130
APM Monaco – 65 Av. Victor Hugo, 75116 Paris
3."Fairytale" collection – Djula
Djula – 25 Rue du Faubourg Saint-Honoré, 75008 Paris
For a very decorative mom
Dive into a world of creativity and fancy with objects of unusual decoration, specially designed for moms here on un unique taste et bold in interior design. Give your beloved mom a gift that will delight her creative spirit and allow him to let your imagination run wild.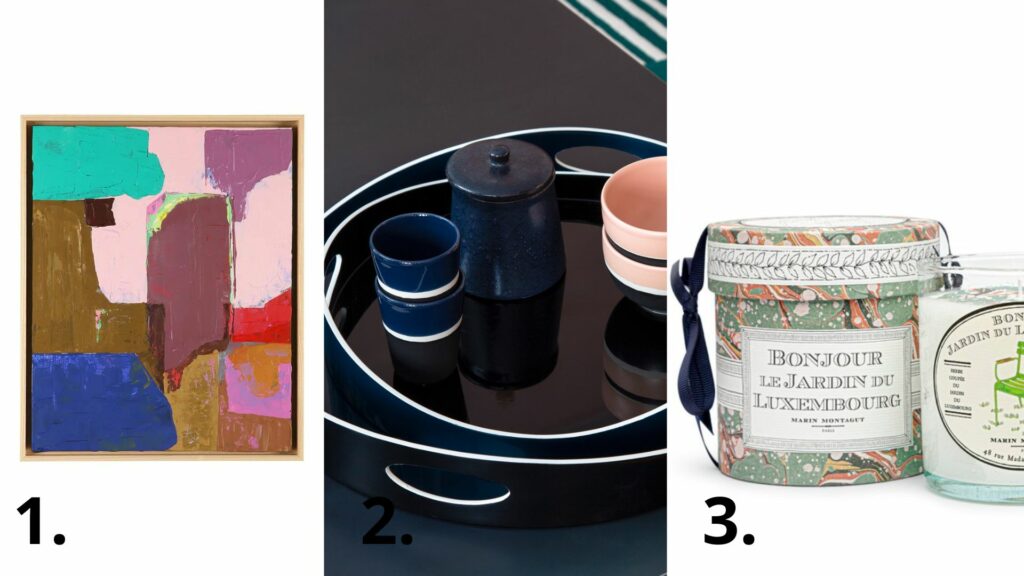 1.MULTICOLORED ABSTRACT PAINTING – 40 X 50 CM – Fleux – 219 €
Fleux – 39 bis Rue Sainte-Croix de la Bretonnerie, 75004 Paris
2.Basile tray – Maison Sarah Lavoine – 168 €
Maison Sarah Lavoine – 25 Rue de l'Annonciation, 75016 Paris
3.SCENTED CANDLE HELLO LE JARDIN DU LUXEMBOURG – Marin Montagut – 78 €
You will like also: