To change from the traditional candlelit dinner accompanied by a bouquet of roses, Paris Select has selected 7 confidential hotels for you, to spend the most romantic stay in Paris… Follow the guide!
-
Hotel Maison Souquet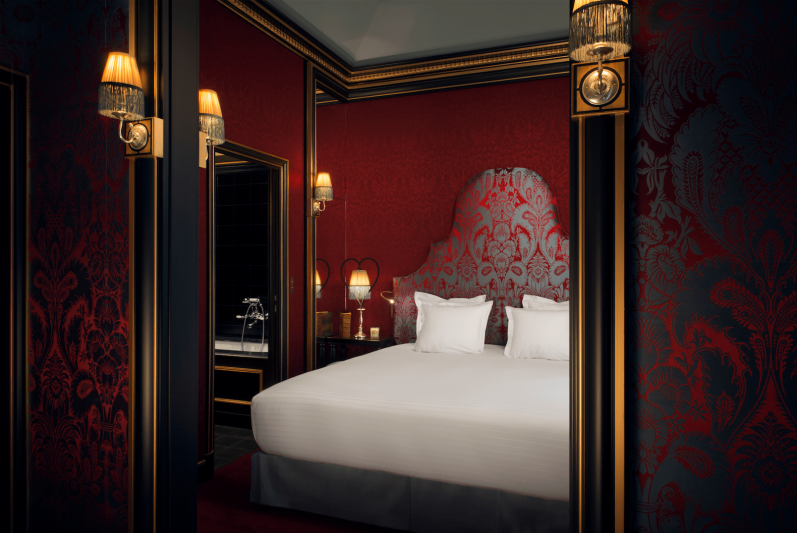 The setting : On the outskirts of Montmartre, behind a facade raised with red lanterns, Maison Souquet reveals its discreet luxury. A small palace of hedonism, this former house of pleasures from the Belle Époque has 20 rooms, including 6 suites with unique decor… True havens of love, each of them is a cocoon woven with the thread of the best fabric designers. Ultimate privilege, the water room and its swimming pool adorned with a celestial vault can be privatized on request!
Valentine's Day 2022 offer : For Valentine's Day, the establishment does not make any special offer. On the other hand, we advise you to opt for the "Parisian romance" formula of the house (valid all year round!), the promise of an unforgettable stay. A harbinger of beautiful nights of idyll, a shower of rose petals will spread over your bed the evening of your arrival and the Salon d'Eau is reserved for you personally, the time for a breaststroke in the swimming pool and a moment of relaxation in the hammam. The next morning, breakfast will serve as an introduction to a day of relaxation. Finally, so as not to disturb your last awakening, you will be gratified with a late check-out, until 14:00 p.m.… A bottle of "Barons de Rothschild" Champagne will also be offered to you, in your room.
The : From €550/night.
To book : 01 48 78 55 55 - contact@maisonsouquet.com
Maison Souquet, 10 Rue de Bruxelles, 75009 Paris
-
Le Castile Paris
The setting : Ideally located in rue Cambon, next to the famous Chanel boutique, the Castille hotel invites its guests to la dolce vita. This uniquely charming 5-star hotel has 108 extremely comfortable and luxurious rooms, decorated in different styles. Some offer a contemporary and warm atmosphere, others display more refined lines and an exceptional view over the rooftops of the very chic 1st arrondissement... As for the Rivoli wing, it is a tribute to the style of Coco Chanel, with an atmosphere of 1930s Paris and a contrasting palette of black, white and beige tones.
Valentine's Day 2022 offer : For Valentine's Day, the Hotel Castille offers a special menu, concocted by Chef Vasyl and Michelin-starred Chef Ugo Alciati. This gourmet dinner will be served in their gastronomic restaurant: L'Assaggio. The particularity ? Throughout your meal, you can admire the dance performance of Naïs Duboscq and Guillaume Diop, a couple of dancers from the Opéra National de Paris. A magnificent show under the artistic direction of Alessio Carbone, former Principal dancer of the Paris Opera.
The menu : We then discover a delicious menu in 6 stages.
Amberjack and kumquat carpaccio,
Roasted scallops, pumpkin, broccoli-rabe and Nebbiolo sauce
"Lasagnette" with seafood and broccoli, flavored with saffron
Filet of beef and barba di frate served with a chocolate and chilli sauce
Fior di Latte ice cream and passion fruit coulis
Creamy Valentine's Day to share
This menu includes a free glass of champagne.
The : €160 per person without drinks / €220 per person, menu with food and wine pairing.
To book : 01 44 58 44 58 – lassaggio@castille.com
33-37 rue Cambon, 75001 Paris
-
The Parister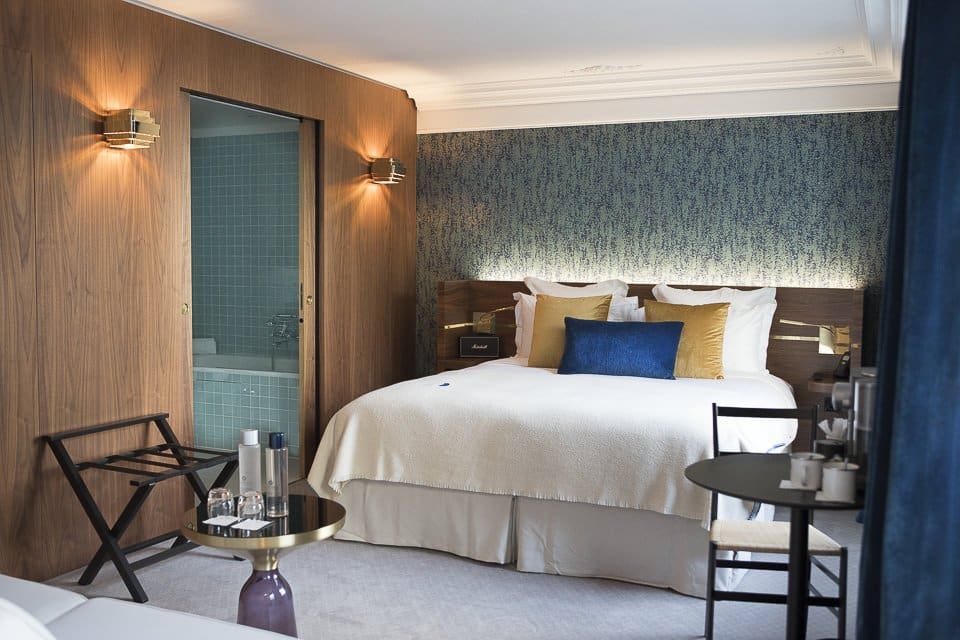 The setting : It is between the Folies Bergères and the Opéra Garnier that the very trendy Parister Hotel sits enthroned. If the 45 rooms of this 5-star hotel display moldings on the ceiling, beautiful light and a mix of elegant colors, the suites are exceptional… a real ode to beautiful materials.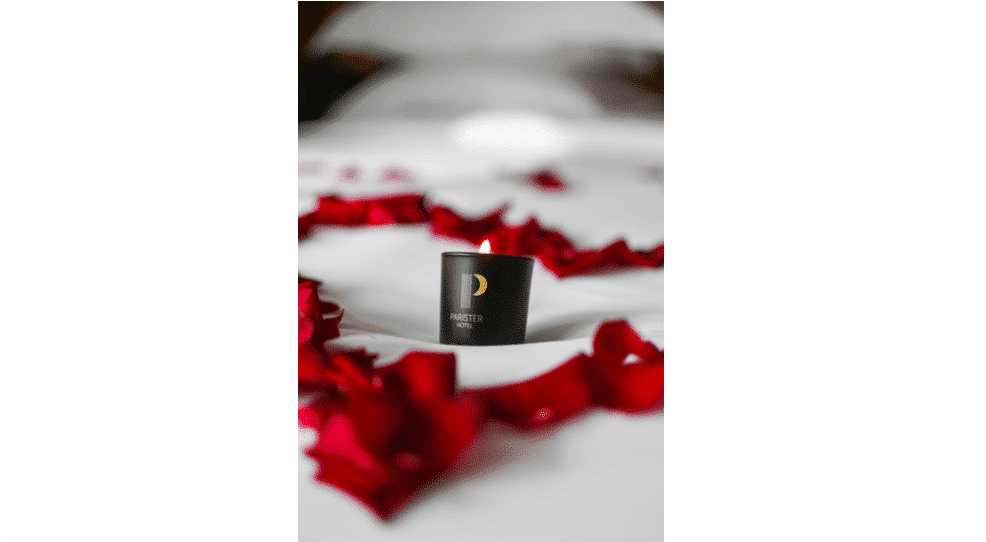 Valentine's Day 2022 offer : The first special Valentine's Day offer includes a night in a superior room (450€/night), breakfast, a cupid's welcome and dinner. The second offer includes the same elements, plus a one-hour duo massage (€700/night).
Exceptionally, the two offers proposed by the Parister will be valid before and after Valentine's Day: February 11,12,14,18 & 19.
The menu : For Valentine's Day, the Parister offers a superb 4-course menu, which we reveal to you below.
Appetizers: Butternut velouté, hazelnuts, tuna tartar, candied tomato puff pastry, parsley mushrooms, goat cheese mousse
Starters: Duck foie gras, ginger mango chutney, toasted bread
Carpaccio of scallops, passion fruit, shizo
Dish: Poultry ballotine duxelle with shitake mushrooms, and its garnish
Dessert: Tiramisu with red fruits
The : 65€ per person without drinks.
To book : 01 80 50 91 91
19 rue Saulnier, 75009 Paris
-
The Gardens of the Villa 4*
For Valentine's Day, the hotel The Gardens of the Villa invites you to surprise your partner with a tailor-made stay! In addition to your night, you can book, among the different options available:
a duo massage for you and your partner, performed by a therapist
an eternal rose, a real stabilized rose
Jeff de Bruges or Patrick Roger chocolates
macaroons
A bouquet of roses, flowers…
the option of rose petals in the room, a shower of petals…
any idea that can help make your stay unforgettable, such as printing photos, messages in the room, gifts in the room, etc.
For any reservation, the director himself will be your contact so that your stay is up to your love!
To book : 06.95.31.90.52 - jhumbert@jardinsdelavilla.com
5 Rue Belidor, 75017 Paris
-
Ministry Hall – Madeleine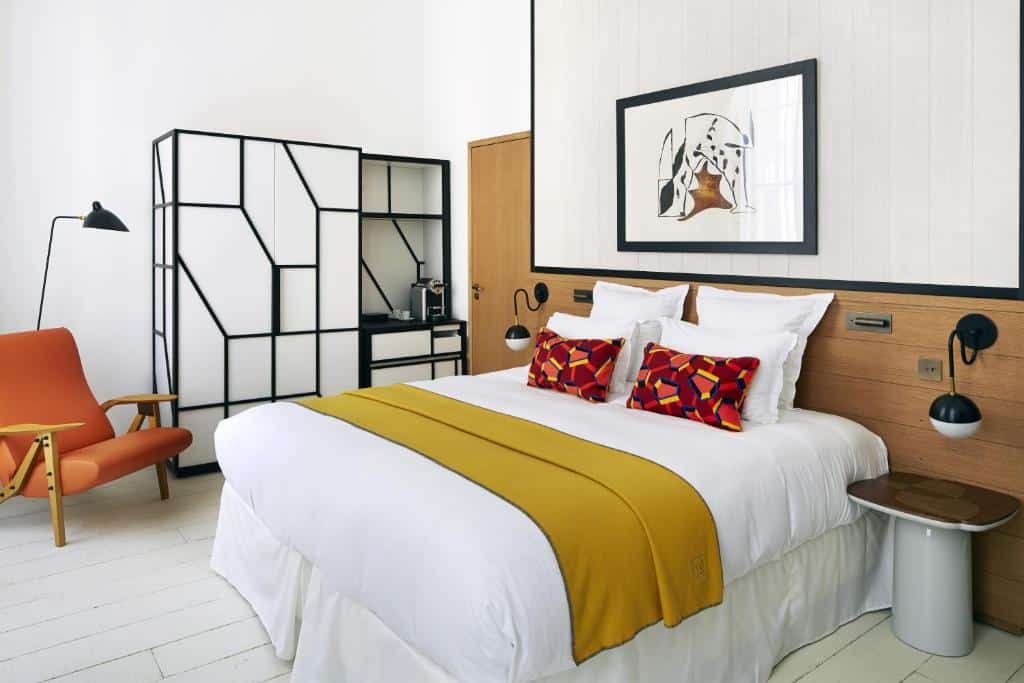 The setting : Placed under the sign of contemporary design, the Hôtel du Ministère sits right in the heart of the Faubourg Saint-Honoré district. This 4-star hotel reopened its doors in the summer of 2011 after being completely revamped by designer François Champsaur. Cloud lighting, David Lynch lithographs, fifties and colorful notes... This hotel reveals a hyper trendy decor in its 42 rooms. A wine bar, a fitness room and a meeting room complete the establishment's offer.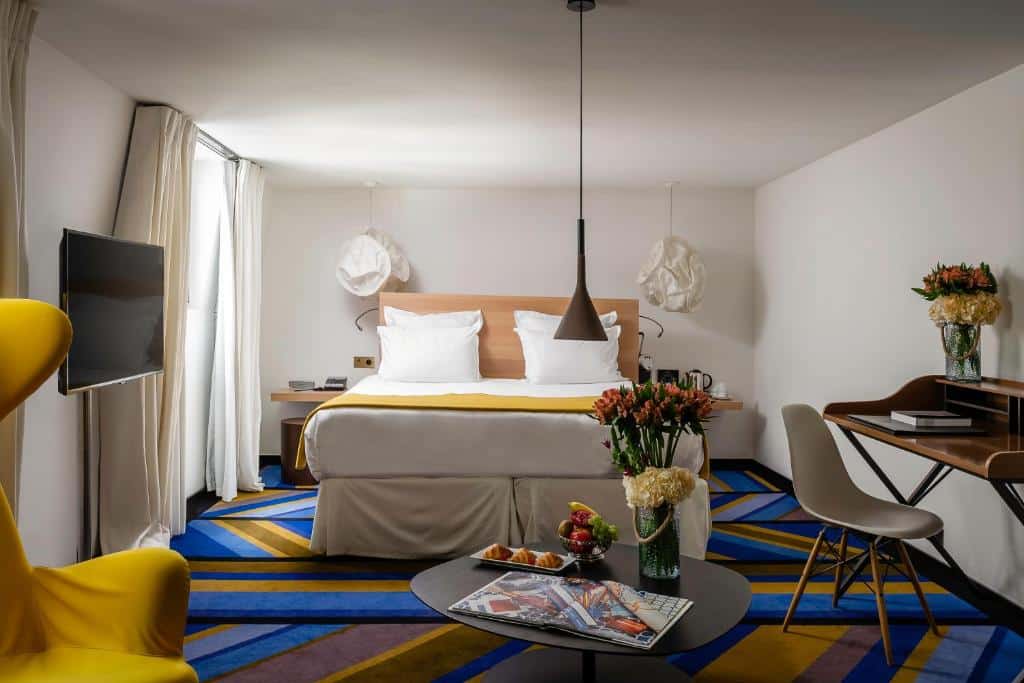 Valentine's Day 2022 offer : For a stay on the dates of Valentine's Day, two glasses of champagne will be offered to you on your arrival… The next morning, enjoy your room until 14 pm, at no additional cost. Sleep late! Pssst, by booking on the site, you will benefit from an immediate 20% discount as well as free breakfast.
The : From €163/night.
To book : 01 42 66 21 43 – info@ministerehotel.com
31 rue de Surene, 75008 Paris
-
Le Roch Hotel & Spa
The framework : Very close to the Opéra Garnier and the Jardin des Tuileries, Le Roch Hotel & Spa is a beautiful boutique hotel that embodies Parisian chic, through a resolutely elegant decoration by Sarah Lavoine.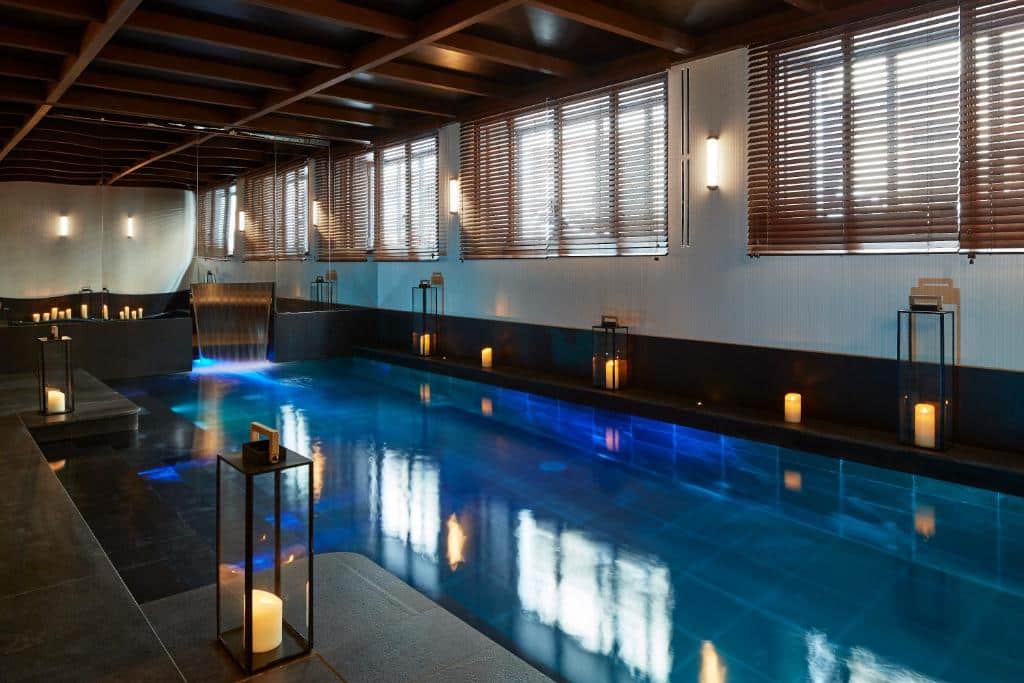 The 2022 Valentine's Day offer: This year, the Roch Hotel presents an invitation to escape under the sign of romance! During the weekend of Valentine's Day, the establishment offers you an offer consisting of a dinner aperitif, served in a Superior room, a 45-minute duo massage in their Codage spa with the bonus of a beauty gift, half a -bottle of Moët rosé champagne and a gourmet breakfast for two people. Either, the promise of an ultra-romantic stay in the heart of Paris...
The price : From €884/night in a superior room.
To book : +01 (70)83
28 rue Saint-Roch, 75001 Paris
-
Hotel Molitor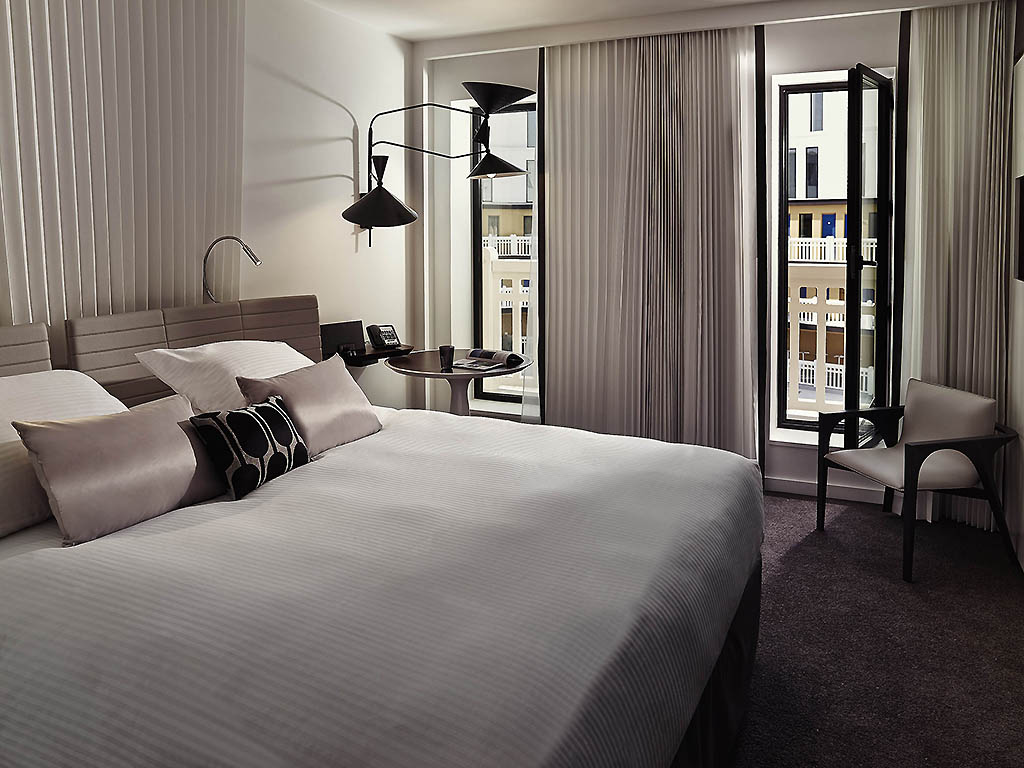 The setting : Famous for its Art Deco decoration and its sublime swimming pool listed as a historical monument, the Hôtel Molitor sits enthroned in the heart of the 16th arrondissement. The legendary establishment also houses a Clarins Spa which, like a bubble of softness, welcomes the most tired city dwellers to get them back on their feet.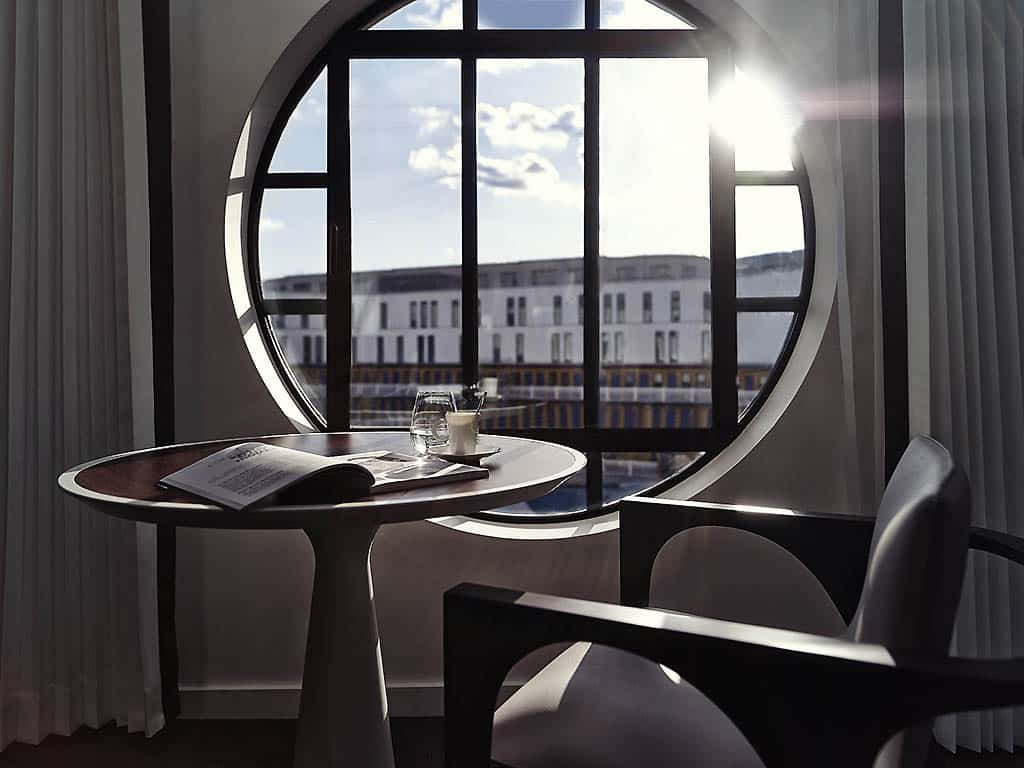 Valentine's Day 2022 offer : This year the Hotel Molitor offers you a beautiful Parisian getaway with an upgrade to a deluxe room – depending on availability – breakfast and a free gift bag for each one-hour treatment reserved at the Clarins spa. This offer is available from €365 for two people.
Then you can choose between the Sage or Not So Sage version. For the most romantic, you will be entitled to rose petals, a disposable waterproof device to immortalize this romantic moment and sweets to satisfy the most greedy. For the rascals, it's a spicy Valentine's Day that awaits you with accessories to raise the temperature: mask, feather duster and nipple cover, a selection of erotic books, an aphrodisiac shot, as well as a bottle of whipped cream. All you have to do is let your imagination run wild… This trip will be offered from February 11 to 14. To take advantage of it, you will have to make your reservation directly with the code #SAINTVALENTIN.
The : From €380/night.
To book : 01 56 07 08 50
13 Rue Nungesser et Coli, 75016 Paris