Three years after launch of their label Go for Good, Galeries Lafayette Haussmann reaffirm their commitment to responsible trade. Thus, the main store inaugurated a brand new space, on the 3rd floor of the main store. baptized (RE)STORE, you can find vintage: Monogram, Personal Seller, Entremains, Relique, Petite Chineuse, Crush On, Culture Vintage… There are also responsible brands such as Maison Flore, Patina or Salut Beauté.
Finally, a "drugstore of Good" offers a sharp selection of lifestyle, beauty and decoration items to adopt new everyday gestures and limit waste! Stylish knitting kits, recycled plastic water bottles, refillable cosmetics, and other accessories made in France, totally eco-friendly, are yours!
-
New services to create links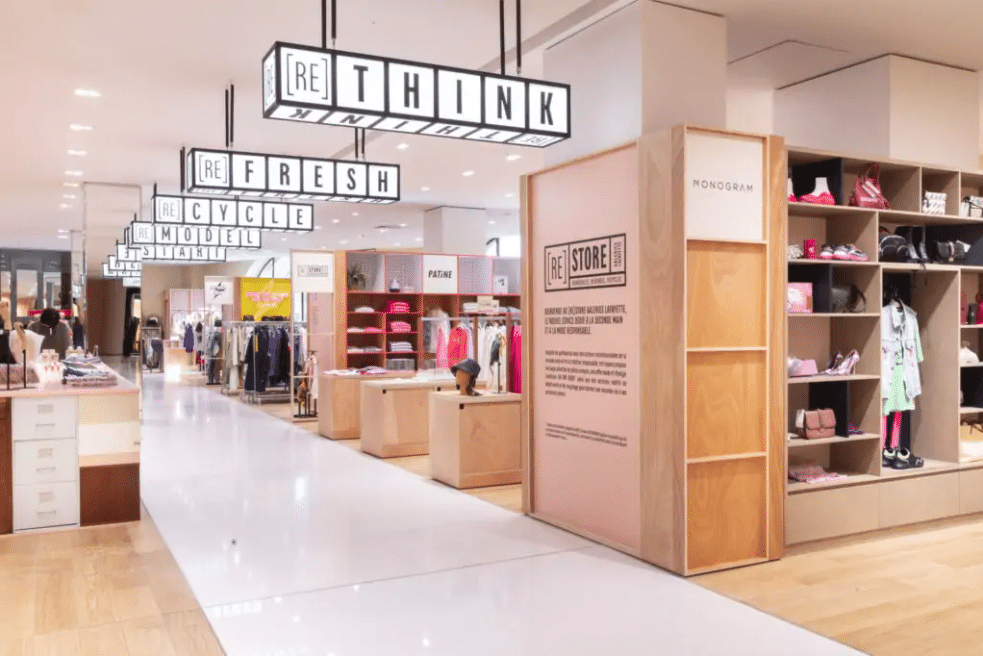 Designed as a lively space for sharing and exchange, LE (RE)STORE GALERIES LAFAYETTE also offers a range of unique services. On this same floor, you can upcycle your clothes with consignment lounges. He then entrusts them to a vintage corner or even a collection service where you can drop off your textiles, shoes, empty perfume bottles and make-up packaging for loyalty points!
-
Three new brands at RE(STORE)
On the occasion of Nature Urbaine, the RE(STORE) welcomes three new essential brands of sustainable fashion:
LES RÉCUPÉRABLES
Made in France, upcycled material and solidarity products
Founded by Anaïs DW, Les Récupérables imagine upcycled collections with modern retro cuts. The brand creates pieces from vintage household linens and dormant stocks collected from French textile manufacturers. With local production promoting French know-how, Les Récupérables defend a positive vision of fashion where style rhymes with creativity.
-
ROSALIE STUDIO
Made in France and upcycled material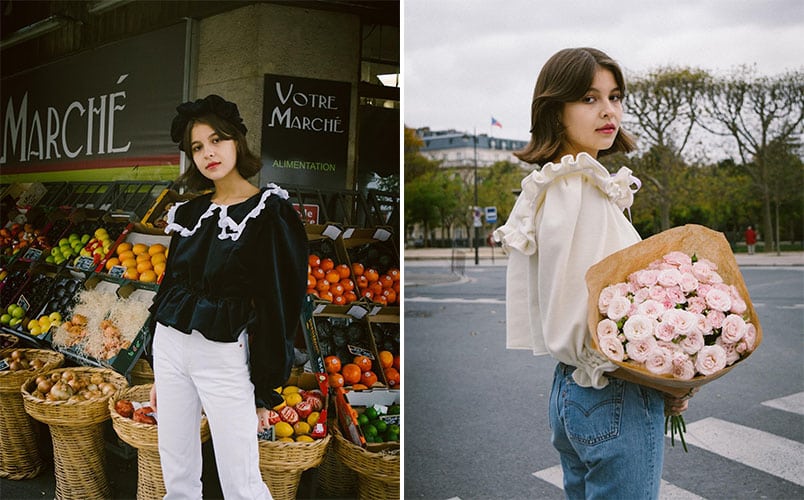 Studio Rosalie is a womenswear brand that champions an inclusive, sustainable and whimsical vision of fashion. The creations are made from fabric scraps and are made entirely by hand in a Parisian workshop. If each piece is unique and produced on demand, they are all inspired by painting and Art History.
-
ORANGE HEAD
Upcycled material
Tête d'Orange is a Strasbourg-based brand of audacious, creative and up-to-date upcycled jewellery. Their creative approach frees itself from any convention or classic model to offer jewelry with a refreshing design.
-
Our favourite: Monogram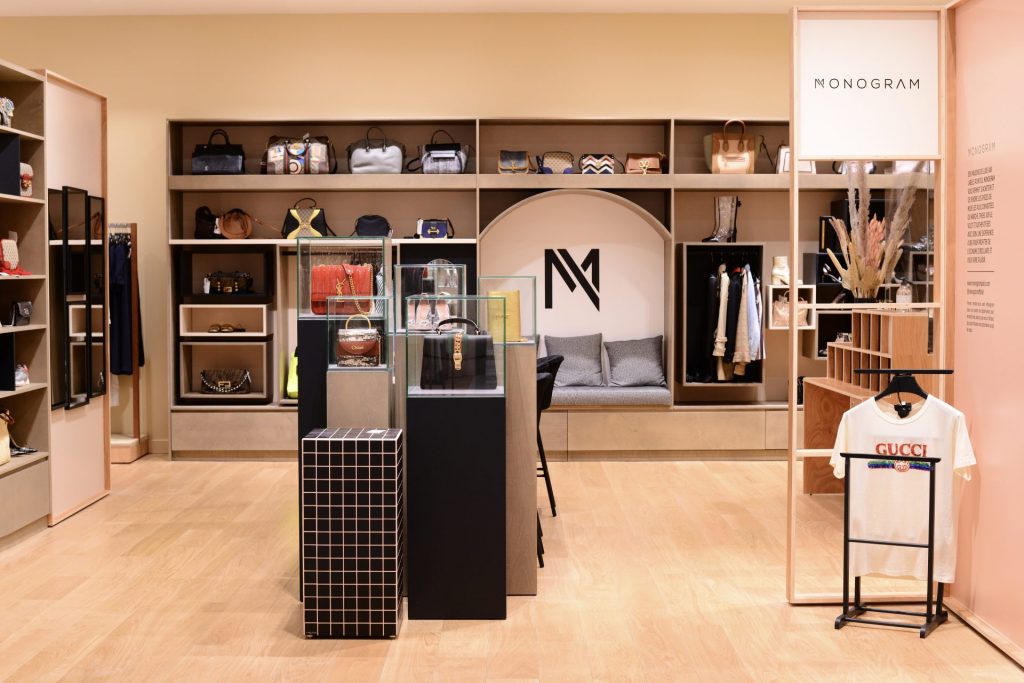 A specialist in luxury second-hand, Monogram selects, authenticates and offers the flagship models of the greatest Maisons.
Created by Beverly Sonego more than ten years ago, Monogram inaugurated its 50m² boutique, within the space (RE)STORE of Galeries Lafayette Paris Haussmann entirely dedicated to circular fashion.
Thus, Monogram offers you in its space the most coveted bags, shoes and other accessories on the market. These iconic pieces are carefully selected and authenticated. You also have the option of resell the parts that you no longer use to give them new life.
Ultimate plus: before going there, you can request an estimate of your items for sale, by Whatsapp at (+33) 06 22 44 53 60.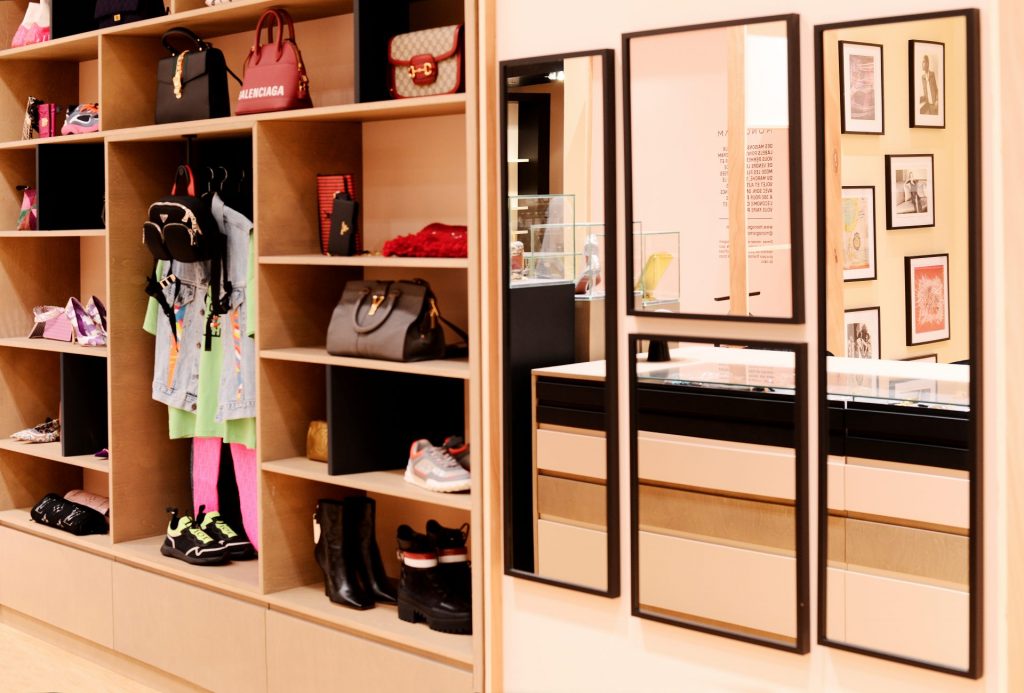 (RE)STORE at Galeries Lafayette Haussmann, 40 boulevard Haussmann, 75009 Paris – 3rd floor.
Read also: Granado unveils a unique pop-up at Galeries Lafayette Haussmann