Did you think the wedding season was over? That was without taking into account the winter lovers, who have decided not to do anything like the others… To sublimate you, here is a small anthology of addresses, handpicked.
Valerie Valentine
To stand out on D-Day, opt for a beautiful creation Valerie Valentine that will sublimate your outfit... Headband, headband, clip, comb, barrette, elastic or fascinator hat, all the pieces are available in several sizes, from the very discreet to the most showy. Adorned with crystals Swarovski, these accessories entirely made of noble materials (like leather) are meticulously handcrafted in their Parisian workshop in the 11th arrondissement... Objects of desire compatible with all everyday hairstyles!
Valerie Valentine, 2 rue du Pas de la Mule 75003 Paris. Open Monday to Saturday from 11:30 a.m. to 19:30 p.m. and Sunday from 15 p.m. to 19 p.m. 01 44 61 41 02
Tony Ward
Italian-Lebanese designer, Tony Ward has transformed the family Couture House established by his father in 1952 into an internationally recognized brand. Inspired by contemporary constructions, the one nicknamed "the Architect of Detail" imagines sculptural forms, creates innovative techniques and plays with light and the transparencies of embroidery. Its Couture and ready-to-wear collections perfectly combine innovation and mastery of cut and lines. It offers sublime wedding dresses, made in the most precious materials (georgette, tulle, organza) and accessories such as clutches and shoes. Pieces so desirable that we can now admire them in their parisian showroom, inaugurated in May 2018 in the Rue du Faubourg Saint-Honoré. A place that attracts many celebrities and other VIP's from around the world.
Tony Ward, 14-16 rue du Faubourg Saint Honoré, 75008 Paris. 01 47 42 73 39
Fakra
At FaKaRa the luxury of rarity becomes affordable. This craftsman makes unique high-end costume jewelry by hand with radiant colors in a light and very resistant material. Don't be surprised to be greeted by the creator himself, you will recognize him by his apron covered in paint stains!
Working Shop, 20 rue Danielle Casanova, 75002 Paris. 01 42 76 07 98
Gold Gems
At Gold Gems, we are amazed by the multitude of bracelets, chains and rings adorned with diamonds, rubies, sapphires and other precious stones. That pretty shop on rue du Temple is held by a jeweler manufacturer (family home since 1975) which offers magnificent pieces in gold 18 carats. Most ? You can make tailor-made creations in their workshop, above the store…
Gold Gems, 127 rue du Temple, 75003 Paris. 01 48 87 76 90
Bertino and Oliver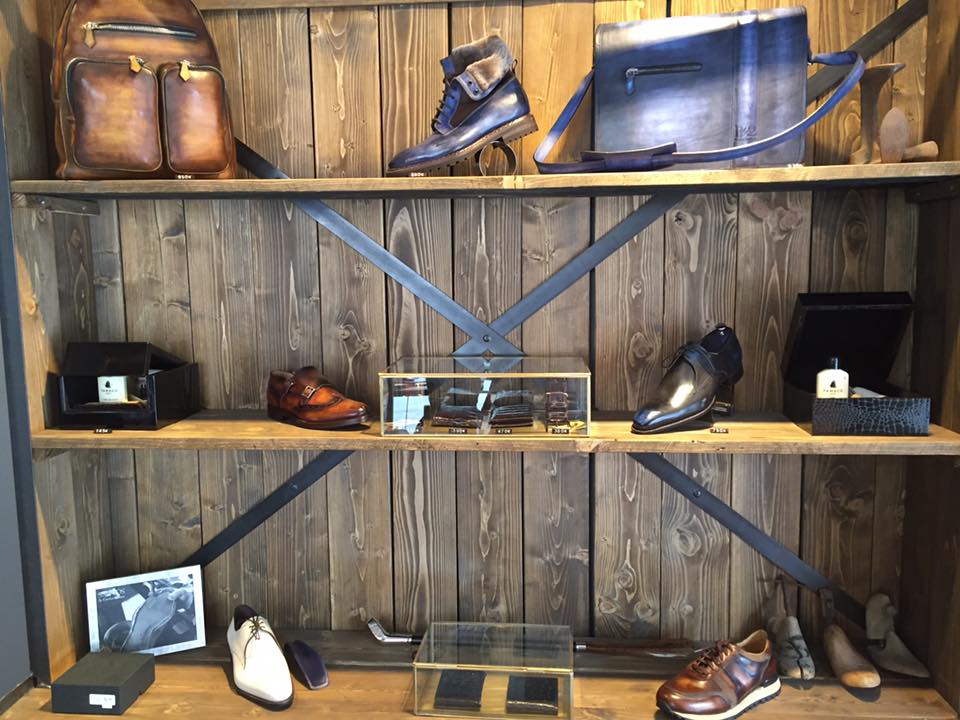 Recognized for creating incredible patinas, the Bertino & Olivier boutique specializes in shoes and accessories for men. The DNA of the house? A love of premium leather placed at the service of the creation of original shoes with the target of the modern, elegant and refined man, a bit dandy... Within their setting, 2 steps from the Place de l'Étoile, we discover a whole panoply of shoes, sneakers, messenger bags, belts, jewelry and other watches, customizable with the colors and patinas that best suit each client. We like: the craftsmanship with quality leathers, in the workshop at the very back of the store!
Bertino & Olivier, 85 avenue de Wagram, 75017 Paris. 01 74 30 41 20
Anthony Boy
Launched by the eponymous designer, the house Anthony Boy was born in 2005. Advocating values ​​that are dear to him (ethics, sharing, listening and kindness towards customers) it offers perfectly tailored suits, but also the whole panoply of the elegant business man: jackets, shirts, waistcoats, ties and other accessories... Here, the fabric quality is an absolute priority and the house uses no less than 40 different fabrics per season, all from the most prestigious Italian spinning mills: Vitale Barberis, Canonico, Reda, Guabello, Drago... A true manufacturer of elegance, Anthony Garçon endeavors to advise his customers as well as dressing them.
Anthony Boy, 266 Rue du Faubourg Saint-Honoré, 75008 Paris. 01 53 76 32 37
Have
At HAVE it is the shirt that is in the spotlight. The brand offers high quality modern pieces ("made in Europe"), while remaining accessible in its prices thanks to the elimination of intermediaries. In their shop in the heart of the Sentier, you can also find suits, ties and other bow ties… An essential place for Parisian style!
Have, 47 Rue d'Aboukir, 75002 Paris.