Mother's Day is fast approaching and like every year, it is in urgency and haste that you start looking for the perfect gift. And if you show him your love with a pretty refined jewel? Cultured pearl, diamonds and precious stones. The editorial staff of Paris Select Book has concocted a selection of magnificent necklaces just waiting to find refuge around the neck of the one you cherish.
Tick ​​tock, tick tock, tick tock, time flies and with it the prospect of finding THE ideal gift For Mother's Day. Breathe, you're in good shape! Because we know that jewelry often has the art of replacing words. It is near the cream of Parisian jewelry that we unearthed a selection of necklaces. They will sound like a lovely declaration of love. We chose them to be elegant, sophisticated, sharp and resolutely feminine. In short, the perfect ingredients for a exceptional gift.
-
-
The Angel by Isabelle Langlois
-
It was with a couple of friends thatIsabelle Langlois drew inspiration from his collection "My angel". This is indeed how the two lovers have a habit of showing their love with tenderness. A passion that we guess under the dexterity of the jeweler who gives life to creations imbued with delicacy and elegance. Giving pride of place to traditional know-how, this granddaughter and daughter of lapidaries enriches her iconic collection with new design pendants precious and subtle. Wearing their halo, the angels adorn themselves with precious stones in the colors of love. Covered in yellow gold, the cherubs shine with a thousand lights, dressed in white or pink mother-of-pearl wings. An ode to love which will make sense once nestled in the crook of the neck of your beloved mother.
Isabelle Langlois – 29 Rue Danielle Casanova, 75001 Paris – 01 42 46 75 00
-
-
Our selection at Godechot Pauliet
The Opera collection by Buccellati
-
He reflects elegance and timeless beauty. This magnificent necklace signed Buccellati will crack those who bet on character pieces. From the Opera collection, we find the strong elements of this iconic series. The brand logo plays the stars here by nestling everywhere. We find it more sparkling than ever on a blue enamel background. But also more discreet on pretty shiny pearls in yellow gold. Joyful and captivating. The design of this necklace offers the charms of tulle pattern. a distinctive element Buccellati creations, with a yellow gold rosette set with diamonds for ornament. A daring mix that will do honor to mothers at the strong personality !
-
-
The Link collection by Chaumet
-
-
What could be more touching than a present symbolizing the strength of the bond ? That, the Chaumet house understood it well. She has been working since almost 50 years to sublimate the uniqueness that unites two loved ones. Since the creation of the pfirst Lien collection in 1977, the offer has expanded. We find new timeless creations but infinitely modern. Supporting evidence with this beautiful medal which is revealed in a sleek style, graphic and very refined. A nice nod to sentimental jewelry dear to the jewelry house. This creation is adorned with gold sparkling pink which comes to sublimate a link paved with diamonds. And since a declaration of love is always more beautiful when it comes from the heart, the brand offers customizable models. Engrave the message of your choice.
-
-
The Pomellato pendant collection
-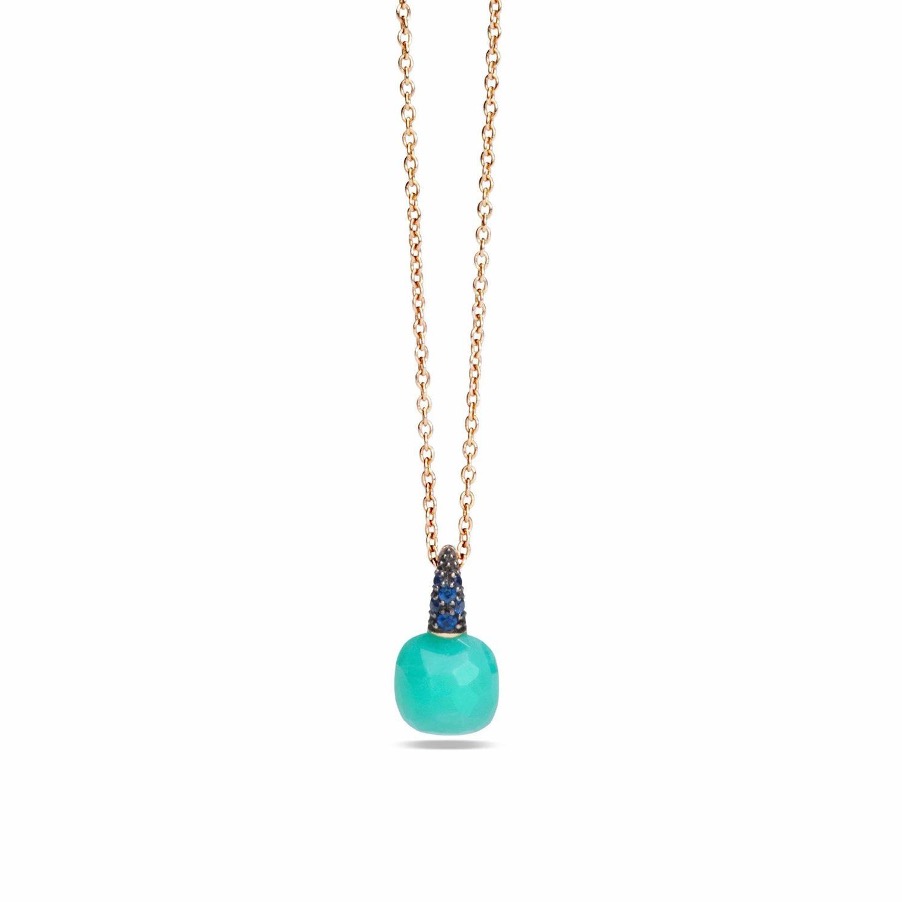 Cape to Capri with this signed necklace Pomellato. This collection is inspired by the Italian city with infinite charms. The brand draws its inspiration from the beauty of its landscapes. The vibrancy of its colors, the organic material of its rocks… Result? A luminous jewel and all in contrast! We distinguish his pendant set sometimes in an azure blue which evokes the Mediterranean Sea. Sometimes an orange coral or a pretty lavender which recall the lush beauty seabed. Certainly the jewel that will touch full heart those who have made Capri their first love story.
The Palloncino collection from Vhernier
-
Opt for this necklace with a incomparable elegance signed Vernier. This necklace refined et luxurious is more than just a jewel. He is a symbol of sophistication, femininity and power. It is designed to be passed down from generation to generation. Adorned with a rose gold pendant 18 KT, from diamonds, ofrose gold leaf et rock crystal, this magnificent choker, from the italian brand, everyone agrees. So why not you ?
Vernier – 63 Rue du Faubourg Saint-Honoré, 75008 Paris
The Move 10th collection from Messika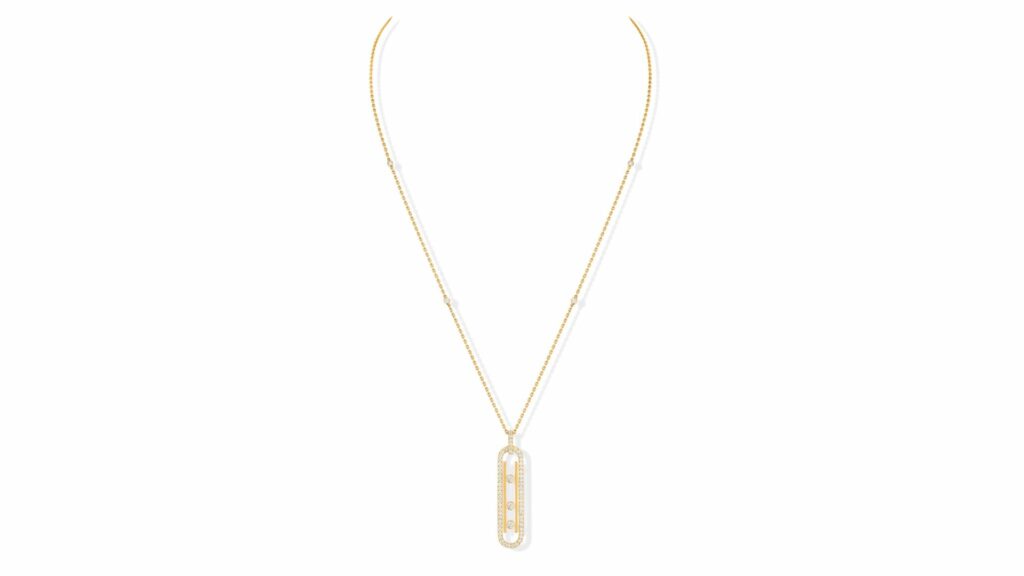 Discover anniversary collection, tribute to the icon of the Messika House. Jewels of sublime radicalismelegant sobriety. Luxury jewelry away et singular, this diamond necklace in yellow gold Move 10th cannot leave anyone indifferent. It takes up the lines of the House's signature design and the brilliance of diamonds Move. True lucky charm, ce diamond necklace women can be worn alone or stacked with other models in the collection. To this end, we will appreciate its chain system slider that allows it to be adjusted day by day to the length of our neckline.
Messika House – 259 Rue Saint-Honoré, 75001 Paris
The LV Volt collection from Louis Vuitton
-
Looking for a powerful and daring jewel ? That's good, that's the promise of this sublime necklace signed Louis Vuitton. Unveiled in 2020 during the presentation of the LV Volt collection, the unisex piece deliberately blurs gender codes. Imagined by Francesca Amfitheatrof, Artistic Director of the House's Watchmaking and Jewelry. This beautiful necklace is dressed in a delicate yellow gold, exit discretion. It is in a resolutely design modern, brash and ostentatious that it turns out. With for headliners the initials "L" and "V". A signature tribute to the founder of the luxury brand. Symbolizing movement, the two capitals come here intertwine and unite under a shower of diamonds. And it will take no less to make your eyes shine of your dear mother.
Louis Vuitton - 2 Pl. Vendome, 75001 Paris
You will like also: