The jazz scene in Paris is dynamic, open, lively and friendly... The Left Bank, the Latin Quarter and Saint-Germain-des-Prés, in particular, are full of addresses and clubs with an atmosphere that is sometimes more intimate, sometimes fiery. Other cult clubs, such as the Duc des Lombards in Châtelet or the Caveau de la Huchette, have made the capital famous on the international music scene. Paris Select has listed for you the most chic addresses where to listen to very good jazz, in Paris. Here are 5 timeless addresses for the most music-loving among you!
The Hotel Pont Royal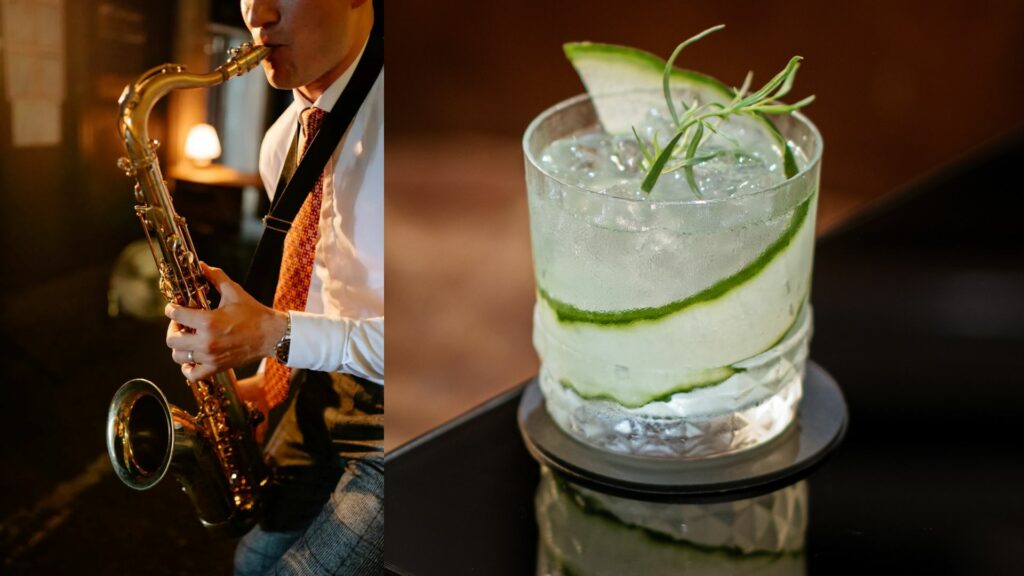 As a couple or with friends, find yourself around delicious Signature cocktails made by the hotel's head barman, Frédéric Maitre. Lionel Boccara, accomplished drummer and great unifier of the Parisian jazz scene, will be at the helm of this evening placed under the line of thelove and romance.
The appointment is made in the heart of Saint-Germain-des-Prés. From 19:30 p.m., enter the magical universe of the Hôtel Pont Royal and its famous Signature Bar steeped in history.
Let yourself be carried away by this place full of surprises and its cozy atmosphere while tasting their delicious cocktails.
For jazz lover, find this event throughout the year, every other Monday from February 27th.
Hotel Pont Royal, Bar Signature, 5 Rue de Montalembert, 75007 Paris
-
Les Deux Magots
The most famous brasserie in the district of Saint-Germain-des-Prés hosts, until next May, a large series of concerts, the Jazz Thursdays. An appointment whose success does not dry up, with already a sixth season !
Meet every Thursday from 19:30 p.m. to 22:30 p.m. to take advantage of vocal jazz performances. The careful programming is signed by the jazzman Lionel Boccara. A different trio plays every week, with piano, double bass or guitar, often accompanied by a singer or singer. Artists recognized on the French and international scene are regularly invited. There, the greatest jazz standards will be performed, from Billie Holiday to Louis Armstrong via Nancy Wilson or Sarah Vaughan… as well as new creations.
These evenings are real moments out of time. Enjoy a cocktail and traditional dishes in a cozy atmosphere... Then take a seat in the legendary Deux Magots room, which once hosted Boris Vian or Jean-Paul Sartre,
Free admission, with consumption required.
Reservations recommended, on 01 45 48 55 25.
Les Deux Magots, 6 Pl. Saint-Germain des Prés, 75006 Paris
-
Star Jazz Club
We already knew the Méridien hotel, a very chic address at Porte Maillot. But did you know that this one houses a cult jazz club ? The Jazz Club Etoile has in fact existed since 1975… Many stars, like BB King, have walked the stage of this chic and demanding club, both in terms of the line-up and its guests.
For a exceptional musical and gastronomic experience, we strongly recommend the Dinner & Concert formula. Comfortably seated at an elegant table, enjoy a fine dining in three times. All to the sound of an impeccable jazz selection. The Jazz Club Étoile welcomes renowned big bands as well as new great talents in soul, blues and funk. In February, we will hear a selection of the most eclectic: Creole jazz, blues and funk with Boney Fields, disco with the group Five Funk...
Open daily until XNUMX:XNUMX a.m.
Dinner reservation.
Hotel Le Merdien Etoile, 81 Boulevard Gouvion Saint Cyr, 75 Paris
-
The Melville
Welcome to Melville, a any new address in the landscape of Parisian jazz. This restaurant-bar and club opened its doors in 2022. It offers a gourmet and spicy menu: padron pimientos, wagyu carpaccio with miso truffles, chimichurri octopus... As for cocktails, bartender Mila Caignaert concocts original cocktails, from a vast selection of classics and creations. The signature cocktail, the Melville, will charm you (Vodka, Noilly Prat, Liqueur Saint-Germain, and apple juice). Finally, its decor invites you to relax, with its wood paneling and bookcases... You feel at home, with friends, as in a intimate and warm living room.
The watchword of the Melville? Eclecticism, as much in the glasses or the plates as in the ears, with a musical program of incredible finesse. Jazz, yes, with, for example, the frenzied rhythms of the Square Noon trio every Wednesday. But also sounds from all over the world with Cuban rhythms, swing, flamenco, bossa nova... or salsa very hot with the Paris Latino quartet. An address not to be missed for all Parisian music lovers.
Open Tuesday to Saturday from 19 p.m. to 2 a.m.
+ 33 01 40 75 00 57
Le Melvile, 28 Rue Jean Mermoz, 75 PARIS
-
The Duke Bar
Near the Opera, the Duke is a sublime bar... We let ourselves be seduced by a authentic which gives it a cozy atmosphere, very british. A magical decoration with mahogany, with black and white portraits of English writers on the walls, an incredible grand piano, a marble fireplace... Settle into a comfortable English armchair and sip delicious cocktails (we recommend our favorite, the Champagne Spritz !) accompanied by a selection of finger food tasty. For the biggest appetites, there are generous burgers or croque-monsieurs on the menu.
And on the music side? THE Friday and Saturday evening, the Duke comes alive. Solo or duo musicians come to play their refined and elegant selection of jazz music. A real pleasure !
01 42 61 57 46
Open from 07:00 to 23:00 from Sunday to Thursday inclusive, and from 7:00 to 00:00 on Friday and Saturday.
The Duke Bar, Hotel Westminster, 13 rue de la Paix, 75 Paris
-
The 38Riv Cellar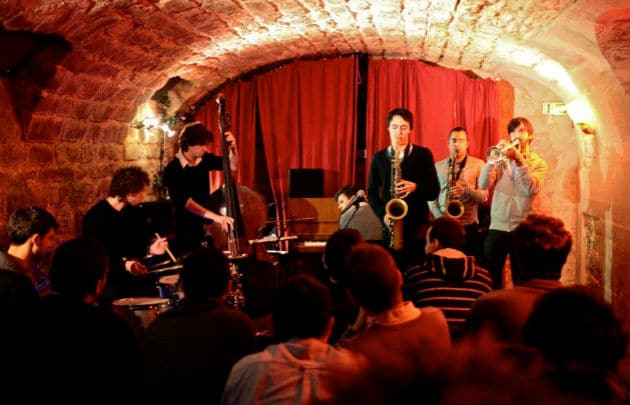 At the heart of Marais district, 38 Riv, (named for its address, 38 rue de Rivoli) is a club of cult jazz of the capital. It is frequented by an informed public, but also open to novices and the most curious. We love its vaulted cellar, which dates from the XNUMXth century. It gives this particular space a magical soul. Space is limited… and so much the better! We take advantage of a warm environment, intimate, with almost the impression of attending a private concert ! For this reason, reservation is highly recommended.
It is an ideal space to listen to a very specialized musical selection, every evening of the week. Brazilian music, Swing, Funk, Be Bop, Modern, gypsy jazz, mixed music are on the agenda, with also themed evenings. The must ? The jam sessions, improv evenings where the musicians let their crazy creativity express itself, in a supercharged atmosphere!
Open daily from 18:30 a.m. to 2 p.m.
07 82 64 26 32
38 Riv, 38 Rue de Rivoli, 75004 Paris