Every year, Valentine's Days follow one another and you no longer know where to turn to find a restaurant that will put stars in their eyes... To change their favorite Italian restaurant (the menu of which your partner already knows by heart ) and if you just bet on the table – starred or not – of a beautiful Parisian hotel? For February 14, several renowned establishments are going big and offering a unique menu, which will delight the most demanding gourmets... We have crisscrossed the capital to select the 7 most chic hotels, offering a special Saint -Valentine in their restaurant. Or, the promise of an absolutely unforgettable moment from start to finish… Follow the guide!
-
Limon at Marignan Champs-Elysées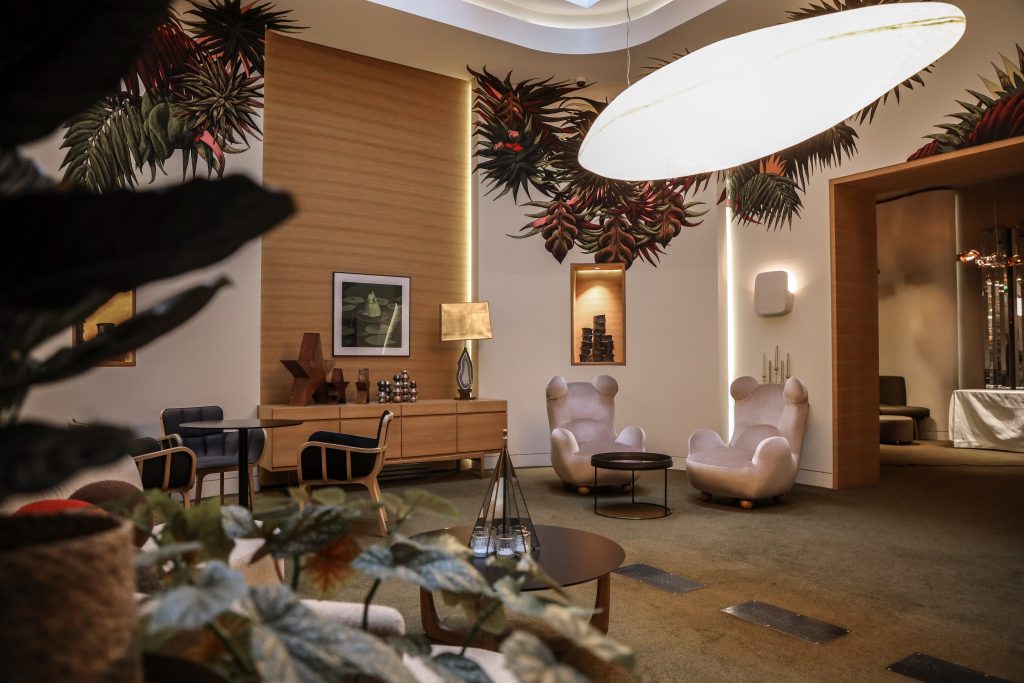 The setting : Located between Avenue Montaigne and the most beautiful avenue in the world, Limon is the chic brasserie of marignan Champs-Elysees. Whether for breakfast, lunch, afterwork, dinner, or just a coffee in the middle of the afternoon, this intimate spot welcomes you in a cozy and super cozy atmosphere. We go there for a gourmet moment, throughout the day... Special mention for the tree-lined terrace of the establishment, on which we like to settle down as soon as the good weather allows it.
Valentine's menu : For the feast of lovers, the hotel offers a special dinner, concocted by their chef. In the warm reception room, the establishment will host a musical group to make this moment even more unforgettable! So you can savor this delicious menu, to the sound of live music, in a romantic atmosphere… This beautiful evening is offered at 85€/person, excluding drinks.
* * *
Starter
Carpaccio of burnt scallops, leche del tigre, kaffir lime emulsion
Location
Monkfish, fennel & celery variation, clam juice with Gewurztraminer, risotto and bagna cauda
OU
Filet of beef and its juice, purple carrots, beets and Cecina de Leon
Desserts
Around chocolate
* * *
Reservations by email reservation@hotelmarignan.fr or by phone on 01 71 93 96 55.
-
Le Blossom at the Sofitel Paris le Faubourg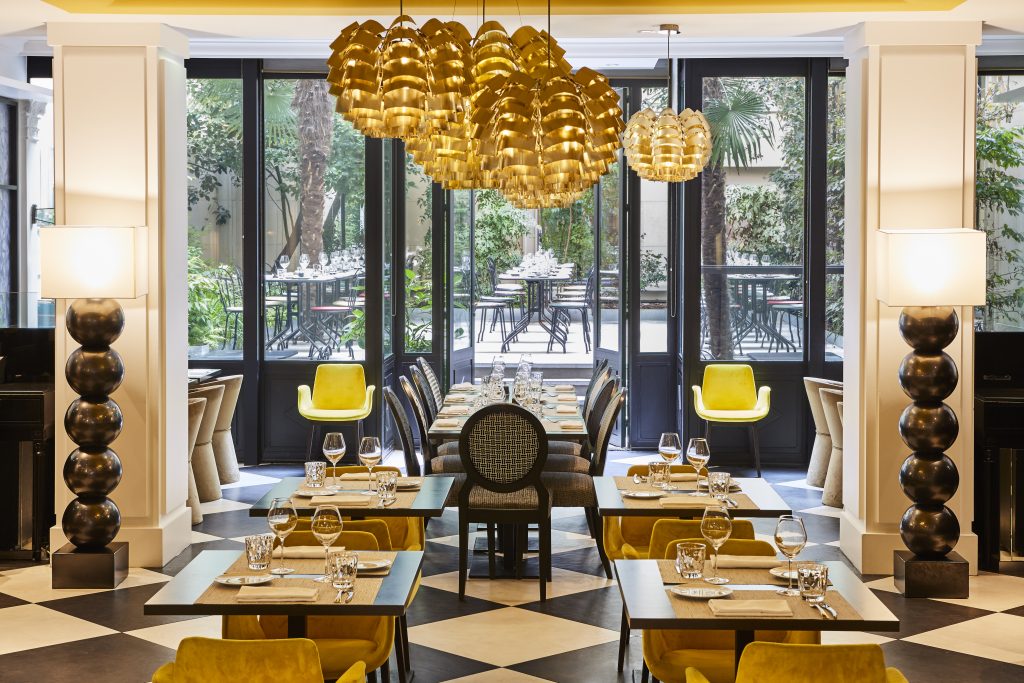 The setting : For Valentine's Day, the Sofitel Paris Le Faubourg is offering a special menu, to be enjoyed in the chic and elegant setting of the Blossom restaurant room. We like: the superb view of the patio, transformed into a snowy forest this winter, as well as the exhibition of evening dresses " A Winter Ball" page (in French).
Valentine's menu : For dinner on February 14, 2022, Anaïs Foray, the talented chef of Le Blossom, has imagined a special menu between flavors, colors and freshness... This will put seafood and red fruits in the spotlight and will be offered at 120€/person.
***
Scallop Carpaccio
Tangy vinaigrette with beet juice, ginger and chives
Line-caught bass braised in seaweed butter
Young Swiss chard and razor clams in marinière
my lychee heart
Diamond shortbread, lychee confit, light raspberry mousse
***
Reservations: blossom.paris@sofitel.com – 01 44 94 14 24
Note that by booking your dinner at the Blossom, you will have the possibility of winning a night for 2 at the Sofitel Le Faubourg hotel, during a draw, which will take place the same evening!
IT WILL MAKE HIM PLEASURE, I RESERVE TO SPEND THE NIGHT
-
Le Gabriel at La Reserve Hotel & Spa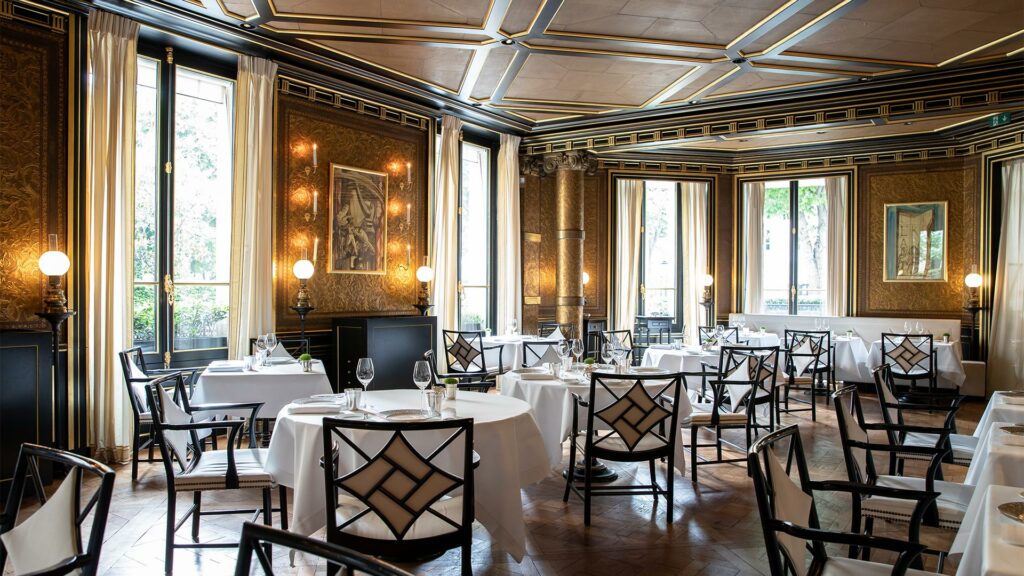 The setting : This private mansion, discreetly located on the side street of the Champs-Élysées, perfectly embodies the elegance of 15th century Paris, with its 25 rooms and XNUMX refined suites. Awarded two stars in the Michelin Guide, its restaurant " the Gabriel » headed by the chef Jerome Banctel displays a unique and timeless chic atmosphere.
Valentine's menu : For next February 14, Le Gabriel offers a 7-course dinner, at €395/person excluding drinks.
***
Steamed blinis, haddock blancmange and caviar
Binchotan lobster
Poularde de Culoiseau, celery and truffle tartlet
***
I MAKE HER PLEASURE, I RESERVE TO SPEND THE NIGHT
-
The Dali at Le Meurice
The setting : Located on the famous rue de Rivoli, the oldest Parisian palace goes through the decades while remaining at the top. Thanks in particular to the star designer Philippe Starck, it is constantly being renewed with great panache, combining both a very Louis XVI royal decor and a few touches of modernity... If we love its panoramic view of the Tuileries gardens and its Valmont spa, the setting of the Dali restaurant is just breathtaking.
Valentine's menu : For Valentine's Day, Le Meurice has concocted a tailor-made menu, served at Le Meurice. It is the chefs Amaury Bouhours and Cédric Grolet, at the helm of the stoves, who take care of the gustatory delights and offer you the best of Alain Ducasse's cuisine. Offered at €300/person, the Valentine's Day menu includes the following dishes:
***
Langoustine cappuccino / button mushrooms
Champagne – Barons de Rothschild – Extra Brut NM
Scallops from Seine bay / marinated radish / kumquat
Champagne – Barons de Rothschild – Blanc de blancs NM
Cookpot of blue lobster / sea apple / Croisic seaweed
Champagne – Barons de Rothschild – Blanc de blancs NM
Silk grain calf / chard / hazelnut / black truffle
Champagne – Barons of Rothschild – Rare Collection 2012
'Petal Heart'
Champagne – Barons of Rothschild – Rosé NM
***
GO, I RESERVE TO SPEND THE NIGHT
-
The Assaggio in Castile
The setting : Enthroned in rue Cambon, the Castille hotel invites its guests to la dolce vita. This uniquely charming 5-star hotel also has a gourmet restaurant: L'Assaggio, which offers a special menu concocted by Chef Vasyl and Michelin-starred Chef Ugo Alciati. This gourmet dinner will be served in their gastronomic restaurant: L'Assaggio. The particularity ? Throughout your meal, you can admire the dance performance of Naïs Duboscq and Guillaume Diop, a couple of dancers from the Opéra National de Paris. A magnificent show under the artistic direction of Alessio Carbone, former Principal dancer of the Paris Opera.
Valentine's menu : We then discover a delicious 6-course menu, at €160/person without drinks but with a free glass of champagne, or €220/person for a menu with food and wine pairing.
***
Amberjack and kumquat carpaccio,
Roasted scallops, pumpkin, broccoli-rabe and Nebbiolo sauce
"Lasagnette" with seafood and broccoli, flavored with saffron
Filet of beef and barba di frate served with a chocolate and chilli sauce
Fior di Latte ice cream and passion fruit coulis
Creamy Valentine's Day to share
***
IT'S DECIDED, I RESERVE TO SPEND THE NIGHT
-
The Confidences at St. Regis
The setting : Aux Confidences, the elegant restaurant of the5 star hotel San Regis, you can sit on comfortable sofas, under the glass roof, with a view of the winter garden or in the living room with fireplace, for even more privacy. On the occasion of Valentine's Day, Romain Leydier, the restaurant's talented chef, has designed a special menu, to be enjoyed as a couple, washed down with champagne.
Valentine's menu : Romain Leydier wanted to adapt his menu, called "Dîner Alexandra", from the vintage cuvée of Laurent-Perrier champagne, Alexandra Rosé 2004. An exceptional cuvée which also opens this Valentine's Day meal.
***
Glass of champagne Laurent-Perrier Alexandra Rosé 2004
Tartare of scallops
Foie Gras and French Toast
Turbot, salsify and celery millefeuille
Mango, coconut and coriander tartlet
***
I WANT TO MAKE HER PLEASURE… I BOOK TO SPEND THE NIGHT
-
The Bayadère at the Elysia hotel
The setting : In the heart of the Golden Triangle, the Elysia hotel seduces its guests with its mad elegance. The establishment also has a chic restaurant, the Bayadère where the Chief Khalid Mansour offers revisited, creative, minimalist and surprising French cuisine…
Valentine's menu : For the feast of lovers, this romantic table offers you the menu my queen, prepared by chef Khalid Mansour. A menu featuring the ladies of spades, clubs, diamonds and the Queen of Hearts… This special menu is offered at €185/person, excluding drinks.
* * *
Amuse bouche
Sea urchin and scallops in carpaccio, combawa oil
Lobster and mushroom ravioli, shellfish cappuccino
Pré-salé lamb cannon, variation of field vegetables
Raspberry and rose macaron by Carl Maretti
Glass of Champagne Rosé Impérial by Moët & Chandon
* * *
& TO PLEASE HIM: I BOOK TO SPEND THE NIGHT
Read also: 7 confidential hotels for a successful Valentine's Day