Paris is famous for its world-class gastronomy, with a host of starred restaurants and iconic brasseries. Among these places, three restaurants stand out for their culinary excellence and elegant atmosphere: the La Bauhinia restaurant and the Shang Palace at the Shangri-La, the Lili restaurant at the Peninsula, the Il Carpaccio restaurant at the Royal Monceau. Each of these establishments offers a unique gastronomic experience, combining culinary know-how, refinement and conviviality.
-
-
La Bauhinia
Located at the very prestigious The Shangri-La Hotel Paris, the restaurant La Bauhinia offers a true green escape. With a intimate atmosphere and gastronomic menu with Asian flavors, all the elements for a magical experience are there. Guests are invited to relax and savor the delights offered by this jewel of the City of Lights. The Executive Chef Quentin Testar and the Pastry Chef Maxence Barbot have concocted a seasonal menu offering a culinary experience both succulent and light. On the menu, pumpkin and chestnut velouté; salad lobster served with mango and ponzu sauce; golden scallops. Finish with a sweet touch with a buckwheat mille-feuille; pink pomelo cheesecake. A real culinary journey.
La Bauhinia at Shangri-La – 8 Av. d'Iéna, 75116 Paris
-
Lili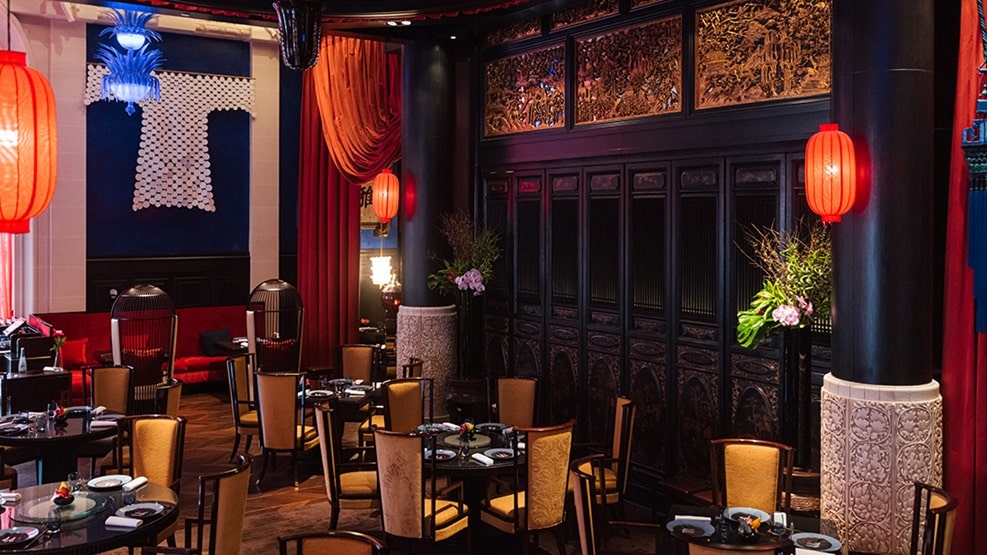 Installed in the renowned hotel establishment Peninsula Paris, Restaurant Lili is a must-visit destination for fine gourmets. The restaurant is distinguished by the exceptional quality of his dishes. The executive chef of the Lili restaurant, Kei Kojima, is a true master of the traditional chinese food. Thanks to his innovative and modern approach, it offers a unique dining experience. Customers of the Lili restaurant can therefore expect a exceptional cuisine, where tradition and innovation come together to create dazzling dishes. On the menu, savor breaded shrimp; A cut of beef to Chinese inspirations; of jasmine rice au fois gras… End with a black sesame blown or a crispy coconut.
Liat the Peninsula – 19 Av. Kléber, 75116 Paris
-
Carpaccio
Carpaccio is the very famous Italian restaurant at Royal Monceau – Raffles. This renowned Italian restaurant, run by the chef duo Oliver Piras and Alessandra Del Favero, rose to the top of the Italian gastronomy. Their passion for cooking shines through in each dish offered, making the restaurant an essential reference. In 2022, their hard work was rewarded by obtaininga Michelin star, which they have successfully retained for the 2023 edition of the gastronomic guide. This prestigious distinction demonstrates the restaurant's commitment to providing an exceptional dining experience for its customers. On the menu: truffled beef carpaccio; Pumpkin risotto with raw langoustines and bottarga or even veal chop elephant ear style. dessert side, rum baba citrus, chocolate ravioli and candied lemon or Pineapple Carpaccio and pistachio ice cream. Yes yes ! It's mouth watering.
Il Carpaccio at the Royal Monceau Raffles Paris – 37 Av. Hoche, 75008 Paris
-
Akira Back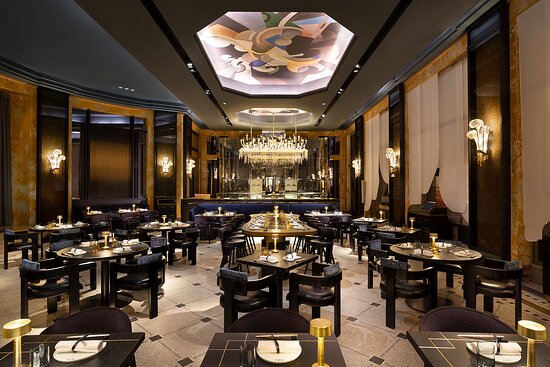 It has now been a year since the restaurant Akira Back delight the Parisians. In 2022, starred chef Akira Back opened his first European restaurant in the French capital. In 2018, he won a Michelin star for his restaurant Dosa in Seoul. Located in the old bar Hours luxurious Prince de Galles, Akira Back completely transformed the space. Only the magnificent central chandelier and its ceiling fresco have been preserved. Michelin-starred chef Akira Back offers unique fusion cuisine. The perfect combination of Japanese, Korean and American influences. It is a unique culinary experience. On the menu: many classics of Japanese cuisine revisited with unpronounceable names. THE scallops with kiwi and truffle paste on a background of yuzu sauce, however, strongly caught our attention.
Akira Back at the Prince of Wales – 33 Av. George V, 75008 Paris
-
Shang Palace
Discover an exceptional culinary experience at Shang Palace, Chinese restaurant renowned from the Shangri-La. The star chef Samuel Lee offers you a refined taste adventure and authentic in a magical place, for a unforgettable experience. The elegant decor, the impeccable service and the refined cuisine will amaze you. The atmosphere sophisticated and warm will transport you to a exotic atmosphere, for an unforgettable evening. On the menu: Peking-style lacquered duck; spinach soup with crab and tofu; cooked live pink lobster at the customer's choice or Braised cod in a casserole, ginger and spring onions. On the dessert side, mango cream; Whole milk infused with ginger or fluffy balls with whipped cream and fresh fruit. Come live a gastronomic experience prominent at the Shang Palace.
Shang Palace at Shangri-La – 8 Av. d'Iéna, 75116 Paris
-
-
You will like also: